POLICE KILL SEVEN ALLEGED KIDNAPPERS IN AKWA IBOM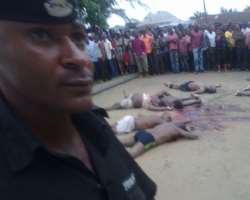 On Thursday, October 27th, 2011, Policemen in the Eket Division in Akwa Ibom State shot and killed seven kidnap suspects in circumstances that remain unclear.
According to source, the suspected kidnappers were executed by the police in cold blood, raising concerns about the legal powers of the police to act as investigators, prosecutors, judges and implementers of judgments.
Thousands of residents in Eket metropolis thronged the police station to catch a glimpse of the remains of the suspects whose bodies were displayed in the premises.
Is it that jungle justice is a part of the Nigerian system?