NIFFER: NEGATIVE VIEWS ABOUT FEMALE ARTISTES DON'T BOTHER ME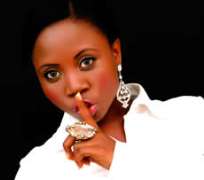 Jennifer Iroh
Ekpereamaka Jennifer Iroh, another hitherto unknown name, would join the list of successful artistes in the country very soon. Iroh, who is the last and only female child in a family of six in her early 20s, better known as Niffer, confessed that she embraced showbusiness because that is what she has always wanted to do.
In addition, the beautiful, soft-spoken and very articulate singer, who revealed that she was inspired by Onyeka Onwenu and who, incidentally comes from the same village with Onwenu, has completed works on the first phase of her album project.
As the 'pet' of the family, her brothers still don't give her any breathing space as they still look at her as a baby. 'They still don't believe that I'm old enough to take care of myself but I give them their due respect. I've been able to move on with my chosen career which is entertainment. I have, as a matter of fact, worked very hard and reached a level that can place me solidly on the sands of times when my works, starting with the musical album, are released.'
That must be the trend now after trying effortlessly to stop from the outset from romancing entertainment because massive support and encouragement now pour in torrents for her, especially from her elder brothers. One of them, Iroko, who happens to be a popular deejay in Switzerland, is already promoting her music in Europe.
'That aside, I have my own studio here in Nigeria where I record my songs and what it means is that I always strive to get the best, call it perfect finish, before dropping any of my works. For instance, I already have a video out and right now, I'm working real hard to put all my songs together to produce an album. My target is to finish everything about it by Easter next year. I also hope to go into acting eventually because it is my second love.'
Acting? Won't that attract too much attention for a young girl like her in view of the temptations, negative views and the much talked-about sexual harassment associated with it?
'I've never been sexually harassed by anyone. All the people I've met so far have been very supportive. And I was in this hot musical video recently which should be out by the end of the month. The song is entitled Multiply by Phyno featuring MI, Mr Raw Nwanne, Flavour and Timaya and directed by Clarence Peters. I'm the only girl therein. That's a big plus for me because it will make a lot of statement when it comes out. This is the kind of action I long to identify myself with so that I'll always get the best out of my career.'
Her recording studio, Iroko Studios which is situated in the heart of Ikeja, Lagos, was once a beehive of activities where the like of Timaya, Mr Raw Nwanne, Flavour and a host of others converged for their jobs. Does it still play the same Mecca role today?
My studio still functions and has continued to produce a lot of hits for many of our stars. And because it parades state-of-the-art equipment, artistes always see it as a Mecca of some sort and come around whenever they have new jobs. As the name implies, it stands like an iroko tree in the Nigerian industry which cannot be pulled down.'
The English graduate of Abia State University said that the Nigerian music industry is growing rapidly compared to what obtains in other African countries.
'Yes, our music industry has really gone far from what it used to be half a decade ago. And with people like Don Jazzy, Tuface and D'banj putting us on the world map, we are going to move to another level in the next one decade. The sky is now our limit.'
Women in entertainment seem not to be having it easy in the society because of their perceived wayward lives. Some of them are not helping matters by falling in and out of love every time.
'Personally, I'm not bothered by the negative views people have about women in entertainment. It is not even peculiar to those in the industry alone but a general thing. The love and support I get from my family and friends mean more to me. We all cannot be the same, it happens in the Western world too.'
And, who is the man in her life and how soon will the wedding bells toll?
'Wedding bells? That's not the ultimate. But I think I'm old enough to keep a relationship, which should be personal anyway. Right now, it's all work, work and work to reach the promised land.'