Bottle Of Beer And Stick Of Cigarette Are What I Would Miss Most Of Sam Loco¬¬¬ Jude Orhorha, Mr Etisalat.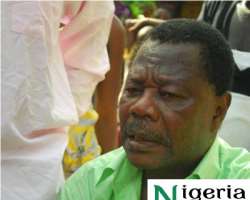 For those who followed Fuji House of Commotion, the deaf and dumb character, Rabiu, was a fantastic acting prowess. Though, not many know him as Jude Orhorha, but Rabiu. Now, he has added another nickname to his name, Etisalat. This was as a result of the promo he did alongside Saka, for Etisalat SIM registration campaign.
In an interview with Osaremen Ehi James, Jude talked about his relationship with late Sam Loco and how doing an advert promo for Etisalat has changed his life. Enjoy.
How would you describe Sam Loco
Sam Loco was a father.
What did you learn from him
Being oneself, no matter what and whatever the situation. Uncle Sam taught me something in life before he left, which is, when things are down with you, you just have to stand up and face the situations. Nothing should come as a surprise to you but you being a surprise to that thing.
With the bunch of talents we have, do you think we can have a near Sam Loco
If no be panadol, e no fit be panadol. Everybody has his own identity.
(cuts in) But in the bible, Elisha had a double anointing of Elijah, which is what I mean
The truth is that I am yet to see that. But I don't think we can have one. He speaks more than three different languages, although there are some artistes who do same, but how good are they as Uncle Sam. He was just unique and very humble.
What memorable moment did you share with him before he passed on
Umm, in 1987, I had a stage production titled Imaguero, a Benin play. He was called in to assist in directing us. I had a problem of acting on stage then, he told me to reduce my gestures, which I could not do. He had to tie my hands behind me with a belt, and I was on stage like that for two hours. I will never forget that day.
What would you miss most about Sam Loco
What I would miss about Uncle Sam sounds funny, but it is the bottle of beer and a stick of cigarette (general laughter). He is the only actor I know that come rain come shine, that bottle of beer is there. He does not even take cold beer, no matter the weather. He does it in a way that you fall in love with taking alcohol even if you don't take it before.
How would describe the experience of being a face or ambassador of Etisalat brand
(laughs) I pray the ambassador thing works out, but for now, it is just a promo I did for them. Everywhere I go, people call me Etisalat but I tell them I am not their ambassador yet. Yes, it is a wonderful experience; the brand itself has catapulted me to another height and unimaginable fame. Way back when I started, when you say Jude Orhorha, they ask who is that, and then you start describing me as that deaf and dumb (Rabiu) in Checkmate (Fuji House of Commotion). Two years ago, some started knowing me as Jude. I am not in a hurry; I know it is a gradual thing. If it took me 24 years to be well known, well I have just started, I am not there yet. Though the Etisalat thing has caused a drop in my name, but I am happy. People now call me Etisalat and not Jude Orhorha.
Will this not affect your brand, Jude Orhorha
Not at all, it is a promo, it starts and it must end. It was meant to end in June, but it is still on now in October, so if it ends in October, that is the end of it.
But it does not work that way, you became well known as Etisalat and you will be called Etisalat and not Jude Orhorha even after the promo ends
No, it doesn't last, it is when it is a brand. Now, the difference between Etisalat and Jude Orhorha is that Etisalat is a company on its own, while I had already made my name before the I did the promo.
(cuts in) but you were well known for doing Etisalat promo and not Jude even when you did Fuji House of Commotion
Yes, to a large extent, when I walk on the street, my friends will call me Jude, and only those who don't know me would call me Etisalat. If Etisalat decides to brand me as Etisalat, I will not have problems with that. I will accept my fate the way it is. What I mean is that the fame I am having right now, if Etisalat makes me as an ambassador, I will still be Jude Orhorha.
Do you mean there would not be clash of brands
Not at all, I have other endorsement I am into. Etisalat is just a starting point for me but it does not affect my brand as Jude Orhorha.
But what would you do if the name Etisalat gets stuck in people's mouth and not Jude Orhorha
Don't get it wrong, it is the people that will call me Etisalat and not those in the industry
That is the point I am making. In my interview with Saka, your partner in Etisalt promo, he said he never liked the name 'Saka' but he could not do anything about it because that was what he was known with.
Well, that is 'if', which is under assumption, when we get to the bridge, we shall cross it.
Has doing a promo for Etisalat made the people have a wrong perception of you
No, you know why, I am not flashy. I hardly go out.
But doing a promo for Etisalat there would be the perception that you must have gotten millions of naira for doing it
Even if you did it for a token, that is what they would still say. But it has not affected me. I will not allow money to control who I am. I would be the one in charge of it. My friends still relate with me as Jude Orhorha and not Mr Etisalat, your level don change. I can never be affected by anything because it is my own person to be humble. 20million naira or more cannot change me. People say you get to know a man's true character when they get money but I say it is for those who never expected the money to come to them. I don't think I would want to destroy the career I have gradually built for close to 24 years with mere millions of naira. If I have such money in my account, there would surely be a turnover. I have seen a lot down the road. For crying out loud, I am 41, but I don't look 41.
What film or soap opera brought you to limelight
That would Checkmate, that is where we have the Fuji House of Commotion in it. Checkmate was with a different family, it was in year 2000 Amaka Igwe extracted Fuji House of Commotion from Checkmate. The movie that shot me to limelight was Echoes.
Can tell a bit of your background
Umm, I am from a polygamous family. I am from Delta State. I did a programme in the department of Centre for Cultural Studies before it became Creative Arts department at the University of Lagos in 1987. I later went to University of Ife to study Dramatic Arts in 1991 and left Ife in 1996.
Are you married
Yes.
With how many kids
We are working on the kids issue (laughs). My wife is an actress as well.
Oh really, what is her name
She is Efe Orhorha (Lyford). Her parents were also in the industry but are late now, Rowdy and Felicia Lyford.