Nigerian Actors Are Suffering —KOK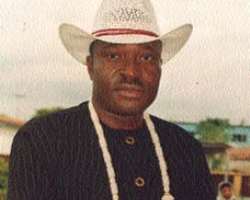 Over 200 actors converged at the Actors Guild of Nigeria (AGN) secretariat, Ajao Road, Surulere, on Monday for a meeting to discuss the way forward, following the leadership crisis that has been rocking the guild. During the meeting, which had the likes of Segun Arinze, Osita Iheme (Pawpaw), John Okafor, Nonso Diobi, Ernest Obi, Chidi Mokeme and Charles Okafor, among others in attendance, the Interim National President, Kanayo O. Kanayo, informed AGN members about election procedures and those in the Electoral Committee headed by veteran actor, Pete Edochie, among other things. After the meeting, this is what he told http://nollywoodgists.com.
Q: How will you describe the level of unity in AGN, considering the fact that some state chapters are sitting on the fence and Ejike Asiegbu is still insisting that he is the president?
A: It's one of those things talking about being convinced that he is the president. It's a personal thing. It will be very irrelevant to talk about his conviction as per what the people want. You can conduct an election or say you want to conduct an election but the question is, who is going to vote? Is the actors guild election going to be for people who are on the street? No. It's going to be for members of the actors' union. And for those in some states, who are sitting on the fence or edge, it is expected. We are not coercing anybody. It's not a matter of being in KOK's camp, it's about the soul of AGN.
We are not going about begging people to come and join us in order to pull the crowd. I'm even very excited about the large crowd we have because I didn't expect it to be this much. In fact, some states chairmen called me and said they wanted me to transport them here, but I said 'no, find your way here'. Some of them who cannot come due to financial constraints had sent text messages that they are with us. So, the conviction of Ejike has nothing to do with the future of AGN.
Q: Many actors have complained of not getting jobs, while the sales of movie are dwindling, what will you do in the interim to salvage this situation?
A: It's a task for Nollywood as an amalgam of the different guilds to think about what we are going to do. What I know is that the actors who are the brands of Nollywood are not working and that calls for serious concern. This is why I will tell you that anybody who stops the flow of capital into an economy, society or country is an enemy. That is why we are telling Asiegbu at this point to swallow his pride and let actors move forward.
If there is a foreign investment coming from America or somewhere and somebody, or an entity, is stopping it from flowing into Nigeria, such a person is an enemy of Nigeria. Right now, there is a kind of stagnation in the industry, there are no jobs. Our division is causing us more harms and the actors are lamenting. The house has, therefore, resolved to suspend Aseigbu for anti-guild activities. A disclaimer has been published in National dailies and he is still parading himself as AGN president.
Q: There has been complaints about lack of fund. Why can't you probe the finances of the past administration?
A: It's not in our immediate arrangement. There are lots of things the new government will do when they come in, so, at this point, election is our primary aim and that is where our attention is. We must make sure that the practitioners in AGN have a common platform to stand and say 'we are proud to be actors'. We are in touch with all the states chairmen of AGN and we know where they stand. Everybody has a sense of belonging here. The electoral guideline has been sent to all the states chairmen by e-mail, so I have been networking.
Q: Are you going to contest in the election?
A: What we are fighting for now is the soul of the actors' guild. Since I was inaugurated into office, I have not done my personal business, I'm even running out of funds from my own personal pocket. I have more things to think about now than what you asked me. You hear the actors complaining of lack of funds and all that, those are the things I'm thinking about for now.