Court orders NDLEA to produce Baba Suwe Featured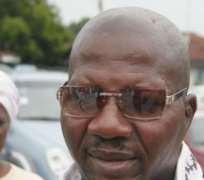 A Lagos High Court, in Ikeja, on Wednesday ordered the National Drug Law Enforcement Agency to produce Nollywood actor, Babatunde Omidina, popularly known as Baba Suwe, in court on Tuesday, to allay the fears of his family members over his state of health.
Omidina on Friday, sued the NDLEA, demanding N100m from the agency for allegedly violating his fundamental human rights.
He contended that the anti-drug body violated his right by keeping him in its custody for more than the constitutionally-allowed 24 hours since October 12.
Justice Yetunde Idowu ordered the NDLEA to produce Omidina "physically in court" on Tuesday following an application by his counsel, Mr. Bamidele Aturu.
Idowu said the actor's physical presence in court would allay the apprehension of both his family and the public over his state of health and his safety in the NDLEA custody.
The NDLEA, represented by its Director, Prosecution and Legal Services, Mr. Femi Oloruntoba, acceded to the prayer seeking that Baba Suwe be produced in court at the next adjourned date. Oloruntoba however, raised concern about the security challenges likely to be introduced by the crowd which Baba Suwe's presence in court might attract.
But Idowu, dismissed any fear concerning security, saying "we have to consider the mind of the family."
She assured that measures would be put in place to ensure security by keeping such a crowd away from the court premises
click the link below to go to...
BABA SUWE SAGA UPDATE: CT SCAN RESULT TEST CONFIRMED A LARGE
ARTISTES CALL FOR BABA SUWE'S RELEASE+ANOTHER TWO SUSPECTS ARRESTED
BABA SUWE SAGA UPDATE: A TRAGICOMEDY OF GARGANTUAN ERRORS
COMIC ACT,BABA SUWE TO FILE A LAWSUIT AGAINST NDLEA FOR DEFAMATION OF CHARACTER
Nollywood star actor, Baba Suwe Arrested For Hard Drug