TUFACE IDIBIA OPENS UP ON THE SUCESS STORY OF HIS HIT TRACK AFRICAN QUEEN + WHY HE LEFT KENNIS MUSIC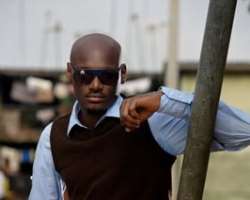 Every artiste has a defining song.For Nigeria's hip-pop king Tuface whose real name is Innocent Idibia,global recognition and artistic success came by the way of African Queen,a love song in praise of the beauty of the African woman.
Tuface might have meant African Queen for a particular woman but today,he is entangled in a love triangle involving not less than three African Queens who have given him five children.It is not a situation that Tuface finds funny but he cannot help it.
In a recent interview,Tuface opens up on Nigerian Hip-pop,why he left Kennis Music and the success story of his song African Queen.
He said; African Queen is one of the most successful songs outside Africa so far.
I can say it was a song that really made me as an artiste.It was written by me and Blackface.It was just a desire to do a love song to show respect and love for the African woman.That's how it came up.We wrote the lyrics and melody together.I and Blackface wrote the first and second verse.But I wrote the last part of it which says:"you know what I am feeling in my soul."He is not claiming he owns the song.He is not claiming he wrote the song only by himself.
People are just trying to be mischievous by saying that Blackface owned that song.
That's just all. He has the right to the song as well,so I was not surprised he did his own version.
Plantation Boys is not totally dead.I believe one day we are still going to come together as a group.It's still going to happen.We are still going to come together in future.We have done it before,we are still going to do it again.
After Face to Face,the next album was Grass to Grace.There you found me singing a chorus line: Hey brother hey…. As you see me so…" It was also a success.It was huge.
From there I left Kenny's Music to start Hypertek Entertainment,my own label.I had to grow.I am not going to be under a label forever.I had to grow on my own as well.My contract expired and I had to go.
Kenny knew I had this Hypertek thing on my mind and he encouraged me and that's what I am doing.Hypertek is owned by a guy and a guy.I am the CEO of Hypertek Entertainment.And I am the only artiste on my label for now.But it's more like an entertainment company for now.
We do shows,we do events,we produce events,we produce end-of-year parties.In the the beginning,I was not ready for the record label aspect.
But now I am ready.I am about to sign some new artistes on the label.
People talk about Kenny's Music buying me this and that while I was on that label.
Yes,It's true but one thing most artistes don't understand about a record label is that they buy you house,they buy you a car but it's all debt.You are still going to pay back.For me,I didn't do that kind of thing.I Just wanted to work,my money is my money.
They fulfill their contract,I fulfill mine.And that's it.Everything I owned under Kenny's Music,I actually paid for it.I owned it.
Asked about Nigerian hip-pop,he said When it comes to Nigerian music of today,I am just going to call two names,because I don't want to involve myself in controversy.If I start reeling names,I would offend a lot of people who would expect me to name them as among my favourites.But I am just going to call two names.Asha and MI.MI is amazing.
He is deep,intellectually talented.He is got it all.I first met MI at one show and I said Wow! Who is this guy? And that was it.He is going to go really far.It is not for me to discuss the originality of his rap.
These days,when you start talking about originality,you can't really lay claim to any original thing.Everything has already been done.But what I can say is that he is talented.He knows his onions.
He's intelligent.Same with Asha.She is not forcing it.She does it effortlessly.And then she has depth.She doesn't just want to sell S*x.Most of the females artistes these days,they just want to sell s*x.The first time I heard her sing,I was amazed.I shouted: Who is this? The song I first heard was Eiye adaba.I was blown away.
Then I heard Jailer.I am talking to you Jailer… I said." Wow,who is this? And that was before the album even came out.
The second album is also brilliant.My baby is gone,gone,gone.
I think the Nigerian music scene is exploding.People are coming up strong.