MR PRESIDENT SIR, PLEASE WEAR YOUR SHOES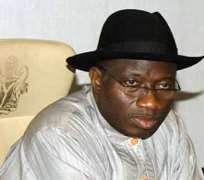 During the months leading to Nigeria's 2011 elections, a particular candidate of one of the political parties contesting for the post of the president came up with a fine, intelligent and emotional campaign titled "I HAVE NO SHOES". It was so emotional that it became a household phrase in Nigeria, the opposition party sensing that the voters may likely vote for the candidate without shoes (because most of the illiterate voters also don't have shoes) came up with a strong, short and concise counter campaign that 'Goodluck is not good governance.'
In a show of support for Mr. president, I went to Abuja in my dream in order to give him some locally made shoes to add to the list of keepsake that were daily trooping into Aso rock but his security personnel prevented me from seeing my president despite the fact that I told them that I brought locally made shoes for the president as part of my own contribution to his electoral success, the security man told me that it was an insult on Mr. president for
me to present a locally made shoe instead of an imported shoe but I never had the opportunity of replying him before a stubborn mosquito woke me up, I would have told him that the solutions to Nigeria's problems lies in Nigeria and that only the locally made shoes will be able to withstand Nigeria's locally made problems.
I am sure that the good people of Nigeria would have donated more than enough shoes for Mr. President to wear in order to lead us to the next level. (In my mind, I eventually gave Mr. President those shoes) Dr Ruben Abati or the minister for special duties should be given the responsibility of distributing those shoes to all the decision makers in Nigeria and just to add that the shoes for Jos and Borno states should be bomb-proof incase Boko Haram decides to wage war against those shoes. They should all wear their shoes and boldly go on an ultimate search for the solutions to Nigeria's problem of electricity, boko Haram, government roads, unemployment, corruption and many more problems too numerous to mention. As I have defined before in my article on 'How to remain politically relevant in Nigeria', Mr. president and his team should employ the concept of 'politics of motive' oyede (2010) defines politics of motive as all the conscious efforts, actions and inactions directed towards the materialization of targeted objectives using all the available apparatus at one's disposal in a planned way.
We know that Sunday is now part of the official day for Mr. president to tackle Nigeria's problems when the presidency does not want a lacuna to occur in a matter before the court, how I wish that Mr. president will also be swift to find solutions to all the aforementioned problems so that our health, power, security e.t.c will not be in a 'lacunacious' state since it only appears that the only excuse to officially work on a Sunday is to prevent a lacuna from occurring (apologies to Dr Ruben Abati).
My prayer for Nigeria is that we will not return to the 'Umaru-go-slow' system of government… Nigeria! Good people, Great Nation.
Oyede saheed(alias chief humanbeing) writes from the department of insurance, university of lagos . e-mail: [email protected]
Disclaimer:

"The views/contents expressed in this article are the sole responsibility of

thewillnigeria.com

and do not necessarily reflect those of The Nigerian Voice. The Nigerian Voice will not be responsible or liable for any inaccurate or incorrect statements contained in this article."
Articles by thewillnigeria.com