House Probes Intercontinental/Access Bank Merger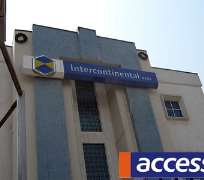 ABUJA, October 26, (THEWILL) - The House of Representatives today mandated its joint committees on Banking and Currency and Capital Market and Institutions to institute a probe into the acquisition of Intercontinental Bank Plc by Access bank and the roles played by the Asset Management Company of Nigeria (AMCON).
It also asked the committee to ascertain the level of interface of the management Team of Intercontinental Bank in the entire process as well as the involvement of the United Alliance Company, a business concern allegedly owned by a Director of Access and report back to the House within two weeks.
The resolution came on the heel of a motion by Hon. Yacoob Alebiosu which drew the attention of House members to the fact that the House needed to investigate the merger and acquisition between the two banks as part of the Nigerian Banking Sector programme.
He wondered why Intercontinental with over 300 branches and a staff strength of about 12,000 would be acquired by Access Bank which had just about 1000 staff with a little above 170 branches across the country.
The lawmaker also expressed concerns that with the acquisition, the shareholders of Intercontinental Bank would just be ordinary subsidiary of Access bank, which according to him "raises more questions than the answers."
According to him " the lifetime investments and savings of millions of Nigerians had been impoverished by ineptitude and flamboyant lifestyles of management teams of these financial institutions before the lid was blown open on the massive un-wholesome practice and embezzlement of depositor's funds as witnessed in this acquisition."
Also today, the House mandated the Ministry of Works to extend the Gombe-Yola bye –pass currently under construction to a ring road that serves commuters from Kano-Yobe axis.
This was on account of a motion moved by Hon. Usman Bello Kumo over the ghastly road accident along Tashar Dukku Area of Gombe state.