AY breaks comedy records, again!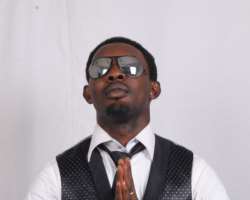 Residents of Abuja Nigeria's federal capital city, throned in thier thousands to Sheraton Hotels, venue of the just concluded of AY Live, Abuja Invasion, and in so doing, were part of a record-breaking history with AY, Nigeria's most creative comdian.
Expected to start 5pm, the show already sold-out by 4pm when crowds, hungry for creative comedy, waiting for the first comedy act on the bill to get the show started. When Seyi Law opened the event, Justice Oputa and his wife were dignitatries in the front row. They were joined by Owelle Rochas Okorocha and his wife, as well as Charly Boy and his wife.
Dr. Olusegun Mimiko, was represented by his commissioner for Culture and Toursim, Cheif Bisi Taiwo. He went home impressed that one of thier industrious sons could hold Abuja spell bound with a multitiude of jam packed crowd for one single event.
AY Live, Abuja Invasion was desinged as a night of comedy and music, and it lived up to its expectation. Frank Edoho, and curvy Mercy Johnson were greeted by screams of approval each time they came on stage as comperes of the event – Frank told the excited crowd how people think he knows every thing becasue he presents who wants to be a millionaire. "A small boy was dissapointed," he said when he saw me at a mall walked up to me and said what is the capital of Ubestikan. I couldn't answer, and he walked back to his parents reporting to them, that can't be uncle Frank Edoho, that man doesn't know anything."
Mercy Johnson was at her sexy best. She needn't say a joke to excite the crowd, her attractive curves tickled them all – male and female; young and old.
AY unleashed his creative ingenuity with comedy laced with movie and music production. It began from a short moive production of how he left his home in Lagos, to the Airport, and how he was received by a convoy that included a Limousine.
On stage, he told of how his family should have made GuniessWorld record in his growing up years.
"I was five years old," he narrated, "when my gandma gave birth to a baby boy. When we want to take family pictures, I always carry my uncle in my hands."
Terry G performed 'testing the microphone' before MI came on the M-I-C with his customary wao performance until the 'ladies said uuuhhh, 'who do this beat?'' Bracket sang Yori Yori remix for the first time before the hisotry witness crowd. After that they got all the girls on thier feet with the original version of Yori Yori. afterwards, Kelly Hansome distributed, all the 'control numbers' in his pocket, while J Martins stood to his feet with 'good or bad.'
With the comic side up, Klint Da Drunk spotted a man in the crowd whom he said was talking as if he were a millipide in his first life, Seyi Law, told how black he is and won't need a uniform if he joins the police. Gordons said power supply has been so epilectic, Nigerians are still skeptical even when 'there's light.'
I Go Save, the Benin-based stand up act worries about ladies extravagent habit. "you invite a for a show like this," he says, "and she brings in fifteen girls, and she expects you to get VIP tickets for her and her friends.
The first time AY broke old records and set new ones was in Lagos when the Muson Centre was filled to capacity and Alibaba had to suggest to the crwod outside to consider a second show. Alibaba was on hand again, when history was re-enacted. Though he didn't perform at the event, his presence provided moral support for AY and other artistes.
From the Limo airport pick-up of celebrities to the unveiling of a preview edition of the AY Magazine, a quaterly Comedy and Style Magazine that will hit the newstands October 2009, AY Live, Abuja Invasion went down history as Abuja's most attened comedy event.