ACF CHIEFTAIN NAMES SON AFTER ASARI DOKUBO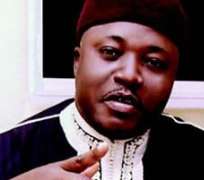 •Shettima
Leader of the Niger Delta Volunteer Force (NDVF), Alhaji Mujaheed Asari Dokubo, recently sneaked into Lagos. He came to town to honour his bosom friend and comrade, Alhaji Yerima Shettima, the youth leader of the Arewa Consultative Forum (ACF). Shettima whose wife recently put to bed a baby boy, organised a naming ceremony for his son.
And as a mark of honour for the NDVF boss, Shettima christened the baby Salisu Mujaheed Settima.
It was a colourful event that was graced by eminent and ordinary Nigerians. Many Lagosians in their thousands, trooped into Yerima's home in Oshodi area of Lagos, to rejoice with the couple. Expectedly, there was plenty to eat and drink; these were generously served to all present. No one was discriminated against as all had enough to be merry.
It was also a forum for local singers to entertain and showcase their music to the admiration of all. A certain magician, who did not want his name in print, thrilled the audience with several scintillating performances. He wielded a very sharp cutlass with which he performed various stunts and magic. Severally, he robbed it against his eyes, stomach, and thighs among other places but surprisingly, the dagger neither cut nor pierce any part of his body.
Singers, using local Hausa musical instruments also brought delight to the audience with their amazing performances. They showcased the richness of the Hausa culture through their presentations.
The occasion was also graced by the founder of Oodua People's Congress (OPC) Chief Frederick Fasheun and prominent members of Arewa Community in Lagos.
They use the occasion to pray for baby Salisu Mujaheed and his parents. They also used the forum to forge closer ties in their struggle for sociopolitical emancipation of their people.
Giving reason for christening his baby Mujaheed, Yerima said: 'Our new baby boy is christened Salisu Mujaheed Shettima. You will see that Mujaheed is one of my bosom friend's name, Asari Dokubo. He is a brother and ally in activism. This is deliberate as it is in recognition and admiration of the fact that Asari has fought for the rights of the common man. He has become an icon in the struggle for the socio-political transformation of his people and the country. This is a most noble cause to fight for and I want my son to follow such honourable path. It is a path to greatness. So, that is why I have christened him after Asari.'
Asked how he felt about the development, Asari, who felt so excited about Yerima's decision, said that it was a great honour Yerima done to him. Said he: 'It is a welcome development. I am excited about it. Yerima is like a blood brother to me and we have been strong and dependable allies in our struggle for a better and more united Nigeria. Our relationship has transcended ethnic differences or tribal lines. You have seen how we all related as if we were blood brothers; everyone who is present today, from all parts of the country have interacted as brothers and that is how it should be' he stated.