DAY FEMALE CORPS MEMBER CHANGED LIVES IN EKITI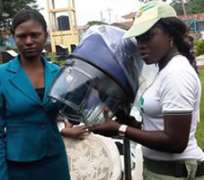 A beneficiary receiving a dryer from Miss Bolaji
She is not a governor's wife, but 23-year-old Miss Oluwafeyikemi Bolaji has already joined the charity business, which most state First Ladies are known for. Most of them call it 'Women Empowerment and Poverty Alleviation Project.' This is a dream Oluwafeyikemi has been nursing, according to her, from childhood. Now, she is seeing it actualised.
Recently, the National Youth Service Corps (NYSC) member serving in Ekiti State turned her dream into reality. She started by alleviating the suffering of 30 indigent people across 14 of the 16 local government areas of the state. She did that as her Community Development Project.
A graduate of Bowen University and indigene of Oyo State, she organised the programme in such a way that lawmakers from the Ekiti State House of Assembly, NYSC officials led by its State Coordinator, Mr. Baba Ahmed, the Regional Manager of Wema Bank, Mr. James Adeniyi, Ado-Ekiti Local Government officials and others stormed Fajuyi Park, Ado Ekiti, the venue of the event, to witness the distribution of the poverty alleviation items.
How and where did she get the money? What led her into this type of project? These were some of the questions we put across to her. And, enthusiastically, she responded:
What is your name?
My name is Bolaji Oluwafeyikemi, I am from Oyo State, Ibadan to be precise. I was posted to Ekiti to serve and when I got to the state, I realised that the youths need to be empowered. So, I was motivated and resolved to do something that would make them happy. I sought opinions from people on how to help out. The programme is on poverty alleviation and it is aimed to empower youths so that they can earn a living.
How did you raise the money to buy these equipment?
I got sponsorship from political officers, members of the Ekiti State House of Assembly, the Chief of Staff, the Ekiti State Head of Service, some Special Advisers to the Governor and my bank, Wema Bank where I am serving.
How much did you spend on these?
About N380,000 and, 30 people are benefiting from it.
How did you select them?
I went to their local governments to get them and some people also helped me to source them, so I have about 14 local governments represented.
How many from each local government?
Some are two, while some are one.
What would you say on the rate of unemployment in this state?
It baffles me actually, because we just see you dress well, but doing nothing and there is nobody to help. I know it is not possible for the state government to do everything, but if well-to-do people come in and do something, I am sure the state would be better for it.
What is your advice to the beneficiaries?
My advice is that they should make very good use of the materials and I am very sure it would make life better for them.
What course did you study and in which of the institutions?
I studied Business Administration at Bowen University in Osun State and I am 23 years.
What motivated you into doing this?
All this is not new to me. Right from the outset, I had the feeling in me from school that when I have the opportunity to help people, I would.
What is your advice to government?
I plead with government to try to encourage others, because it was very difficult for me initially to achieve this feat. I got tired midway, because assistance was not forthcoming; but later, they started calling to give assistance.
Some of the beneficiaries spoke to us. Excerpts:
Mrs. Adeniyi Boluwatife (from Ado-Ekiti): I got an umbrella, a table and a chair to operate in my phone-call centre. I'm a telephone operator. I am a dry cleaner, I collect cloths from the people around me to wash and realise money from it. I am happy for today. I praise God because this will make things easier for me and my four kids. I make something like N1,000 when business is good and at times less than that daily.
Elizabeth (A hairdresser): I collected a drier. I have been working as a stylist for different salons to earn a living, but this presentation will make me be on my own and earn a living from my sweat, instead of working for others and getting peanuts.
Ogunsola Tope (A barber from Ilawe-Ekiti):  I was given a set of clippers and a small generator. I am yet to get a shop. I graduated two years ago. I am happy because this will enable me to work on my own and improve my living standard.
Oluwakemi Ajepe (A tailor from Ido-Ekiti):  I received sewing machine. I assure that I will make good use of this opportunity and I pray for the donor.
While speaking at the occasion, the State Director of NYSC, who was represented by Mrs. Mofoluwaso Adebimpe Williams, an Assistant Director (Operations), said, 'The project is for empowerment of some youths and widows. It is a project that has to do with the need of the people of the state.' She added 'that some youths have the ability to do some things but they don't have the financial wherewithal to go about it. So she (Bolaji) was touched by their plight and she decided to go out to look for sponsors who will empower her financially to buy these things for them so that they would be gainfully employed and stop being a malaise to the society.'
According to the director, 'With this project, Ekiti State would be better, the standard of living of the beneficiaries would be improved and at the end of the day, the per capita income will increase. I am happy to be a part of it. I advise other corps members that they don't just go out and execute projects but do projects that would touch lives and meet the needs of the people and at the end of the day, the people will bless them with their prayers. We have ways of rewarding corps members that perform exceedingly during their service years.'
In his own comment, a banker who attended the programme said, 'It is a good one. She has gone beyond her primary assignment and done something to contribute to the development of the state and its people. What she is doing is that she is giving back to the community what she has collected from the community. It is something that is very good'
He advised other corps members and youths to imitate Bolaji in touching the lives of others.