OLUREMI OYO, OON: MONEY IS EVERY CEO'S NIGHTMARE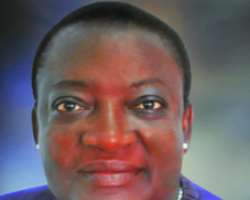 Oluremi Oyo
Continued from last week
Even if she prefers to be modest about her membership of the elite club of Nigerians with name recognition, her name still precedes her wherever she goes. She ranks very high amongst those eminent Nigerians with name recognition. Whether in service to fatherland, community service, or journalism-a career she has so passionately devoted most of 59 years on earth, the name, Oluremi Oyo resonates like a tinkling cymbal. A sweet music in the ear.
Yet, there are neither airs nor affectations around her.
'All wonderful and beautiful gifts come from God,' the hardworking Managing Director of News Agency of Nigeria, NAN, says, waxing philosophical as she settles behind her desk for the concluding part of this exclusive interview held in her office at Abuja, after a three-hour break. 'God makes everything beautiful in its season,' she continues, 'so, who are we, mere mortals to beat our chest?'
Like she did, last week, when she revisited her tenure as former President Olusegun Obasanjo's spokesperson, Oyo, a recipient of the national award of the Officer of the Order of the Niger, OON, opens another prism into her life as a young girl, growing up in Ilorin, the Kwara State capital, and the timeless lessons the times inculcated in her and which helped her to blaze forth like a thousand stars.
Excerpts:
What I have seen here (at NAN Headquarters) today is huge. From the template you have set, where do you think NAN would be in the next five or 10 years?
Certainly, NAN is well on its way up. Before five years, NAN will be the best news agency on the African continent; it will be the first to break news on Nigeria and on Africa. It will be one agency that will report the Federal Republic of Nigeria without let or favour and from the Nigerian perspective. We have the capacity. I have had considerable experience working for the foreign press and stringing for international media. And I found it rewarding writing for IPS (Inter Press Service), and telling the Nigerian story from the Nigerian perspective. It is different. Nobody knows Nigeria like the Nigerians. And that is why, for us in NAN, we tell everybody: once you have talked to NAN, you have talked to all; and nobody knows Nigeria like we do.
That is why I would like to have workforce that is dedicated, that has a deep sense of self-worth, that is passionate about their work, not only the editorial staff, but also from the administration to the accounts to the technical department. From the gateman to the top, everybody is very important to NAN. What aches one, aches all of us. What makes one happy, makes everybody happy. That is why you find that when NAN staff is doing something, whether he is getting married or naming a new baby, NAN is so heavily represented because we regard ourselves as family members. But there is no point in being a family member when you cannot bring strength to the firmament and it is that strength that NAN wants to contribute to the Nigerian media space.
Earlier on, you said something about money. And I had this impression that you hate handling money. Why?
No, I don't hate handling money.
But you mentioned it about two or three times…
(Cuts in…) Yes, maybe because money rules the world. It's not because of that; it is because of the fact that once you are handling money, you must be extremely careful. You must be transparently accountable. You must constantly ensure that you are walking the straight and the narrow path; and you keep begging God to give you the wherewithal to be able to stay on the straight and narrow path. I don't hate money. I have the moral strength to dispense of whatever money that we have. In fact, I tell the accounts and general office staff and the auditor general, 'anytime you want to look at our books please feel free.' Nobody is going to beg you that 'please, help me hide one paper or the other'. That you will not get here.
What is your attitude generally about money?
I grew up very poor. I could easily tell you that I don't have respect for money. But if I say that I don't have respect for money it might be misconstrued. But I believe that love is stronger than money. I believe that money is a means to an end, it's not an end in itself. But love is enduring and it lasts forever. I have respect for money, not for what money can do in a very divisive and very terrible way but in the good that money can bring and in its acting as tool to accomplishing noble goals. And it is in that respect that we, in the NAN, show a lot of respect for the way we handle government money, but also to say that if we have more, we will judiciously use it. Money is every CEO's nightmare, I believe.
Money is every CEO's nightmare?
Yes, it should be.
How do you mean?
You have to make sure that you use the money judiciously; you have to keep reminding yourself that you have to remain transparent and accountable; and to watch out for mistakes. Of course, mistakes will come but you pray to God everyday that it will not be the one that grounds you.
Does that mean that there is a pull that money exerts on CEOs that could naturally compromise them if they are not on their guards?
I can only speak about me. I can only speak for myself. I don't exert any pull on me. I can only speak about Remi Oyo. And Remi is a girl who grew up poor. We could have done with more money in my family but what kept us was first, the grace of God, and then love. God bless their souls, my parents believed very much in going to mass every day. They were Catholics.
Are you a Catholic?
I am a Catholic. And I am happy to be one. They believed in going to mass and saying the rosary, and asking for the blessing of God and the Trinity, and our mother Mary, to help them through. And they were able to get their children in to school.
How many children?
There were four of us. I am number three and the only girl. Regrettably, we lost my eldest brother, Olusegun, last year.
How old was he?
He was 67. But we give glory to God for his life. His children and grandchildren are doing very well.
What was life like, those years, when you were growing up in Usi-Ekiti?
No, I didn't grow up in Usi. I was born and bred in Ilorin. Ilorin is perhaps one town that I thought I knew like the back of my hand because I was a gaari seller. I hawked gaari for my mother. But it has grown exponentially now.
After school?
After school, of course. School was the most important. At different times, I sold puff-puff and kerosene, and all of that. Part of it was my business. I guess that taught me the spirit of enterprise. It taught me that if you work hard, you should be able to pay most of your bills, if not all.
How old were you when you were selling gaari?
I must have been about nine.
You were exposed to such danger at such a tender age?
No. What dangers? We didn't have such things that people now have. Everybody was everybody's mother and father. And you didn't go too far away from your locale. We lived in Gada, which is around Ibrahim Taiwo Road, for those who know Ilorin. And you went through the little houses in the neighbourhood. If you moved too far, you would get to the Emir's palace and you would come back. It's a shortcut. And it taught you to be streetwise. We didn't have all these kinds of molestations. And our mother worked very hard to make sure that we went to school.
And you excelled in school.
If you brought a poor position home, say you went down from Number 2, my mother would say 'Do you want to be a gaari seller like me?' So, that taught you the spirit of hard work, the spirit of respect for money. Above all, it taught you that you must bask in God's grace to be able to get anywhere. And for my carpenter-father, he worked very hard and the Catholic Church provided him with the wherewithal to be able to pay for our bills because he did quite a lot of work for the Catholic Church. But growing up was bliss. It was fun. It was fine. It was wonderful to climb as many trees between St. James Catholic School in Sabo Oke and St. Barnabas. I had very fond memories of Ilorin. My family still owns properties there.
And your childhood?
My childhood? I have wonderful memories of my childhood.
How about the deprivations that poverty brought?
You didn't notice the deprivation because you were busy. Of course, it would be nice to have a pair of slippers. We had new shoes at harvest or Easter or Christmas. And the shoes were usually bigger than you, so you stuffed it with Daily Times. The generic name for newspapers at that time was Daily Times. I had a penchant for losing one ring or the other at harvest time for which I got whacked nicely. I had fun following my brothers to football pitches. One of my brothers, Olusola, was a fantastic footballer and, maybe, if my parents were just growing up now, they would have encouraged him. My brothers were also fantastic drummers, all of them. In fact, the Olushola that I spoke of drummed in those early days with the Nigerian Police Band, pro bono. We had wonderful memories growing up in Ilorin
What were the lessons of life that your parents taught you, despite the lowly estate, that helped?
First, firm belief in God Almighty. Secondly, that tomorrow is always brighter than today; that hard work would never kill you, you must respect family and friends and that a trust once given to you must never be betrayed. That you do not burn your bridges and you must have respect for people. I mean, writing in the reckoner in those day for my father, like 2' by 2' planks equal so and so for one person that has given him job. There were times that he sent me to go and collect money, and people set their dogs at me or something at me. The moral there is that if you are a rich man, you should respect the poor.
Your father usually sent you to go and collect money from his debtors?
It happened one or two times. For me, it is not something I would like to remember. It is a lesson in life that when you have money, you must not worship money, and that you must treat your fellow human being as if he was yourself. Those were the lessons that I learnt. And that education is everything. Proudly so, we Ekitis, we believe in education. It is important that you honour your obligation as a father or a mother to your children, and that you must walk the straight and narrow path. It doesn't pay to be a thief.
What is that mistake you have made in your sojourn so far on earth that you would rather not talk about?
None.
Mistake of money?
No, perhaps, mistake of trusting people.
Trusting too much?
One or two people would have betrayed trust. Apart from that, as we grew older (and I was be 59 this month), you realised that nobody that is perfect. And if you want to go to God for help, you must try to forgive, and I hope that I get forgiveness.
This betrayal, was it while you were in government?
I would rather not talk about it, but it was not when I was in government. When I was in government, there was nothing to betray. My friends remained my friends, my (phone) number is still the same. I believe friendship is very important. Outside your family, your friends are the closest to you. True friends, they are there with you, through thick and thin. They regard you as the same person who was the same before he went to government and when he comes out, he remains the same.
I believe also that it is important that he who comes to government should know that he would return one day and that, like they always say, 'this thing go finish' and he must return home. So, it is better for you to put your best foot forward and try to make a good image your watchword. And hopefully, members of your family also would not do things that will embarrass you in and out of government. And we all pray for them, we pray for wonderful children with whom I have been blessed.
But one must admit that there is something that happens to those who go to government: the hours are long, they are unpredictable, you don't have control over them, so you crave the patience of friends. And true friends will stay with you even if they do not see you everyday. Even if they don't talk with your everyday, those who are your true friends will understand you. But you also must understand that they have need for love, need for contact need for communication, so you must try to stay close to them. I have been blessed with wonderful colleagues also and some people still call me 'Presido' from the days of the Nigerian Guild of Editors and I cherish their friendship. Above all, I cherish the genuineness and the constructive criticism that I have received over the past eight years, first as the spokesperson of President Olusegun Obasanjo and now as the CEO of NAN.
As the president's spokesperson, what was your watchword? And what should be the watchword of presidential spokespersons?
Truth. You don't have to lie.
How much truth can you tell in an environment like that?
You can tell the truth or say nothing, you have a choice.
You just tell people asking questions 'no comment'?
Yes! What is wrong with that? That is a comment. No comment is a comment.
Even when people yearn for information desperately over an issue?
Any information that is worthy of being given will be given, but a spokesperson must not be caught pants down, lying. It is one of the most terrible things that can happen to somebody.
That contradicts the perception out there that governments' spokespersons are propagandists…
You are a spin-doctor, that's your job.
You are supposed to make your boss look good all the time. You are supposed to get the information about your boss out as quickly as possible and as properly as possible, hoping that when you send it out, there will be no ambiguity whatsoever as to what your boss wants you to say. And if you are lucky like I was, your boss is not breathing down your neck, you are fine. And when you are further blessed with colleagues in the media who understand you, who call you to ask for information, and you readily give information, they will learn to trust you. And sometimes when you want them to cut you some lack, you can call them and say 'Bros, how far?' There's nothing wrong with that. That's what cooperation is about. But it is not true the president's spokesperson is a propagandist. At least, in my case, I didn't have to lie. You don't have to lie.
However, if you are privileged to be at meetings, nobody asks you to be a blabbermouth on issues of national security. If what people want is to make the spokesperson a blabbermouth. I don't think any spokesperson worth his salt will attempt that because it is privileged information that a spokesperson gets when the president is meeting with ministers or is meeting with a fellow Head of State.
The one you should tell people, you tell them. And if they are talking about cooperation in other areas that is not for public, why would you say it?
It also depends on how much your principal makes himself available to you-
My principal was always available to me. I travelled everywhere.
You had his ears all the time?
I did.
He wasn't snobbish as people say?
No, he wasn't. It is not true. I guess it is right for us to expect much from our leaders, but we must realize that our leaders are human and I will not like to talk about my time in the villa. I will like to write about it myself. President Obasanjo is one Nigerian who is very passionate about our country. For him, the unity of our country is sacrosanct. And he worked day and night for the unity of this country, and still he does. How did you find journalism, or is it journalism that found you?
No, I found journalism. I set out to be a medical doctor.
But you failed all your sciences?
I failed all my sciences. I was an A-level science student in Queen Elizabeth College in Ilorin, but I went proudly to St Louis Secondary School in Kano; but things didn't work out, like my friend, Dr. Segun Ajuwon, (former personal physician to President Obasanjo before he (Ajuwon) became Medical Director of the National Hospital, Abuja) said. He said, I wasn't brilliant enough. I guess he was right. However, after high school, I went to start teaching in a secondary school called Nigerpecko on Kano Street in Lagos. I am a proud teacher of some doctors, which should comfort me because some of the students who passed through me became doctors. I saw one or two of them at LUTH the other day and they are big doctors now. And they said, 'Miss. Oke (her maiden name), don't you remember us? You used to be our biology teacher.'
In your days as an active reporter, what were the specific ethical challenges that confronted you and how did you surmount them?
I think when you set out everyday, you pray to God to protect your going out and coming in. I have been a careful reporter all of my professional life. If I know that I may have to do anything untoward, I excuse myself. So, I never leave myself bare. I remember that I was stringing for one international newspaper, and at some point, we had to part company because I didn't like what they wanted me to do about my country and in that particular newspaper. The money was right. When you write, they send back to you what they are about to publish. When they sent what they were about publishing, I disagreed. I told them, 'if you publish this, I am going to court or issue a statement against you.' I lost the revenue, but that was okay.
I suspect that I might want to report when I leave NAN. Maybe not for NAN; but I might want to report and I hope that if I take my recorder somewhere people will oblige me. It is good to write. It is a creative thing. It is good to use your creative energy, not necessarily in figure-bashing but in a constructive way.
Talking about your dear doting husband, how did you meet him?
I met him in Radio Nigeria. He was a newscaster.
How did he sweep you of your feet? His dexterity on the job and, of course, his good looks?
I don't know which one. He was just wonderful. Ours was not the first marriage in that establishment but it was actively encouraged by some of his seniors. Of course, my friends teased me to no end. It was a very long courtship, about four years altogether, but I enjoyed communicating with my parents-in-law who were nurses. God bless their souls. Dad wrote a lot, mum had a more beautiful writing than dad but they wrote to us. Of course, I met my grandmother-in-law who brought up my husband in Benin, my husband is half-Benin and half-Urhobo and we all fondly called her Dede until she died at 96 years old.
Was there no serious concern about a marriage between two journalists? Did you consider the rigours of the job, the long hours the two of you would have to spend outside the home, and the possibility of the two of you not having quality time for yourselves, even for the family you would be raising?
Don't doctor and doctor marry? Don't nurse and nurse marry, as my parents-in-law did? Their job was equally demanding but they had wonderful life together. They were married for more than 50 years, nearly 60 years and the union was blissful, in spite of the jobs. I think it's about the individuals' upbringing, their idiosyncrasies, their willingness to give and take, and so on. Even if the two of you were not going to work and you were billionaires and you stay in bed all day and say 'I love you', 'I love you,' somebody will have to get up and go to the bathroom. And in-between that period, somebody can decide to make a phone call that will tear the marriage apart.
I think that the understanding that my husband has shown over the years is perhaps because he is in the media industry. Of course, he went from FRCN to advertising and now, he is into PR and Marketing Consultancy. I think he understands and he has brought a lot of plus and synergy to not only our relationship but to my capacity to contribute what I can for my country, for my job. He is an ideas person. He's always having one idea or another for me. He is my worst critic. He can be very unsparing when he criticises me because he and the children are the only persons who can tell me the absolute truth. And it affects him also because I am proud to carry his name. And I must not bring that name to disrepute. I must not bring the whole of Oyo Clan of Okpe Kingdom to disrepute.
What I'm saying is this, I think that there has to be a primary commitment to marriage, not only at the day of wedding but before you get married. I am not so sure I am qualified enough to give advice on marriage but having been married for over 30 years and having children, and going though some of the ups and downs that marriage can go through, I think I can counsel.
I have heard some journalists complain that journalism destroys marriages because of the long hours and absence from the home, occasioned by constant travels? What advice do you have for such practitioners?
Let me say this loud and clear: journalism does not destroy. I do not know what their personal situations are, but I do know that journalism does not destroy. However, we must pray for our children that they should marry their own persons. That they should marry the persons God has ordained for them, and that there's understanding. You have got to bring extreme humility to marriage and especially at home. That's how our parents taught us. That's the way it should be. So, you happen to interview a governor or a minister and you think you are bigger than your husband? Rubbish!
When you come home, that's a different ball game. You have got to show respect. Yes, you expect understanding, but if you don't get the understanding, work harder for the understanding. Be submissive to your husband. Earn your husband's trust. Make your husband trust you. For the wives who are married to journalists, you are married to wonderful people because they are people who have the worldview of everything. And they can only bring success, fame, love and the wherewithal to your family because in some cases, they are very, very well paid. And doors are opened for them without being unethical. I think patience is very important and respect is key in a marriage. There is no reason why a marriage should be destroyed because of your job. Because a job is what it is: a job! It is a job and it will finish when you are retired. So, why would you want to spoil a good thing especially when the marriage has been blessed and produced children? And if it has not, God, in his infinite mercies, will bless it. You can't get much out of a marriage if there is too much tension in the family. The husband will be afraid to come home or the wife will be afraid to come home. And that way, he will not or she will not be able to concentrate on the work that brings small or big beans.
I am a very traditional person. My mother loves my husband so dearly. She heard me one day calling him Vincent and she said 'Ah, oko e lo nla oruko mo lori bayen? O o mo Baba Olumide?' (Transliterated, it means: 'Why do you call your husband by name? Can't you call him by his son's name, Baba Olumide?') She also insisted that I cover my hair. She is catholic but she insisted that I cover my hair. 'You only open your hair to your husband,' she said. Everybody knows that I don't even remember to go to the hairdresser.
It's convenient for me. I don't like to spend two hours in the hairdressing salon. I don't have the time. I believe that humility that was professed at the first kiss is what everybody should strive to bring to bear all the time because at the end of the day, when the children are gone, you have each other. But if that friendship is gone before the children go away, it will be a very painful retirement, especially if it is a very long retirement that God has given you. So, you have to make up somehow. It will be very embarrassing for children to come and start advising 70 years old that 'Baba, don't do this.' Life is too short not to be sweet.
So, striking the balance is very important?
You have to strike the balance all the time. You have to pray hard all of the time. You have to love yourselves thoroughly, cut the slacks for one another. It's a job especially if you marry the person when he was already a journalist. You knew what you were getting in to; so why complain now? Then, we should get the wife busy. If they are wives of journalists, get them busy. Like a friend of mine said, he said he doesn't want a wife who does not work because she would spend the time looking at the clock.
You said you were 59 on October 12. Looking back at the whole of your 59 years, what would you pinpoint as the highest point of your life so far?
There are many high points. I think God is partial to me. I think he loves me thoroughly. He has been there for me through thick and thin. He has made everything beautiful in its season. What else should I say? When I went to school, or just growing up, there were happy times. My house was house of laughter, though there was quite a lot of mischief. Like my brothers going to play football, and sometimes I was asked to come and kick the ball. The ball always would go through my leg anyway.
From the time I tried to ride a bicycle and I couldn't quite do it to riding the bicycle across the front of our house so that my father could see me and buy me a Raleigh bicycle, or from the profession that I have, or the husband that I have, or carrying my first child, it has been very beautiful. It was also wonderful when I carried my first grandchild. I have so many reasons to be grateful to God. I couldn't say there was a dull moment for me. I think I have been richly blessed by God. I have had so much love in my life, so many wonderful friends and family. There are colleagues I have been blessed with in every situation of my life. That's why I said God has been so partial to me. He loves me thoroughly.
So, there is no low point?
In every situation, you have low points but the high points far outweigh the low points that one has had. There were few low points but they didn't last. They didn't last because of God's grace. When I lost my mum, that was a low point. When I lost my mother-in-law, when I lost my father-in-law, those were low points. And just recently when I lost my eldest brother who we called Daddy Agba, that was another low point. Ironically, he died on the same date our mother died. They both died on December 6, but seven years apart.
The loss of a beloved is a forever-searing pain. It is not a cry for one day. Sometimes, I found myself thinking about my mother for a whole week and I said to myself, there is something I really wish I could have done for her. She died the day that I clocked six months with President Obasanjo. My parents-in-law were parents indeed. They were not in-laws. In fact, my father-in-law used to say that I was the daughter he never had.
What is that secret fear that you nurse?
I am afraid of failing. I don't like to fail. I am constantly afraid of failing; I don't ever want to disappoint my friends and my family. I couldn't look my husband and children in the face if I have not done well. But I know also that they love me thoroughly to understand. If I have not measured up, I tax myself much more than usual. I don't know what else to do if I don't work hard. I don't do parties. And I am very bad at visiting friends. But I love to be hostess.
I think I am afraid of failure.
I don't like to disappoint my friends. I wish I have more time to read, but I have started doing that now. I read every copy that comes out from NAN. If there are 300 stories, I read them all, though it's a lot to read in addition to my administrative duties; and I still need to reach out to the publics of NAN. I am afraid of falling out of God's grace; it will be the greatest calamity for me. So, I try to live by His law. But I am a human being. Sometimes, I falter but I ask for His grace and forgiveness. That is sufficient for me. That is the beauty of being a Catholic. You confess your sins; but you confess your sins to sin no more.