WORLD'S FIRST: MOTHER DONATES WOMB TO DAUGHTER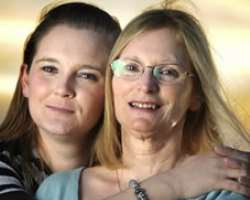 •Mother's love:
Melinda Arnold (left) was born without a uterus. She hopes to become one of the first women in the world to give birth after a womb transplant from her mother, Denise (right).
The uterus is taken from the donor through an incision in the abdomen and placed on a bed of ice. The blood vessels to the uterus are flushed with cold preservation solution. The 3-hour operation of the donor ends after the top of the vagina is sewn up.
An intensive care nurse is so desperate to have a baby she has decided to undergo a womb transplant from her own mother. It means that should the operation be successful her child would be born from the same uterus from which she herself was born. Melinda Arnold, 34, from Melbourne in Australia, was born without a womb but has ovaries that produce eggs.
Her mother's age has not been disclosed, however she would only be accepted as a viable womb donor if she was pre-menopausal. The average age for a woman to reach the menopause is 52. Melinda and her husband Andrew were devastated after two attempts to use her mother as a surrogate and one attempt using a friend failed. They said attempts to have an interstate adoption had also come to nothing.
'Becoming a mother is something that has always been in me,' Mrs Arnold told the Herald Sun. 'It is ingrained in me. It is who I am. That's why I have gone into the work I have, as a neonatal intensive care nurse, so I could channel that passion into helping other mothers and their babies.'
Now her own mother, Denise Allen, says she is prepared to go under the knife to give her daughter one more chance.
'People looking at her (Melinda) would never know the heartache that she carries about, but I see the chink,' Ms Allen told the Australian Sunday Telegraph. 'I also know that if anyone can do this, my daughter can.' Mrs Arnold says she and her mother hope to join a programme run by Professor Mats Brannstrom at Gothenburg University in Sweden. The team plans to perform the world's first live womb transplant next year. The procedure involves performing a hysterectomy on the donor and inserting the whole organ into the pelvis region of the patient.
The uterus – which is needed to nourish and carry a baby to term – is attached via the patient's blood vessels and vagina. It is not attached to the woman's fallopian tubes to make it easier to remove eggs from the ovaries later. If all goes well a fertilised egg can be inserted in to the transplanted womb a year later. During pregnancy the woman and baby are monitored closely as the dose of of immunosuppressant medication may need to be adjusted, in order to prevent the uterus being rejected.
If the pregnancy is successful the baby is born via planned caesarean. The womb is then removed from the new mother unless she wants to try for another child. This procedure has been successfully test in rats and scientists are in final tests with baboons. The Swedish medical team hope to perform the first human transplant next year. For Mrs Arnold, who has been with her partner for 12 years, the breakthrough treatment can't come soon enough.
'I owe it to myself to give this a go,' Mrs Arnold told the Herald Sun.
'If it doesn't work for me, I hope to raise awareness and perhaps it can work for another woman.' The procedure offers a potential new option for one in 5,000 women born without a womb. However, the procedure raises a number of ethical concerns as the uterus could be rejected while the foetus is still alive. Anti-rejections drugs that a mother would have to take could also pose possible risks to the developing baby. A spokesman for the Uterus Transplantation Project, said the ethical perspective was being discussed and that womb recipients would undergo mandatory psychological counseling to make sure they were fully away of the risks.
'Many planned pregnancies today are associated with increased risks for foetal complications, such as congenital malformations in pregnancies of diabetics but these risks are balanced against the wish of parents,' they added in a statement on their website. In October this year a 21-year-old woman became the first woman in the world to receive a womb from a deceased donor. Doctors at Akdeniz University Hospital in Turkey successfully transplanted a womb on August 9 to Derya Sert who was born without a uterus.
It was the second womb transplant to be performed in the world, the first being in Saudi Arabia in 2000 from a living donor. However, this failed after 99 days due to heavy clotting and doctors had to remove the organ. Micro-surgeon Omer Ozkan, said: 'The surgery was a success … (But) we will be successful when she has her baby,' Ozkan said.
'For now we are happy that the tissue is living.' Mrs Sert will now need to wait a minimum of six months before attempting to have IVF.
Fellow doctor Munire Erman Akar said during pregnancy, 'there are many risks like congenital anomalies because of the immunosuppressive (drugs), and intrauterine growth retardation, preterm labour.' Lowering the dose of the drugs is critical for Sert to carry a healthy baby through pregnancy. Mrs Sert has already started to menstruate, which is an important sign that her womb is working.
'We can see it from the ultrasound that the endometrium lining is perfect,' Akar added.