MARRIAGE IS A BAG OF EMOTIONS- DR. TOKUNBO AKEREDOLU, HOD, SCHOOL OF DENTISTRY, LUTH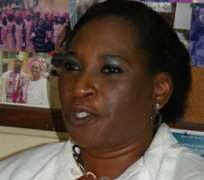 Tokunbo Akeredolu
Dr. Tukunbo Akeredolu is, as they say, a plus-size. That is a euphemism for being a fat person and she would readily tell you that as a result, she is visible. That's not all. She would also say, teasingly, that she is built-to-talk. Therefore, combine her frame with her talking, the dental surgeon says 'people will not fail to notice me anywhere I am.' Sizable, present and extremely peasant, Akeredolu is a leader of people.
The current Head of Department, School of Dentistry, University of Lagos Teaching Hospital (LUTH), she got into her profession by accident of luck and she has made the best of her calling. A great mentor and free-spirited mother of four boys, Dr. (Mrs.) Akeredolu believes that there is no limit to how much a women can achieve - once she gets her priorities right, that is.
And her take on the infamous belief that a women's height is determined by how much allowance the men give, she holds that, that is unfounded. Her words: 'To be fair on the men, this is my third time of becoming the HOD in the College of Medicine. I was recommended to be HOD by Deans that are men. When they see that you can do it, they will entrust leadership into your hands.
That is my own personal experience. I have never had a situation where I will be told that, though they know I can do it, they'd rather have men.' And what is her attitude to leadership? 'I accept superior arguments. I don't close my mind to other views; I listen, weigh my options and take a decision. Even if I had gone ahead and started initiating my own decision earlier, if you call me back and you tell me why you think I should do it differently, I will put a stop to mine because it is better to do and achieve the desired goal.'
Beyond all that and on how to take care of the teeth, Akeredolu also talks about marriage and family matters. Excerpts:
Tell us about your profession?
I am a dental surgeon but went ahead to specialize in restorative dentistry. Dental surgeons are people who make sure the mouth is restored back to its best. What we do is to restore the mouth back to its normal shape and size, for example, after an accident or fracture. If, for example, somebody loses the teeth, we replace the missing teeth; we reshape the teeth. If somebody was born with abnormality of the teeth, we shape the teeth, so that we can improve his or her appearance.
Did you actually set out to become a Dental Surgeon? Tell us about your growth process in this profession?
I found myself in dentistry by a stroke of destiny. When I entered the University of Ife, I filled medicine but I couldn't get into the faculty of medicine. I got into faculty of education to read chemistry. But I had always wanted to read medicine. So my uncle promised that if I passed well in my first year, he would help me change to medicine.
So I passed all the courses very well, both in the first and second semesters because I had a goal. Unfortunately, that year, Health Sciences decided that they had too many people and that they could only take a few to cross over to dentistry; so that was how I ended up in dentistry.  We went through the dental school and I can tell you it was very interesting going through the school then, because we had a lot more to do in terms of early interaction with our patients than our medical counterparts. And so it was learning with fun.
Once I finished, I knew what I wanted to do; which was to be like some of my senior colleagues. I then asked how I could become a consultant. They said I had to do residency training. So immediately after my first degree, I took my first professional examination, both of the National Post Graduate Medical College and the West African College of Surgeons.
I passed at first sitting. I entered for my residency programme, I did the part one and passed; I got sponsorship to go abroad for one year by the National Post Graduate Medical College and British Council. So I was sent to the UK. After that, I passed my part two, which is the last stage of the post-graduate; got my fellowship, became a consultant, which is the highest anyone can get to in the practice of medicine. Then, I got an appointment with the College of Medicine, University of Lagos as a lecturer. Over the years, since 1997, I have been publishing my journals and reviews. I was promoted first as a senior lecturer and then very recently, I got promoted to Associate Professorship.
For someone who got into this by luck, would you say it has been fulfilling?
For me, it has been very fulfilling. As a person, I'm a lover of people and so, despite the lack of water, electricity, material and so on, each patient has the best of me and I have the best of every situation. This is because if you come into my clinic, I don't just treat you as a patient, we talk about everything. It is like a home and I try to give them the best, from the simplest form of treatment to the most complex. My patients walk away from the clinic with satisfaction, knowing that Akeredolu has done the best within her limit for them. And then, I also love to see people happy. I'm one of those people who will break a limb just to see people happy. So, for me, it's been very fulfilling. I wake up, ready to come to work everyday because I am happy.
But it would appear that the younger doctors are not as passionate as you are with all the incessant strikes that we witness every now and then. Is it that they lack passion or that they are too taken in by the economic side of the job?
It is not that the younger ones are not as passionate or they do not want to as be passionate. Apart from the normal salary, there are a few things that are not in place that make the younger ones angry. For example, in our time, if you finish in September, you will get inducted into the medical council in October and by December, you would have started internship. I can tell you that in this country today, there are people who have finished and for two years, they are still looking for a place to do their internship. And so, eventually, when they get a place for internship and their remunerations are not forth coming, there is this frustration and there is no way that sometimes your patients will not get a feel of this frustration.
That is not to say that strike is permissible, because, if you read our Hippocratic law, it does not allow us to, under any circumstance, let any situation affect our care for our patients. Even where we have to go on strike, we are supposed to put in place structures that will ensure that patients under our care at that time do not suffer. That is part of what we are sworn to; and that is why sometimes, as the chairperson of the consultants in the hospital, even when we call doctors out on strike, we make sure that first, we go on a work to rule (8am to 4pm). Patients who are in intensive care cannot be left alone, patients in the orthopeadic ward and generally in-patients cannot be left alone. Those that you feel can be discharged and that can come as out-patients should be discharged.
As someone who has trained many, would you say many young doctors are getting interested in dentistry as an arm of medicine?
Before now, most of us who found ourselves in dentistry did so by luck, but now, oral awareness in this country is better. Now, hardly would you find a child by age 10 in Lagos State who has not had any form of contact with a dentist. So, they know that there are some people who look after the teeth. So, when they come in here, they pick up interest. Apart from that, you know in families, there are professions that are considered noble and that people choose early in life to become, like architects, doctors, engineers and so on. Because of their early interaction, some children are willingly choosing to become dentists. That is beginning to happen.
You see, it's all about mentoring. I've had younger doctors who tell me that during their training, my area of specialization was somewhere they were not interested in; however, three months of closeness to me in the hospital, they have a completely different view of the specialty. So I think it's about mentorship. I always tell them that it's too easy to practice this area of specialty.
The onus is on us, the senior ones, to infuse in them what they should know. Sometimes, I tell them, all these that I'm teaching you in class, come to my clinic and see me practice it. If you teach your students in a relaxed atmosphere, they tend to gain more. Unfortunately, I didn't learn in a relaxed atmosphere. I was taught by my mentor, Dr. Bassey, whom we all used to stand in awe of. The atmosphere then was usually tensed and if you made a mistake, you were in trouble. If my students make any mistake now, I'll just laugh and tell them that I too committed the mistake during my days in training and by the time Dr. Bassey finished with me, I'd be crying and people would be helping me to pack my things as I wouldn't be able to see. And they will all laugh. But of course, in all that, I would have corrected them. They do not come into the clinic the next day petrified. They come in relaxed and willing to learn new things.
You said the oral care awareness is improving. Are people responding to seeing dentists more now?
I think we should give kudos to oral health care product providers. Some of these agencies realize the wisdom in working with dental care professionals and so they work with us and fund it. I don't know if there is any remote village that we haven't been to on oral care awareness programme. We even go back again six months after to find out if we made an impact.
This year alone, I have been to Enugu thrice, sponsored by one of these manufacturers. We documented it. Nigeria is blessed with these providers because the government would not have been able to do it if not for them. The government sometimes finds it difficult to achieve this kind of goal, nationwide. But these agencies have what it takes; they spend money, give incentives to the people and this gears the people up to come out. Usually, when we make the return trips, we usually get more than we can cope with because of the incentives that those who had earlier been attended to received. And I can tell you that there is hardly any state in Nigeria that Nigeria Dental Association has not taken oral health care to as at today.
So, how best should one care for the teeth?
What we always advice now is that it is important that you brush twice daily, with fluoridated toothpaste, which should be carried out with an instrument, be it a chewing stick or a toothbrush. Toothpaste, in itself, is not complete if it does not have fluorine in it because fluorine is that material that has been found that helps to keep the teeth strong and also fortifies the teeth against bacterial invasion. So, we recommend brushing twice a day - in the morning and night - and there is evidence to show that there is a drop in tooth decay.
What are the basic things that account for tooth problems, generally?
Causes of deterioration of the teeth, in terms of loss of sound tooth tissues are multi-factorial. Yes, there are situations that you are born with, in-born errors that make your teeth to be brittle; they break easily. If the hardest core breaks off, the one that is not very hard becomes exposed and is more prone to attack. But basically, the major cause of tooth problems is the ingestion of high sugar diet. Once we have identified that the eating of sugary food, the type, how long the food spends in the mouth is also a problem; how clean or dirty the mouth is, is also a problem. Then, the absence of material that can help the tooth to guard against bacterial attack is also a problem. So, to solve the problem of food deterioration is to eat food that has less sugar. But the question is, why is sugar a problem? Sugar is a problem because at the end of eating a high sugar content food, what we call the pH of the mouth increase, once that happens, it begins to eat up the tooth.
Then, also is the quality of the food. For example, some of us grew up on goodie goodie. I attended a boarding school and for us children then, it was a pacifier. So you just put it in your mouth and forget it in there while you are sleeping. At the end of the day, we were endangering our teeth.  We know that it is impossible to say people should not eat carbohydrate or even take sugary things. So we say, eat it in moderation and brush.
Also some of these soft drinks have some high level of acidic content. The citric acid in canned fruits too, is much. And we also know that it's almost impossible to tell people not to take soft drinks and sugary things. So what we tell them is to use a straw. When you use a straw, you reduce contact of such drinks with your teeth.
Keeping the mouth clean generally is also important because the bacterial that works on food debris collected over a period of time. And the bacterial that are most dangerous are those that hide under the food debris and they do a lot of destruction by destroying the tissues holding the teeth. Later the tooth begins to move.
Can we then conclude that if you brush your mouth with fluoride based toothpaste twice a day, eat less of sugar and avoid contact with the teeth when you take sugary things, one does not necessarily need to visit a dentist?
You will visit a dentist to clean your teeth. You see, the mouth is a very narrow cavity. You need to be very dexterous to go round the whole mouth.
Hardly would you find anybody who spends up to two minutes brushing his teeth. And you should actually take that long, taking the teeth in twos; divide the mouth into four parts, start from one quarter, in and out, for at least 30 seconds and then you move on to the next quarter till you finish. So the barest minimum of time is two minutes. But many of us don't do it as effectively as we should. But because we dentist know the limitation of the opening of the mouth, we have designed tools that can access the narrowest corner of the mouth such that no matter how scrupulous you are as a person, there will be remnant after each day of brushing. So, you still need to visit your dentist twice every year. He is able to help you pick out these remnants. As long as you accumulate food debris, bacterial will come in there and destroy the tissues supporting the teeth.
You serve with men as a board member of Dental Therapist Registration Board of Nigeria, how easy is it making decision with them?
To be fair on the men, this is my third time of becoming the HOD in the College of Medicine. I was recommended to be HOD by Deans that are men. When they see that you can do it, they will entrust leadership into your hands. That is my own personal experience. I have never had a situation where I will be told that though they know I can do it, they'd rather have men. I have had situations where my name came up in the position of the leader and unanimously, everybody just agreed. I think, everybody wants a good leader, and they see you as a team player, you bring peace to them individually and as a team, you control situations and there is peace of mind, they'll put you there.
August last year, during our campaign for the chairmanship position of the consultants in this institution, somebody brought out that argument that we are not ready for a female or a chairperson yet. And I told them that I went to find out the history of the association; the association was brought into birth by Professor Adenike Grange. She was the one that said, as consultants in the institution, we need an association and she started that association here in LUTH. And every hospital, where there are consultants, you have the Medical and Dental Consultants Association of Nigeria.
She had the vision, and so, I wonder, why anyone would say they were not ready for a female leader. On the day of election, more men came out to vote and they voted me into power. Many of them have worked with me in different committees and they see that God has helped me to be an achiever. If there is something to be done, I don't just go all out to do it; I will ask for advice. And they will begin to help. You know when people know that you are ready to work, they'll give their support. I form committees when necessary and ask that they give me their report at a stipulated date, which we will all agree to. I don't just sit back and assume they'll deliver on the said date, I'm constantly on their neck to work. So, to be honest, I have never been debarred from achieving anything by any man, rather, I've had profound support from all my colleagues, senior or junior.
What would you say have that makes you have that support?
I want to thank my parents, both late now, they thought us to be respectful. I grew up in a polygamous home and in our home, once someone is older than you, even by just one day, you must accord him that full respect as your senior. And I want to think that something that has helped me is that once you are my senior, I defer to you. Mentally, that was the way I was trained. Even now that I have achieved some things, even if we are at par, in terms of age, but you have done better and fairly ahead of me in the profession, I automatically defer to me. I think that has been the trick. I accept superior arguments. I don't close my mind to other views; I listen, weigh my options and take a decision. Even if I had gone ahead and started initiating my own decision earlier, if you call me back and you tell me why you think I should do it differently, I will put a stop to mine because it is better to do and achieve the desired goal.
Another thing is that I'm very quick to go on my knees. If I offend you, I beg you immediately, not minding my size. I can kneel down from here to anywhere, just to appease you. I think that has also helped me with the men, especially because they know that Tokunbo is not unduly stubborn and if she errs, she begs for forgiveness. That is me and it has helped me because I could go to sleep not worrying about anything. I'll always solve any issue before going to bed. I do not climb high horses, so I do not have to come down from them.
That is not to say when I want anything done, I don't get it done. People know me that there is no standing nor waiting until we've done what we've agreed to do. If you work with me and you didn't come to work because you are pregnant, I don't take it. I started my marriage with a multiple pregnancy and I never defaulted. The pregnancy is not on the leg, so do what you have to do. I do not suffer fools gladly. And then I let people know that there are consequences for actions. The punishment might be very mild to the hardest anyone can think of, ranging from an open disgrace in front of your younger ones or even your patients at work or an extension of a programme. Especially, I do that more now because people are doing things a lot thinking they could get away with them. And we must not let younger people grow up in the wrong way.
You are also married to a doctor, any specific reason or reasons?
The reason why we marry ourselves is that most of our social contacts  are just where we work. I was working at Military Hospital, Yaba, and I started working in the evenings. My husband also was working with the Lagos State Government and in the evenings too. My boss then had a small dental hospital and I needed a ride home one evening. And then another doctor asked my husband if he could drop me off along his way and he was generous enough to agree. Boy meets girl, boy falls in love, proposes, girl accepts his proposal, and 20 years down the line, here we are.
How has the marriage been?
Marriage has been a learning experience. Once you are learning, there's joy, laughter, tears, loneliness and times you get very overwhelmed. So all the different emotions, I have had in my marriage and I thank God that it's been a successful marriage. And I'm happy and I pray that my children will also marry from a good background. I married from a Christian family; my husband's father was a Bishop of the Anglican Church and I realized that even when we have our own share of domestic challenges, our backgrounds and family support come to the rescue.
Are any of the children into medical profession too?
Yes, my first son, Taiwo.
What are some of those sacrifices you had to make bringing your children up, knowing that you and your husband were always on call?
I married a responsible man. If you marry a responsible man, then there is little you have to worry about. He provided for our needs, he puts food on the table; he provides money for education and clothing. He provides everything. All he asks of me is to be a good manager. And so all I need to do is that is spend whatever resources he gives wisely.  Because he cares for us and for our general welfare, that gives me room to achieve what I want to achieve because all other things, if you have to bother about them, as a woman, you can't go far.
So, whatever I have become today, I think was destined by God, and I also think that the kind of marriage and support I get have also helped me.
What would be your advice to people out there who want to practice and make a success of this profession?
My advice is that they must be ready to give of themselves to people. And then, when you have decided to go into this profession, you must get passionate, no matter the odds. I do my work, no matter what. I am passionate about my profession. I treat my patients with utmost respect and care.
I appeal to their conscience; I empathise with them; that I urge everyone to do - relate to everyone because they matter. Younger doctors know that if they don't treat their patients well, they are in trouble with me. It is a privilege to care for these people; after all, you earn a salary for what you are doing. So you must treat them right.