SCREEN GODDESS,GENEVIEVE NNAJI SPOTTED WITH CHRISTAIN LOUBOUTIN AND HOLLYWOOD STAR,ROSARIO DAWSON IN UK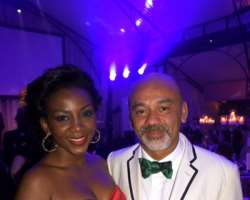 So far this year, Genny has been spotted partying first class in UK which has passed another major milestone in her career. The other time, she was spotted at Dolce & gabbana party with Naomi Campbell. And now she attended Raisa Gobarchev foundation gala last month joining top celebs like; Stephen Fry, Hollywood star Rosario Dawson, Celebrity stylist Tara Smith, French footwear designer Christian Louboutin.
Raisa Gobarchev Foundation Gala, organised annually by former president of the soviet union, Mikhail Gorbachev in honour of his late wife to raise money for the foundation aimed at combating childhood cancer in UK.
Genevieve was dressed by Italian designers, Dolce & Gabbana rocking a gown which came from Autumn/Winter 2011 D & G collection.