In Akure, filmmakers celebrate African values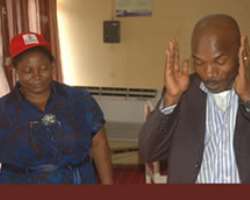 As a mark of its resolve to develop the motion picture industry in the country, Remdel Optimum Communications Limited (ROCOM) will on August 23 open this year's edition of Behind the Screen, in celebration of African cultural heritage.
The yearly ritual, which enters its third edition in the Ondo State capital, has the theme; Impact and Survival of Indigenous African Films and has now grown into a full blown festival, featuring exhibitions, summit, seminars, workshops, screenings, award presentations as well as the market segment tagged Karakata forum.
The film festival which rounds off on August 28 at the Owena International Hotels is also expected to feature a tour of tourist attractions including the famous Idanre Hills and the Igbo Olodumare which incidentally form natural sceneries for motion picture practitioners.
Pastor Biodun Ibitola, MD of Rocom in company of her husband, Remi Ibitola told journalists in Lagos that this year's festival aims at harnessing and sustaining Nigeria's rich cultural heritage through the screen. With a focus on capacity building, this year's festival, according to Ibitola aims at transmitting the totality of African culture through the use of indigenous languages as a means of enriching contents of films.
The festival, among others, also seeks to preserve certain African ordinances, norms and values, as well as facilitating the linkage of African kinsmen in Diaspora to their roots. It also aims at repositioning indigenous languages in Africa aside expanding avenues for the coding, documentation and communicative capacities of the languages and exposing same to other civilizations.
According to Ibitola who listed a number of activities that would boost tourism during the festival, the programme has been so enriched to comprise a series of events and activities. They include Skill acquisition in the various arms of the film making business; Filmmakers' summit; featuring notable scholars and culture administrators; film and commodity exhibitors as well as screening of films and the premiere of Remdel's latest film entitled Ofinga (Law is powerful).
On the summit which is intended to create interaction and exchange of ideas on film, the MD hinted that Professor Tunde Babawale, the Director General of the Centre for Black and African Arts and Civilisation (CBAAC) will present the keynote address while other discussions would be anchored by scholars like Dr Ahmed Sarari, Prince Jide Kosoko, Dan Jacobs, Dr Foluke Ogunleye, Dr Don Pedro Obaseki among many others. Meanwhile, the Karakata Forum, which is expected to feature investors in private and public sectors, bankers and insurance operators, would have a key paper delivered by Professor Mabel I.E Evwierhoma of the Univerity of Abuja. The paper, entitled Grassroot Mobilisation in the New Distribution Framework, is expected to give highlights on the operations and imperatives of the Distribution Framework that was recently introduced by the Emeka Mba-led National Film and Video Censors Board (NFVCB).
While promising a fun-filled festival for all categories of participants, Ibitola who hinted that Remdel aims at bringing the industry closer to the people in the state through training programmes also disclosed that the best culturally relevant film produced in the last one year would receive an award from CBAAC.
A foremost film production and distribution company which effectively operates from Ondo State, ROCOM has since become a household name in the motion picture sector of the economy. The company which is being anchored by tested professionals is involved in content entrepreneurship and production of films, musical videos, radio and TV documentaries as well as marketing and distribution of contents across the nation.
Today, ROCOM runs and maintains the largest verifiable film amd music distribution network in the country. As the founding father of, and a foundation member of Independent Film and Video Producers Association of Nigeria, ROCOM has produced and marketed many films, including Afonja, Owo Eje, Owo Agbara, Alagbawi, Igi Aruwe, Odidere, Mo ti Rii, Ogiri Oko and the most recent, Ofinga. The company has lately established the BSN Arts Institute in Akure as an avenue to provide training for younger Nigerians/future movie makers in the areas of film production.