GENEVIEVE,OMONI OBOLI ON WAR PATH?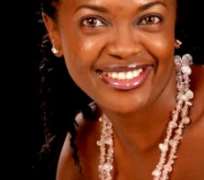 Reigning Nigeria Entertainment Awards (NEA) Best Actress, Omoni Oboli, who was rumoured to be engaged in a secret cold war with Genevieve Nnaji, has publicly denied the allegation.
But insiders are alleging that the 'war' between the graduate of Foreign Languages from the University of Benin (UNIBEN) and Nnaji reached a feverish pitch when she floored the latter to clinch the Best of Nollywood (BON) award for Best Actress, late last year.
Despite the glaring signs and evidences, she insisted that there is a cordial relationship between her and Nnaji, who has been recognised by CNN and American show hostess, Oprah as the poster girl of Nollywood.
Waving off any rivalry between Nnaji and her, the Delta-State-born actress told EE in an exclusive chat: "I am friends with most of my colleagues; I don't think I have any problem with any actor or actress. I am friends with everybody. I am too old for that kind of thing. Even the Bible said we should seek peace with all men."
EE brings you the exclusive story of the mother of three who snapped up lead roles in two of the biggest movies in Nollywood in the last two years, namely The Figurine and Anchor Baby.
Read below for more on the sexy star who recently penned a multi-million Naira movie deal in Ukraine.
You have maintained a low profile for some time now, what has changed about you?
That is not true. We just concluded the cinema run for Anchor Baby and it was a huge success. It has won many awards both international and local and it is still winning. It was nominated for City People Award and we also grabbed award of the Best Actress in a Film/ Short Story at the Nigeria Entertainment Award (NEA) in the US. I just concluded a movie which was shot in Ukraine. So a lot has happened.
What has been the secret of your success so far?
For me, I think if you don't stand for something, you will fall for anything. That is one thing I have learnt over the last couple of years, so I try to stand for what I believe in. I try not to be swayed by what people are doing or saying. If I believe that this is how I am going to achieve something, I stick by it. Just recently, a producer in Canada called me for a movie production and I told him I was busy. The story was not an interesting one and it's not the kind of thing you should be doing when you intend to break into the market. So for me, it's not about the money but about doing a good job that will stand the test of time that's what I mean when I said I stand for what I believe. For a long time, the only thing people spoke about was The Figurine and everybody felt I did the biggest movie at the time and the next year it was Anchor Baby and people are still talking about it. Now, I have done Feathered Dreams in Ukraine and that is what people will be talking about for a long time.
Do you feel any burden having to shop for designer wears for red carpet events?
I wear what I can afford to the red carpet. I just make sure I look simple and fine. What I can't afford, I won't buy it to impress anybody. That is how I see red carpet wears. On their part, fans should not put undue pressures on their stars. They are human beings like anybody else.
So where is Omoni Oboli from?
I'm from Delta-State. I'm Uhrobo precisely. A few people imagined I spoke Yoruba in The Figurine. I didn't speak Yoruba. The movie is not Yoruba. It is 90 per cent English. Certain characters in the movie spoke Yoruba when they were with themselves. Ramsey and Kunle did. My character in the movie was not Yoruba, I was actually an Uhrobo.
Tell us about your Nollywood story.
I cannot remember now, but Not My Will was my first major movie. I attended UNIBEN. I studied foreign languages and not Theatre Art (laughs) but acting has always been a part of me. I guess I was born to act. Right from when I was young, if it wasn't school play, it was church play. I just had to act. It is a part that I had always tolled. I first came into the movie industry in 1996. I was an undergraduate then. I played a couple of lead roles then and I stayed away for like a year, I left because it was clashing with school and I didn't want to be a drop-out. Everyone was dropping out of school then and I didn't want to be a drop-out so I had to face school. I figured out that the industry wasn't running anywhere, it will still be there when I'm done with school but when I finished school, I got married right after school and I left the country. All the while that I was away, I would watch Nollywood movies and I would see some of my colleagues as well as new faces that weren't there when I started.
The ones that were even there before I left, some had not even done lead role when I had done lead roles, and I was like oh! I wish I didn't leave and I said to myself I'm going to come back to Nollywood. When I came back to Nigeria from the US, I first tried to do other things. I actually got a job with an oil company but I didn't take it because I knew it wasn't meant for me. I knew if I go there I would not be happy. When I turned it down everyone was surprised, they thought I was crazy. How can anyone turn down an oil firm? That was the question on everyone's lips but I did and I'm really happy I did. So I decided to get back into the movie industry but what did I get? People had totally forgotten if I was ever there.
I met Lancelot and he introduced me to film maker, Emem Isong. Like I said earlier I write, so I wrote a script which Emem liked and I started from there and other producers noticed me and that was it.
You are not so much into small budget movies, is it a personal choice?
I have been fortunate to do big budget movies. I only insist on doing quality movies not big budget. In addition, I am also a script-writer myself and so I choose my scripts very well before accepting to play a role. From a mile away, I know a good script. So for me, the script comes first even before the budget. If your script is bad, no matter how much you want to pay, I will not touch it. I have to like it; the script has to make sense. I don't want to do a movie that will insult the intelligence of the viewers. We have to grow this industry and if we are going to compete with the world, we have to do it right, we cannot keep doing business as usual. The world is moving, we have to move with it.
Does it mean that you don't approve of these everyday movies we have now?
I am not saying that, I can't be in every movie, I cannot produce every movie. I shoot regular movies in Nollywood. I have done a couple of movies apart from Figurine; I have done movies not as big as Figurine such as Unfinished Business, Through the Fire and others. At the same time, they are not like just any regular movie out there. I am not spiting those who shoot these regular movies but the fact is that we are different. I think it's because I am a script writer that makes me see things like that. It's hard for me to see a script that is not well written and be happy.
Has this choice affected your circle of friends in the industry?
Not really, I am friends with most of my colleagues; I don't think I have any problem with any actor or actress. I am friends with everybody. I am too old for that kind of thing. Even the bible said we should seek peace with all men.
There was this issue when you emerged winner for two awards, and there was a rumour that some of your colleagues like Genevieve Nnaji were very unhappy with you?
I don't talk about this issue because for me it is a non-issue. There were two different categories; one Best Actress in a Leading Role, the other was Sunlight Clean and Fresh Actress, people mixed up the two and joined them together and that was the problem. So, yes I won both categories, but Best actress in a leading role didn't come with anything but a plaque but Sunlight Clean and Fresh Actress of the Year came with those cheques but most of the audience didn't know this fact. Genevieve and I are not on warpath, we are professional colleagues.
After the awards, what has been your relationship with other nominees and colleagues?
I have met some of them at events and they all feel chummy. That's the funny thing about stuff like this, some people just blow things out of proportion and say that we are quarrelling but nothing of that nature happened. Everybody is fine.
Who are your industry pals?
I don't want to start naming people and some others will say 'ok, so you are close to Omoni and I am not'?
How often do you hang out?
I'm not a 'hang out' sort of person to be honest, so I don't really go out. I visit some of my friends and they return the favour. We play, eat and talk together. We are not the party type, but if any of us is having a party, we all try to attend.
You have been very lucky with scandals; give us a tip on how to avoid controversies in Nollywood?
Before I start, I will like to beg you to please help me remain scandal free. I think the basic thing is to first and always be yourself, don't do anything that will be seen as scandal and you will not be reported doing something scandalous.
You sound like an introvert, how would you describe yourself?
I was talking to my assistant and I said that I can't even define my own personality. I'm a 'bubbly' person and at the same time, I can be introverted. I may not want to club or party, I like to laugh and play but sometimes, I just want to be on my own, my personality is funny and different. You can't put me in a box.
You have been spotted severally with your husband at Nollywood functions. Is that one of your anti-scandal schemes?
No, it's not. I enjoy my husband's company a lot. I love being with my husband, we do things together. So, if I have an event or he has an event, we always try to go together.
Is your husband one of the popular celebrity husbands?
Yes that is correct but my husband will never grant you an interview like I am doing now. In fact, you can't get a snapshot of my husband except you capture both of us. For him, even though he is out there with me, he believes it's your thing, so do your thing. I am behind you I am supporting you 110 per cent. I just like to be with him. He visited me during the shooting of Figurine. I was away at Osun for about a month and he came to see me, he stayed for four days.
What was the attraction?
Like I say to everyone, I think I fell in love with the way he was and he is. I met him when I was in my year one. I met him in Nollywood. Although, he was not in the movie industry but Obi Osotule, his mother's brother was in Nollywood and so he was hanging out with him and I met him briefly. I left the industry after a year. In my final year, he came to my school and we met again I didn't quite recognise him again. We became friends after I realised I had met him before, from that time he was just there, giving me attention, care and everything before I knew it, one thing led to the other and we got married.
How do you combine your role as wife and actress?
It's something most working class women do. They combine both their career and duty as wife and mother. The thing is that you have to do what you have to do. I've got to be a good mother, wife and actress, so I try to figure out how I'm going to achieve these three things. That's why I can't do every movie that comes my way; I have to give my family time. You have to do it in such a way that one does not suffer too much for the other. I write scripts so I can be at home and write at the same time. When I'm at home everyone knows I'm home. My home is happier when I'm there. So I try to make sure one part of my life does not suffer for the other because they are all part of who I am.
How do you handle the pressure of your job?
I try not to take every movie I'm offered. This gives me time for myself and my family. When I am away, they know I am away, my kids know that mummy is away, that she needs to work, just like any other working class mum. I don't think the pressure is much.
Not really, the kind of job I do, gives me choices. I can decide that I want to do this or I don't want to do that. I can decide when I want to work. If I am feeling stressed, I can decide to relax and not do anything.
You sound like a very strict person
I have to pay the bills but at a point I have to decide what I want more. Do you want to have a good name or do you want to have more money? You have to decide. I can make a lot more money than I am making now, but I prefer a good name. I don't mean to sound like I'm bragging but I am one of the most paid Nigeria actresses.
How much do you earn per movie?
I can't tell you how much I earn. But I can decide not to work for the next six months and be comfortable, that should give you an idea of how much I earn. I can get much more than I am getting but I want to be with my family and I want to do only good movies. So if you call that strict, that is fine.
Don't you get tempted when you see bad scripts that come with big pay cheques?
It's always tempting especially at the beginning. You get to a point when you say, 'if it's not good, I won't go despite the money'. But at the beginning of such crusades, it's very tempting especially when you don't really have enough money. Take for instance, I had three movies lined up but I chose the one in Ukraine because I loved it and I don't like asking people to hold their movies till I am free.
What did you see in the Ukraine script?
It is a different story, beautifully formed and written and it is totally different from everything I've done. It is educating and fun, it promises to be challenging. It is not a Nigerian production. The producer, director, the crew and other casts are from Ukraine; just two of the casts are Nigerians. There are plans to bring the movie to Nigerian cinemas.
The last time we met, you said something about coming out with your own movie, what has happened to it?
Yes I did and hopefully before the end of this year you'll hear something.