AT LAST! 2FACE IDIBIA FINALLY OPENS UP ABOUT HIS SPLIT FROM THE GROUP PLANTASHUN BOIZ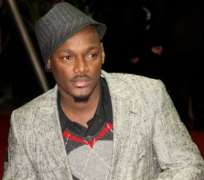 Plantashun Boyz was a very successful Nigerian hip hop band that consists of members Ahmedu Augustine Obiabo (popularly known as Blackface), Innocent Ujah Idibia (best known as 2face Idibia) and Chibuzor Orji (Best known as Faze).
Following the split of the Band in 2004, they all launched solo career to varying success. 2Face has probably achieved the most success to date winning an MTV Europe Music Award,Mobo,Kora, Hiphop World Awards amongst others.
In a recent interview,2face opens up on the reason they all decided to go solo.
He said; In life,people come together and at times depart each other's company.Even marriages break up.Yeah,in life,there are different decisions,different things happen.Basically for me and the rest of the group,we just went solo.
There wasn't any quarrel or clash of egos as such.Just the fact that Nigeria was not too conducive for a group to survive for long like the long surviving Irish pop group U2.Let me just put it like that.We came together and at a point had to go our separate ways due to the normal conflicts between people.In life,people must disagree.Husband and wife must disagree.Like the African proverb says,even mouth and tongue do quarrel.For us as a group,due to our individual differences,we could have some clashes.
Maybe today,I oversleep and one would come and wake me and tell me:Hei,why are you still sleeping?Don't you know we have somewhere to go?Maybe,we were supposed to go somewhere and Faze would come late and there would be small quarrel.Or maybe we quarrel over which song to do and which one to drop.
It's the normal squabble you will expect from when two or three people come together.As at that time,I don't think we had a leader.All of us were independent.
All of us had an opinion and all of us respected each other's opinion.Yeah,it was a case of three captains in a ship but everybody still respected each other's view.When it came to songwriting,sometimes I would write a song and I would bring it for the group or maybe we would sit down together and we would write the song together.Or two of us can write together.
If one person writes a song and it sounds good to the rest of us,everybody would accept it.But most of the time,we wrote together.
Normally,it starts with hearing the beat and all of us would start to flow according to the beat.Or we just choose a topic and we start writing on it and later we go to the studio to do something on it.
Our first album as a group was Body and Soul.It did tremendously well in the market.
It was wonderful.It was a huge success.I still remember a line like:"Baby,don't you know,that I just can't get you out of my mind".Overall,I did three albums with Plantation Boys.
I was the first person that went solo.I just woke up one day and told them straight off that I wanted to go out there and do my own thing.As to be expected they didn't take it lightly but in the end everybody saw reason and we had to part.We were all talented bunch and we felt we could survive individually.All of a sudden,I was on my own,a couple of labels were talking to me and I was also negotiating with a couple of labels.
Eventually,Kenny's Music emerged as the one prepared for what I had in mind.So I worked with Kenny's Music.
My first album with Kenny's Music was Face to Face.It was a huge album.That's was the album that produced African Queen.It was one of the most successful albums in the history of Nigerian music.I can say that.The success impacted positively on me and on Kenny's Music as a business.We had a contract and they just fulfilled their contract
click the link below to go to...
EXCLUSIVE: A DECADE DOWN THE LINE! WHO'S THE TRUE PLANTASHUN!! FAZE, BLACKFACE OR 2FACE? .