Samsung, Google Unveil Phone For Revamped Android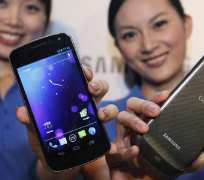 Samsung Electronics (005930.KS) unveiled the first smartphone running on Google's (GOOG.O) latest version of the Android operating system, which combines software used in tablets and smartphones, as they step up competition against Apple.
The global launch of the Galaxy Nexus kicks off in November and comes as competition intensifies between Samsung and Apple Inc (AAPL.O) to win market share in the booming tablets and smartphones industry.
Samsung and Google introduced the high-end model at an event in Hong Kong, after delaying the launch last week as a tribute to the late Apple co-founder Steve Jobs. Apple is Samsung's biggest customer for microprocessors.
"This will be our strategic product for year-end holiday season, as (Apple's) iPhone 4S just came into the market," JK Shin, president and head of Samsung's mobile communications business, said in a pooled report with reporters ahead of a packed product launch in Hong Kong.
This also marks the first major rollout from Google since it announced plans in August to acquire Motorola Mobility Holdings (MMI.N) for $12.5 billion.
The deal had raised concerns among hardware makers that Google may favor Motorola over other handset vendors such as Samsung, HTC (2498.TW) and LG Electronics Inc (066570.KS) that rely on the free software.
Google's Android mobile software -- already the world's most-used smartphone platform -- powers 190 million devices, up from 135 million in mid-July.
The latest version of Android, named Ice Cream Sandwich, is designed to unite tablet and smartphone platforms, potentially attracting more application developers and consumers to the Android camp, which has fewer applications available than Apple's.
Samsung, the top seller of Android phones and the biggest challenger to Apple, said the phone will have access to more than 300,000 applications and games, versus over 425,000 apps from Apple's App Store.
The release comes after Apple unveiled its latest operating system earlier this month which allows much-touted voice-recognition technology dubbed "Siri."
Technology websites ran live blogs of the event, indicating the buzz generated for the new Android software and Nexus.
During the launch in Hong Kong, executives demonstrated several features of the new gadget, including Android beam that allows two phones to connect back-to-back to share news articles on the Internet and Google maps.
Samsung's new device, which touts a 4.65-inch high-definition "super" AM-OLED display and a 1.2 GHz dual-core processor, features such new functions as face recognition to unlock the phone.
The world's No.2 handset maker said it also plans to introduce a version of the Galaxy Nexus that runs on faster Long-Term Evolution (LTE) networks.
Samsung's event came less than a day after Apple reported quarterly results that missed expectations for the first time in years, blaming rumors of the new iPhone for hurting demand in the September quarter.
Apple and Samsung have been locked in an acrimonious legal dispute in 10 countries involving smartphones and tablet computers as they jostle for the top spot in the fast-growing markets.
Analysts said they expect Apple and Samsung to remain dominant in their rankings.
"I don't see Apple and Samsung getting kicked out of their positions anytime soon (in the next year or so)," said Melissa Chau, research manager for client devices at research firm IDC.
"It will be a very close race between Apple and Samsung mainly because I think Apple is in a high-end and more niche category than Samsung, whereas Samsung can certainly bring that scale all the way down in price."
Samsung said on Monday that sales of its Galaxy S and Galaxy S II smartphones topped 30 million units, with the once-smartphone-laggard expected to overtake Apple as the world's biggest smartphone vendor in the third quarter. [
By 0615 GMT, shares in Samsung were trading up 0.3 percent versus a 0.9 percent rise in the broader market .KS11.
REUTERS