Some actors can't speak English-----Segun Arinze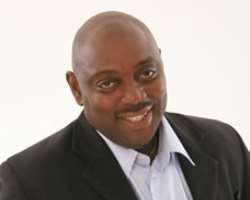 For him, Nollywood is on a steady nosedive. Producers have gone lazy. Some actors can't speak English. The stories are getting watery. The fight for the leadership of the Actors Guild of Nigeria is childish and baseless. Africa Magic is making a mockery of the industry. And what the dickens is the meaning of Nollywood? Segun arinze is mighty pissed off with this once beautiful and promising movie world. Firing from all cylinders, Samuel olatunji goaded and dodged the flying salvos in this 'no holds barred' encounter.
We are seeing more of you as a compere than an actor, what's happening?
I wouldn't say I'm into compeering. I would say entertainment has opened up a whole lot of new channels for me, and God has blessed me with various talents. I am multi-talented. I see myself evolving into what I call an entertainment Octopus. In that wise, I am spreading out my tentacles but in the same thing, I do not want to be a Jack-of-all-trades, master of none. For each act that I plan, I want to try as much as possible to stand for quality, because I am in for quality and do not want to be seen as a mediocre. Whatever I do, I like to put a stamp of quality on it and also to keep the standard high. I don't want to say I am diversifying, am saying it is just one of my talents.
How about the DSTV deal, how did you get that?
I do know about DSTV, because we were right here in the office with Ope Banwo's company, Stingomania 360, who happens to be my managers when the deal was struck. It is just a one-year deal, but I'm comfortable with it.
How come you are getting all these juicy offers when you are not one of the 'reigning stars'?
Well, I give all the glory to God almighty. I also think that is possible because of hard work, discipline and taking my acting roles seriously. I am one person who takes acting seriously with passion and I do not joke with it. So, when I see things that are substandard, it irritates me, gets on my nerves. I am also a person that loves to encourage young and upcoming actors and actresses. Be you a singer, an actor, a model, in whatever you do, believe in yourself. You should believe in yourself because you have that talent and I see it in you. Even if you are a reporter, or journalist, I can show you some ways to go about your work.
I am not what you call an everyday journalist, but I can school all of those young stars in writing skills, saying this is how I think you should carry your act, and I think that works for me. So, for me it is hard work, it's discipline, tenacity, holding on steadfastly to what I have been doing over the years and also listening and learning. It is an everyday affair. I learn everyday even as we do this interview, when we exchange ideas and thoughts, I am learning. The deal here for me is keeping myself open. I do not assume that I know it all because that is what I call stupidity. You will be surprised that when you open up, you learn from the least person on the street, even from the beggars. I am a trained actor and by training, I am totally observant.
So, I always make sure that I am always conscious of my environment and that is what is keeping me going aside the fact that God has made me a multi-talented man. And also, I try to keep myself relevant because there is nothing as good as keeping yourself relevant at all point in time. You know when the ovation is loud, take a bow or quit for a while, go back, reconstruct yourself. Ask yourself what are those things I am doing right? What are those things I am doing right? Listen to the voice of the people out there, take all the blame and praise that come your way, just take them as they come. Make a priority list of what you think or what you hear people say about you and then begin to do a turn around. You also have to maintain, package and reposition yourself. It is always important for the actors. They must always reinvent themselves because when you do one thing over and over again, it gets to a point when it becomes boring and when you become boring, that is when trouble sets in.
Is your absence in the movies these days as a result of restructuring yourself?
Partly yes, and partly no. Yes in the sense that there was this conscious effort by producers and directors to want to stereotype me. But I tell people every day that I'm a trained actor. The record is there, go to the Obafemi Awolowo University, Department of Dramatic Arts, and ask Prof. Femi Osofisan, Dr. Olaniyan, Niji Akanni, Yinka Kareem, they are all there. Ask Yemi Solade, we went through the same mill, they will tell you we went through serious training. So, I don't see myself as being stereotyped because we have gone through the mills and moreover, if you are stereotyped, you kill your dream of being an actor.
Granted I know that there are some roles that might not be suitable for me, but that doesn't mean that I cannot try other roles and I have tried as much as possible to prove that by playing a different role in 'Atlanta' and 'Widow' and numerous films to prove I can carry other roles. As an actor, you must always stay ahead of the game; you must always try to be the best because techniques keep changing. I do stage and I do film, they are two different things when you are on stage and when you are on screen, so when that thing started because I used to open my eyes,I am so ferocious on the screen, aggressive and all that, and a typical producer/director who is lazy, thinks that you should be a thief constantly and it began to affect me and I told myself that I have to take a break because it made people to believe that I am the bad boy in Nollywood and when I started seeing my colleagues doing other things, they started travelling to the US, they are invited for one function or the other and the train was just leaving me behind and I told myself that I can't keep standing in this station. I have to get on my own train. At a point in time, you get left alone in the train station and when you say hello, you hear the echo, nobody is answering you. I said no
So what have you done to change that?
I have done a lot. The Guinness commercial I did in 2006 also changed the perspective of me and of course I stared compeering and appearing live on stage, do singles in a while. then people started to see the other side of Segun Arinze. I was on the street of Aba, when a woman saw me and hit me on the back and I turned around, overwhelmed with fear and she said, what are you doing here, 'Bad Boy'. I could not react to her. I've seen a woman right here on Adeniran Ogunsanya, and I told her, 'Madame, it's a job' and she said 'No way, don't tell me it's a job'. Some even go as far as going religious, they would tell me that, the more you keep playing such role, it will affect you, though everybody has their own beliefs but as for me I just felt the need to step aside and reposition myself and come back as an actor.
Do you think Nollywood rewards talent?
I will tell you the truth and I'll be very blunt, that the press are also part of this. Why do I say the press? The media celebrate mediocrity and when you celebrate mediocrity, what you get is 'Bullcrap'. There are thousands of actors that I could link to you now who are not even worth their earnings but they are celebrated on the screen. They are called for this and that and if you hear their spoken English, you will vomit. I know a thousand and one of them, and I also know a thousand and one actors and actress who have the potentials but all they need is just real orientation. Now, instead of actors fighting over leadership, what they should do is organise periodical seminar and workshop for this young actors, train them. Go to the university; get people who will train them.
Get people like us who also have the experience to impact these young ones and tell me if you will not see a positive change. But when one or two of them comes out and do one thing and the people go 'hey', and the media start writing something about all of them, it gets into their head because these people are young at heart. They are people who do not even believe they would find themselves in such positions. When they start seeing their pictures on every newspaper front-page, it gets into their heads and they start believing that they are the best thing that ever happened to themselves. I am an actor until death do us part because this is the one job that you don't retire from unless you are tired and you decide you want to move. Even a 70-year-old man will get a role to play as a grandfather but here we start celebrate mediocrity and start writing all sorts of craps about them. Some of them did not even attend the university. I am not saying they do not have talent, yes talent is inevitable. If you have the talent, nobody can take that away from you. Then next thing that comes after talent is honing, they will start punching like carpenters do to the furniture with sand-paper.
I know that Omotola, Ramsey Nuoah, Emeka Ike and the likes are not trained yet celebrated, why?
You are talking of when the movie industry started, when Nollywood started. I am talking of NOW. Those names were amongst the people that pioneered Nollywood. Quote me any day, for me, Ramsey Nuoah is the most-improved actor Nollywood has ever seen and they haven't seen the best of him yet. That isn't the best of Ramsey Nuoah. Jim started with full force, but now he is coming down. The experience is beginning to sink into Jim Iyke now. Genevieve, any day; Omotola lights up your screen. You can't take that away from her. Stella Damasus, goddess; Emeka Ike, he is okay, but once in a while, he falters. Even me, I falter in some movies, it is not everything that you get right. But you see, it is not the falters that count, it is the ability to watch yourself and ask yourself, what did I do wrong? You have to tell yourself that I need to get it right the next time. I have worked with Ramsey for some time and you see that this is someone who is learning everyday and he is very smart at learning. That is one of those things I like about him. Another person who has the same attribute is Desmond Eliot.
What about the new actors, what do you think of them?
I have seen them do quite a number of good movies. I saw Mike in one movie, and I called him and told him, that was a fantastic movie, I also called Mercy Johnson. ..... Yes she's got it but she still has to learn. And also if most of these people can humble themselves, and if they can learn, watching movies and asking question. I am sorry to say, but most of our directors are very lazy. As a director, the interpretation of whatsoever you direct is what reflects on the screen. The director gets everybody. Using the cooking industry for an example, the director is a chef. He gets all the ingredients from the actors, the crew together, gets everything into a synergy and then translates to the outside world because the final analysis is what you give the outside world. It would be written that this movie is directed by someone.
So, if you are a lazy director you get a lazy production. A job of quality never hides itself and a lousy job shows. Some of those directors are even carried away by big names. I worked with Omotola in one of her soaps, and she told me Segun, this is what I want, and I was impressed. People started saying all sorts of nonsense, that why would Omotola be directing a movie; from what I see from her, Omotola will make a good director. We have a few female directors. So when we begin to talk about female directors, she knows what she is doing. She is gradually honing herself. She sat me down and narrated everything to me, how she wanted it. Most of the directors are carried away by the names that they have on set. One young man I admire is Jeta Amata. He doesn't care who you are, he tells you the way he wants it and that is it. Fred Amata also has that quality.
So what would you say is wrong with Nollywood?
Nollywood is full of mediocrity. We are not getting our acts right, yet we think we are there. That was why I was very happy when Kenyans and Ugandans flogged us seriously at AMAA. To me, that was a wake-up call that we need to take acting as a serious business. Ghanaians are coming here and they are taking from us, how many actors have been called to come and work in Ghana? Highest they would do is to call you to come and do show.
But they don't invite our people to come and do shows?
You can't invite someone to come and take over your shine. We created a lot of stars from here that are now in Ghana. There is nothing wrong in doing West Africa, ECOWAS thing, after all, Charles Teron from South Afric won Oscar award and South Africa celebrated her. South Africans don't shoot films anyhow, but when they do, they do a good one. They shot Tochi and they cleaned out by winning the Oscar . And we are here, sitting down and calling ourselves Nollywood. Nollywood means nothing-would. Washington Post did us a great disservice and everybody was shouting calling Nollywood and UNICEF came to deceive us recently and told us that we are the second largest in the world; second largest what, in quality or in quantity?
But I have heard some of your colleagues say half bread is better than none, that that recognition is more than enough for a growing industry.
A growing industry but not mockery. When a child is growing up and you see the child trying to stand up, you hail the child, but when the child is walking and he has K-leg and you tell me that is wonderful, that K-leg is a style, you try to correct it. If you see a child who will have Polio, you try and correct it. You don't come and start telling me that Nollywood is this, Nollywood is that.
But don't you think somebody somewhere will say you are bellyaching because you are no longer getting a piece of the action?
It has nothing to do with money my brother. I am not a hungry man. From what you see around you do I look hungry? I am not hungry. I am not trying to be arrogant, I work hard, and I am not a lazy man. So it is not getting a large chunk of the money. If I want to come back to the industry, I know where to go. I know the scripts to hold. I know the people to work with. For your information, Chico and I are working on something. We are planning to do the Return of the Black Arrow. It is going to be massive because I am going to be one of the Executive producers of 'The Return of Black Arrow.' So you will see and you will know that the quality of what I am going to do, the kind of team that we are going to put up. I watch most of our films in Nollywood on Africa Magic, it is laughable! Have you heard their spoken English? Let us not even talk about the sound track where they will sing the whole movie. In fact, you will know the whole story from the sound track. Lighting? Zero. Technical quality? Rubbish, Directorial, Scripting?
Is that a shame to the AGN?
No it is not a shame on the AGN. It is a shame to the entire industry. AGN is not the only guild in the industry. You have the producers, directors, creative designers, you have the Actors Guild. Why don't we just call it the Guild of Motion Pictures Practitioners? Time has come for us to get off the fence and take up the gauntlet. The independent producers who know how to do this job who were going to be faded out will soon begin to return and take over the industry. Let's take us back to where we were. Let me tell you something. Go back to the early days of Nollywood and watch the movies; from 'Closed Chapters' to 'Blind Trust', to 'Daybreak. Go back to those movies, there is so much joy watching those movies. When you watch them, you will say yes we worked. The likes of 'Silent Night', Zeb Ejiro's 'Domitilla'; go and watch the films of Opa Williams, Fred Amata, Zeb Ejiro. Those were the early days of Nollywood.
Go back and watch 'True Confession', you see the quality. We started out right because people with their heads tightly screwed on were working. Now they have gone commercial. Nobody is saying you should not go commercial. In fact, it is a sin for you not to go commercial, but the question is how commercial are you going? Are you doing jobs that people will go back to in 15 or 20 years and come back and watch it and it is still refreshing? Do you want to do a film that we will see after two weeks and people will say let me see the next films. If you want to see the mockery of Nollywood go and watch Africa Magic. Even the soaps have turned out to be shams. What they even do these days and tell you is soap is a 10-minute stuff and the rest is for commercials. There is no content they give you like six minutes of last week on and they now start the show and give you like 10 minutes of commercial and closing credits. And they tell you 'to be continued next week'.
What do you think is the solution because when these Mexican films come up; we asked who were the guys to come on board? The producers say came on board. Now they are on board and as you said, we can see how far they've gone.
Nigerian producers are lazy. If they put their mind at it, they will do it. If they want to do it, they will do it. If the directors want to work, they will work. But like I told you, everybody wants money. It is hunger that is causing this whole thing. Ebi. So why would you allow hunger to get into you or a work of art? It is something that should outlive you. I was watching the Michael Jackson memorial this afternoon, and I was listening to the brother Jermaine. You know they are selling it. I missed the memorial on CNN, so I had to find a way to watch it. So I bought it and found out that it was clean. So I watched it. And I heard him saying, 'Smile', Michael Jackson's favourite song was written by Charlie Chaplain. Shortly after that, Jermaine came to sing 'Smile'. It was beautiful a song Charlie Chaplain wrote years back. You could see what they are doing with Michael Jackson's video, what they were doing in those days: Billy Jean, Thriller, in fact he was making movies, you can still sit down and watch them. It is a work of art; I can watch it over and over again. We are so much in a rush, we now want to shoot movie in four days.
Do you think you are appreciated in Nollywood?
My brother, my being not appreciated in Nollywood is the greatest gift from God Almighty and from my fans out there who see me and say thumbs up, God bless you for what you are doing I am okay with that. But I will continue to lend my voice to moving the Nollywood forward because this is the only Nollywood that we have. I will also advocate that we gradually start calling it Naijawood because we are making a mockery of ourselves.
What is the issue with Nollywood?
Nollywood is nothing. What is the meaning of Nollywood? What is Hollywood? Hollywood is called Hollywood because there are trees that you call Holly that are there. What trees do we have where we are? We want to carve out Nigeria. Does Nigeria start with NO? At least we can still relate to Naija because we call it Naija. Nolly means nothing, they are mocking us seriously. So for me I would advocate that we gradually begin to change this concept of Nollywood. The content within that name that is the issue.
So what's your take on the crisis in the AGN?
On this, my opinion is that I think it is childish, baseless, unfounded,
Is Ejike right or wrong?
I am not going to take anybody's side whether Ejike or KOK. I think they are adults and they are trying to make a mockery of it. If Ejike wants to organise election, let him organise election and let him hand over to whoever he likes.
Why has it been so, since the days of Zack Orji?
I think the biggest problem is that nobody wants to be led. Everybody wants to be the leader. I don't care whose oxen are gored here, but everybody should wake up to their responsibility.
So who do you think should be the new president?
It is not my business to say who should be the new president
Are you not contesting?
I am not contesting, I don't have that time. My hands are so full. You see how long it took for me to grant this interview? I don't want to get myself involved. It is a thankless job any way to start with, but somebody has to do it. I think they should wake up to their responsibility.
Why did you sign up with Stingomania?
Yeah, one of the reasons is repositioning and repackaging. I am tired of doing Osho free, that is not taking me anywhere. People that you even do it free for are the ones that will turn around and say rubbish about you and when they see you, they say 'my friend'. So I don't want to do favours any more, I have done enough. I am aging by the day. Let me focus on my career, have people run the administrative side of me and I will handle the creative side of it. I like the team, I like what they are doing. If I don't like what they are doing, I tell them. I call Ope from time to time and Gilda. I give them my own opinion. They are very open. They know what they are doing and Ope is a lawyer.
So what are the big projects you are doing?
Presently, I am planning on going to DBN. I had this show I was doing called 'No holds barred'. I had a discussion with Mr Dele Alake of TVC to bring it back on TVC. I am working on something called 'Smokes screen'. It is 100% pure entertainment. It is going to be on DBN. It is all part of the repositioning and they are also providing the platform. I saw the need for me to do something there and Osahon has been very accommodating.
They had a problem, went under and now they are back. The programme will be for every entertainer in Nigeria and the profile is high and I want to make it that if you are not the hit, we don't talk to you. I am looking at 100% wholesome entertainment: music, movies fashion, sports, but we would try to build up the profile. We will talk to the entertainment celebrities. We get to preview them, talk to them, nothing too personal. We are more on work and why not just look at two or three of the movies and do some analysis?
You know on TV, I have been wondering that there is no movie-based entertainment programme ?
It is movie, music, fashion and all that, but of course because I am an actor there is a little bit of tilt towards movie. We will do analysis of issues, take phone calls, and it is going to be a live programme. 5 to 6 pm every Sunday on DBN.
When are you starting?
We are looking at starting on the 16th of August. We are trying to get things together. A studio will be built. It is tedious.
That will take a lot of money
Why are you looking at money? Yeah, money because we are going to spend a lot. We can't quantify the amount you will spend on doing this. We are still trying to modify the set, for me the set is a bit too complex. The set is done by Zmirage Alhaji Teju Kareem. He agreed to do the set for us for nothing or close to nothing. We have known each other from my days in school. It is a friendship cultivated over a long period of time. I look forward to doing 'Smokescreen' and Abubakar Yakubu is producing for me.
Who is going to be the first on set?
We have some few names lined up. Some of my colleagues.
So when is 'No holds barred' coming?
Before October. You see, I don't want to get myself entangled in so many things at the same time. We are planning to do things professionally. We have a team: a team of researchers, a team of writers, it is a whole team. It is quite tedious for us. We get around doing it whether we like it or not, we will get around doing it. Then of course there is back in the days. It is intensive: capital intensive doing that where the young will come and say thank you to the Old school. If we can do it this year, I will be very happy
How come anything on movie is not on your roll-out plan?
(Laughter) I just told you Chico and I are planning something. Kingsley Ogoro and I are also planning something. So the movies are still there.