N9bn Scam: Bankole has a case to answer, EFCC insist.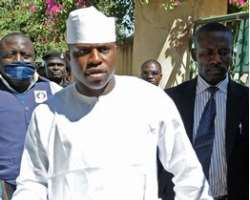 The Economic and Financial Crimes Commission, EFCC on October 17, 2011, told a Federal High Court, sitting in Abuja and presided over by Justice Donatus Okorowa that a former Speaker of the House of Representatives, Dimeji Bankole, standing trial on a
 16 count charge bordering on contract inflation and fraudulent embezzlement of public funds totaling N9billion, is in breach of certain sections of the Procurement Act and therefore has a case to answer.
EFCC counsel, Festus Keyamo, urged the court to dismiss two motions brought by Bankole's counsel, Adegboyega Awomolo, SAN seeking to quash the charges against him and to disqualify Keyamo from prosecuting the case. While moving his motion, Keyamo pointed out that Sections 57 and 58 of the Procurement Act clearly emphasized  that  'all other parties' other than those mentioned such as contractor and procurement officers, can be prosecuted within that provision.
 
He further argued that parties to the offence can be those that have the authority to stop the commission of a crime,  as in the case of Bode George and others. 'My Lord there is a striking similarity between this case and that of Bode George because the same arguments were made for them stating that they were not procurement officers but board members. Our argument then and even now, is that Section 7 of the criminal Code recognizes other parties who in one way or the other may have aided or abetted a crime.'  
Keyamo, while replying to the issue of showing two prices, stated that the prosecution detailed out,  in its charges,  the two prices that were contradictory and has been generous and magnanimous in its proof of evidence so as not to be seen as persecutors but prosecutors.
He equally noted some loopholes in the defence arguments concerning his disqualification as a prosecutor, saying that such has exposed their inability to support their claim of 'personal bias 'from their affidavit.  He said that his petition to the National Assembly which they cited as a proof of his 'bias' was clear on its intention which stated that the former Speaker was not being accused of any financial impropriety but was being asked for explanation to Nigerians  on his role in the matter. Keyamo also said that he had written a similar letter to another former Speaker Ghali Na'aba as far back as 2005 seeking an explanation on a national issue which clearly shows that there was no personal interest in the matter.
Keyamo also stated that the law does not question in explicit language the impartiality of prosecution but that of the tribunal. 'The court's role is to hold the scale. In fact, if a prosecutor does not believe in the guilt of the accused person, there is no need taking the brief. Impartiality in this regard as they want to put it means I do not have a mind and this is not correct.' He pointed out that even if they want to argue on partiality or otherwise of the prosecutor, it should not have come now when the accused person has taken his plea. 'My lord it is too late in the day to raise this objection because what qualifies the prosecutor to prefer a charge qualifies him also to proceed with the trial . Why didn't  they raise it before taking of plea or even filing of charge', he questioned.   He said that all the motions by Bankole were subterfuges to truncate the trial.
 
Bankole had on June 13, and July 26, 2011 respectively filed two separate motions seeking the court to quash the case against him on the ground that the proof of evidence did not disclose any shred of criminality against him and on another ground that Keyamo, the EFCC counsel, should be disqualified from prosecuting the case as he has through his antecedents, shown that he is biased and impartial towards the accused person.
Awomolo, while making his submissions posited that under Section 58(4a) of the Public Procurement Act, offences can only be committed by specified person namely contractors, suppliers and procurement officers and that his client is none of the aforementioned.
On the issue of Keyamo's disqualification, Awomolo stated that the office of prosecution is a public institution instituted for public interest and interest of justice. He said a criminal prosecutor must generate public confidence and that Keyamo by his known public condemnation of the accused person, cannot be impartial in handling of the case. 'Keyamo wants to proof a point to Bankole that even though the House has cleared him, he (Keyamo) will show him 'pepper' in court. He should distance himself from prosecuting a case he has shown bias, prejudice and commitment as an activist;'
Count one of the 9 count charge against Bankole who was arraigned on Wednesday, June 8th, 2011 reads that 'That you, Dimeji Bankole and others now at large on or about 28th of May, 2008, within the jurisdiction of Federal High court, being body of principal officers of the house of representatives for the approval of contracts in the house of representatives, with intent to defraud, did conspire amongst yourselves to inflate the cost of 400 units of 40-inch Samsung [LNS.341] television sets. By approving the purchase of said items at the rate of N525,000 per unit, instead of prevailing market price of N295,000 and thereby committed an offence contrary to Section 58[4][a] of the public procurement Act No. 14 of 2007 and punishable under Section 58[5] of the same Act'.
The case has been adjourned to December 19, 2011, for ruling on the applications.