KOK beaten black and blue as AGN members' reject one month grace for Ejike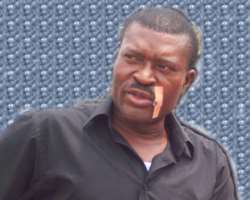 The crisis rocking Actors Guilds of Nigeria, AGN, took a new twist during the weekend as some members of the guild vented their angers on the interim national president of the body, Mr. Kanayo. O. Kanayo, beating him black and blue for succumbing to the plea to give the embattled former president of the guild, Ejike Aiegbu a second chance to round off his administration.
In a resolution reached at the end of a peace talk between Asiegbu and Kanayo .O. Kanayo which held on 23rd of July, the former president was granted a one-month grace, starting from 27th of July to 26th of August 2009, to formerly relinquish power to the guild's caretakers' committee headed by KOK.
The peace committee, set up by the guild and headed by veteran producer, Zeb Ejiro, with Dickson Iroegbu as Secretary, Mahamud Ali Balogun, Emeka Ike, Emeka Rollas, Chuma Onwudiwe and the Nigerian Police as members, resolved that Asiegbu should remain in office till the 26th of August, when he would officially hand over the reins of power to chairman of the interim administration.
The resolution reads thus: "After due deliberation with parties represented by Ejike Asiegbu and Kanayo O Kanayo, the committee recommends by agreement the following:
" That Ejike Asiegbu remains president for a period of one month, starting from the 27th of July to 26th of August 2009 as the case may be.
"Asiegbu relinquishes power officially to the chairman caretakers' committee, Mr. Kanayo O Kanayo. That KOK-led committee is saddled with the sole responsibility to organise a free and fair election within the period of two months, and hand over to the elected Exco of the guild.
"That in the meantime, Ejike Asiegbu shall be allowed to nominate two members of the guild to serve in the KOK-led committee; to help foster proper guidance towards issues relating to the guild's secretariat."
Also, the resolutions allow both KOK and Asiegbu to run for any position they deem fit in the upcoming election of the guild.
However, infuriated by this unwelcomed development, some members of the guild who did not want Asiegbu to enjoy a second chance, vented their anger on their interim president by beating him black and blue to send a danger signal, perhaps, to Asiegbu of their preparedness to resist his attempt to return to office.
Meanwhile, on Friday, KOK who was seen carrying paste around one corner of his month, confirmed to HVP that some aggrieved members of the guild decided to descend on him, as a way of expressing their disapproval of the resolution reached on Thursday, where Asiegbu was given a month-long grace to round off his tenure.
"They insisted that I must assume office immediately," he narrated.
Given this unfolding drama, on Friday, chairman of the caretakers' committee, accompanied with an army of members of the guild, stormed the AGN's office located in Surulere, and took possession of the place.
Reacting to this development, some prominent members of the guild who witnessed the drama, expressed no reservation concerning what has been happening in the house of the actors.
But when HVP contacted the embattled erstwhile president, Asiegbu, for his comment, he only muted, "I'm not going to talk to you. No, I will not. You people have been writing negative stories against me. Don't worry, I have sent my petition to your editors and advised my lawyers on what to do."
However, as a way of fighting back, Asiegbu on Tuesday was said to have tendered a petition at the Force head quarters annex, in central Lagos, alleging threat to his life while fingering some selected members of the guild. Also, in the same vein, HVP gathered within the week that KOK led caretakers' committee has rolled out timetable in respect of the forthcoming election of new executives to pilot the affairs of the guild for the next two years running.
I 've taken back the destiny of AGN — KOK
I have just taken back the destiny of AGN because we must have to move forward.
My mandate as the caretakers' committee chairman of AGN gave me power to take possession of the secretariat.
And ever since I was given that mandate, Ejike has been contesting it. He's been going to the press everyday, shouting and acting even beyond what the court says. And he's been misrepresenting facts. So, we are tired of such misrepresentation.
The next way forward is for us to keep everybody abreast of happenings, and publish an election time table so that things will begin to happen in the industry. We have established some committee, which will marshal out plans by which this guild can be respected and regain its pride. Every member of AGN is in support of what we're doing here today.
I wish you were here yesterday. You would have seen for yourself. Some of our members were calmed down from burning down this building.
There's always a process of making a comeback. Our members who were aggrieved of the resolution to allow Ejike stay another one month beat me up saying they did not ask me to give him one more day in office. They even alleged that I'm covering up something for him. But I'm not. Let me state it clearly that I'm not interested in running for the presidency of AGN.
At last, AGN elections' guidelines out
In keeping with his promise of organizing the long awaited general election for the Actors' Guild of Nigeria, AGN, within of two months of his assumption of office, AGN care-taker committee chairman, KOK on Thursday shocked members of the guild when he released the guidelines for the conduct of the 2009 general election of AGN.
In a statement made available to HVP, top positions available for contest include, National President, National Vice-President, National Secretary , National Public Relations Officer and National Financial Secretary. Others are National Treasurer, Provost , Asst. National Secretary, and Asst. Financial Secretary.
Intending aspirants, according to the guidelines, are advised to obtain their clearance from their respective chapter chairmen, before opting to obtain any electoral form which will be sold only by state chapter chairmen and the electoral committee from the 20th of August-1st of September.
Also, they are to ensure that they attended a minimum of 30 per cent of their chapter meetings, in addition to showing proof of permanent residential addresses in their respective chapters.
" Also, candidates must ensure civilized and responsible campaign slogans, utterances and images. The electoral commission is empowered to disqualify any candidate whose conduct is insulting and inimical to the peaceful, free and fair execution of the elections."
"Candidates must demonstrate total compliance to sundry conditions/ regulations which the election commission may, in its wisdom, deem expedient for the conduct of peaceful, free and fair elections." the guidelines stated. The election is expected to hold on the 7th of December, 2009, while swearing-in ceremony comes up on the 2oth of January, 2010.
Zoning Formula for the 2009 National Elections of AGN
A. LAGOS – SOUTH – WEST
i. National President
ii. National Public Relations Officer
iii. National Vice President
vi. Assistant National Secretary
B. SOUTH – SOUTH
i. National Financial Secretary
ii. National Vice President
C. NORTH – WEST
i. National Treasurer
ii. National Vice President
D. SOUTH – EAST
i. Director of Guild Services
ii. Asst. Financial Secretary
iii. National Vice President
E. NORTH – CENTRAL
i. National Secretary
ii. National Vice President
F. NORTH – EAST
i. Provost
ii. National Vice President