ANTIMALARIAL KEY INTO MOBILE AUTHENTICATION SERVICE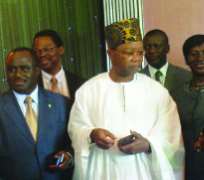 Effort by Greenlife Pharmaceuticals to protect the patent right of flagship its brand, Lonart has resulted to the adoption of the Mobile Authentication Service (MAS). MAS which is a technology-driven anti-counterfeiting device currently introduced by NAFDAC in collaboration with Global Systems Mobilenetwork (GSM) network providers, is designed to further re-enforce the fight against fake and adulterated pharmaceutical products in Nigeria.
In his address during the formal launch of the device in Lagos, Executive Chairman, Greenlife Pharmaceuticals Limited, Dr. Obiora Chukwuka described the technique as a very innovative measure which actually places the power of authenticating the genuineness of a drug directly in the hands of consumers, as well as serving 'as an easy way for the consumer to connect with legitimate brand owners, as they authenticate product genuineness right at the point of purchase'.
Maduka who noted that his organization is not oblivious of the public safety and other socio-economic issues associated with drug counterfeiting, regretted that disease sufferers are made to bear far great burden than they ordinarily should, adding that sometimes, innocent lives are lost due to the scourge of fake and unwholesome pharmaceutical products.
'As major stakeholder in the nation's healthcare delivery sector' he said, 'Greenlife Pharmaceuticals will continue to partner with NAFDAC and other relevant agencies to actualize the goal of a fake-drug-free Nigerian society. However, the MAS will also assist our company to further protect fast moving brands from abuse by counterfeiters, especially, the Lonart DS that arguably, is the ACT Anti-malarial of first choice in Nigeria. Lonart is also the first anti-malaria on the MAS platform.
In his presentation, Group Managing Director, Grenlife Pharmaceuticals Limited Chief Ebere Nwosu explained that the AMS is a no cost device. 'It does not cost the consumer anything. It also does not cost the Pharmacist in the shop anything the. And it does not cost the doctor or nurses in the clinic anything. This initiative by NAFDAC was leveraged by Sproxil to provide a robust anti counterfeiting solution that every Nigerian, from anywhere you are, even from the remotest village can access it'.
Nwosu further explained how the ANS works. 'Now, you have the blister in you hand; what do you do? You scratch off the panel surface; you will see a 10-digit pin. Key in the 10-digit pin into your cell phone and send to a unique code - 38353. In less than 10 seconds, you will get an instant response confirming that the drug you have in your hand is a genuine Lonart or not',
In his speech, former Health Minister, Prince Julius Adelusi-Adeluyi who noted that a recent counterfeiting of Lonart anti-malarial is an indication that the brand is a leader, urged Nigerians to embrace the initiative. 'Now, this worldwide range of illicit medications must be broken. And one of the methods is through the AMS anti-counterfeiting device, which Greenlife has adopted for its flagship product, Lonart. In Nigeria, the fight for bringing sanity into drugs, foods and drinks has become more urgent. The war must be intensified and sustained'.
In his presentation on the evolving history of Lonart, Prince Gnenga Falabi stated that now, Nigerians more than ever place emphasis on what they consume, especially, on drugs. His words: 'from statistics that came up in the last few days that the product went into the market revealed that on the first day the commercials came up in the papers, the system recorded 838 SMS. And within that week, we've had almost 10,000. That is 9,840 people, trying to confirm. That this means is that Nigerian want to live. They want to be sure of what they're taking. They don't want to die'.
Delivering his speech, Director General NAFDAC, Dr. Paul Orhii stated that his agency is spearheading the use of cutting-edge technologies to fight counterfeiting, regulated products and medicines. He called for a more severe penalty for counterfeiters and greater reward for informants on counterfeiters of all regulated products.
Special Assistant Lagos state Governor Fashola on Pharmaceuticals Dr. Moyosore Adejumo who represented the Governor remarked that with such public/private collaborative efforts, the state government 'can also ensure that people that come into Lagos state everyday in their thousands, would have good, quality health services. We may not completely eradicate Malaria. But we will control it to a reasonable level, she said.