TOO EARLY TO TALK ABOUT SIASIA'S SACK, AKINYELE TELLS NFF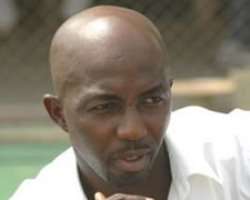 Siasia
Former Chairman of the National Sports Committee, (NSC), Chief Alex Akinyele, has kicked against recommendation made by the Nigeria Football Federation, (NFF) Technical Committee to sack coach Samson Siasia over Super Eagles inability to qualify for the 2012 Africa Cup of Nations contest.
Speaking with Daily Sunsports on phone yesterday, Chief Akinyele condemned the purported quest to dismiss Siasia, even though there was a clause in his contract, which easily gave him out as a prey for Eagles' shortcoming.
'It is too early to sack Siasia. The technical committee should give him more time to prove himself. Not going to the Nations Cup is not the end of the world. Siasia is still young and he still has a lot to deliver,' he said.
The Lobosin of Ondoland said getting Siasia out of the way would spell doom for Nigeria's football, as it would drag Eagles back and it may not be easy to move the team forward again in world's football.
He advised NFF not to dare it because it would have drastic negative effect on the national team, saying that with Siasia still in charge, there would be positive changes in the Eagles.
'Certainly, a new coach would like to start from the scratch. He would want to build a new team and it would amount to waste of time and resources, but we still have somebody who can take us beyond this level, so let's give him the benefit of doubt,' he said.
Akinyele, however, urged Siasia to be soft minded with his players and treat them as a team.
'I know that the gap between Siasia's age and the players will not be too wide and they should learn how to tolerate each other. Siasia should understand that he could learn to be more friendly with the players to achieve results. He shouldn't be too hard on them,' he said.
On the lighter mood, the Ondo High chief advised Siasia to allow more hair on his head for him to regain his power back and destroy his enemies just as the Biblical Samson to whom head shaving was a taboo. Samson's hair was his greatest asset before he finally fell to Delillah.