REVEALED:THE MAN BEHIND THE FLAMBOYANT LIFESTYLE OF STAR ACTRESS EMPRESS NJAMAH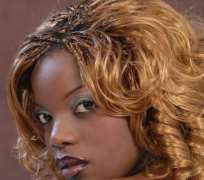 Owl eyed actress Empress Njamah is in the news again and this time your soar away magazine (NFC) recently scooped for free that the ash colored range rover she boasted came her way by virture of hard work was actually a gift from popular man of God Sign Fireman.
This new revelation was disclosed to us by a member of the church who pleaded that their identity remain secret,they told us that immediately Empress set foot in pastor Sign Fireman's Church,the man of God who has a penchant for changing peoples lives saw Empress and told her he did not like the kind of car she came to his church with,and pronto came the Range Rover Jeep she suddenly acquired,and a sizzling romance started.
The gist bearers also are saying that the news that Empress is about opening a multi million naira boutique in Abuja the nation's capital is also courtesy of Pastor Sign Fireman who is still pampering her from the pulpit in Lagos.