DR. IRUOFAGHA S. JAMES : THE PAINS I BEAR AS GOD'S SERVANT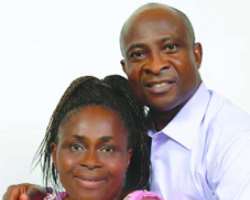 Dr. Iruofagha  James and his wife
He is a heavyweight in the business of God. Whenever he speaks, he commands respect anywhere and everywhere. Dr. Iruofagha S. James, General Overseer of Glory Christian Ministries in Lagos, knows this. Yet, he chooses not to talk all the time. He speaks only when it is necessary. For Dr. James, there can be no better time to talk than when one begins another journey of life in the second half of a centenary.
On becoming 51 on September 21, the revered man of God revealed rare things about his life and his walk with God. From his fight with poverty, to his rebellion against the call of God and to the pains and gains of ministry, Dr. James leaves nothing untouched. It is a story of pain, perseverance -and then, gain. Excerpts:
You shocked the congregation when you revealed that you once encountered a UFO (Unidentified Flying Object)? Can you take us back to the incident?
Well, all I said is probably all there is to the incident. It happened during my childhood, before I even saw any television or heard any discourse about UFO. It is difficult for me to begin to explain in the light of what science talks about it, but I know what I saw and I stand by it.
Maybe you can take us back to that moment and recount what you saw?
Well, it happened in a mangrove forest near my hometown. Going by every description that I have come to know now…because back then nobody knew about UFO and that sort of thing, I mean, we are talking about the mid-seventies before people in my little community saw or even knew what a television was, but from what I can recollect, the object would fit what people say is a UFO.
So, what exactly did you see?
Well, from all indications, what I did see is what people nowadays call the UFO. It happened when I was a child and I did not even know that it was a UFO at that time.
How did you receive your call into ministry?
It was in my final year in the university. That was the Rivers State University of Science and Technology in 1984. I remember that I was dragged into a crusade that was holding on campus. That was how I gave my life to Christ. At that I time I really did not understand much. It was a year or two after the initial awareness of the call that I got to understand the exact nature of God's call in my life. This was around 1987.
So how has the experience been?
Well, in my case it has been exciting. You can't complain but it's tough. There are days you are excited and there are days when you weep and cry. Sometimes you are separated from your family for weeks and months. Sometimes you are together and in a day like this, you feel confined to a particular place, praying, fasting and waiting upon God and the only time you have is to rush and take a shower and come for a meeting like this. And that would be the only time that you are coming out for the day. It's not the kind of life that everyone can live.
There are other times when you hear exciting testimonies and miracles and how God has changed lives. When you put it all together, you can't help but say it has been worth it all. At least that is how it is for me; I can say that the call of God has been one great experience.
Have there been times when there was no food on the table and no clothes to put on during the course of your ministry?
Well, for me, it has always been like that. I came from the poorest of the poorest family…
(Cuts in) Just like President Jonathan who incidentally comes from your area?
Well, at least, he could afford to go to school on a canoe and wear a pair of slippers. I wore slippers for the first time in my life when I was in elementary six and that very day my teacher seized it from me.
Why?
Because, according to them, it was not a requirement and if others didn't have it, why should I have it? And I had to beg for those slippers in the first place because I was trekking six kilometres from where I lived. My village is Iwuoma Brass and I had to walk to Tuo Brass and back on this hot sandy soil, sometimes with bare feet; you can only run on the sand until your feet cool down and you start running away. So we needed slippers for things like that.
My life has always been tough like that. So when the call of God came, for me, the hardship wasn't too much of a problem. At the beginning, yes, it was tough but maybe because I also didn't want to accept the call, that aggravated things. It took me some time to accept the call. You know in the early 80s, to accept a call as a pastor was literarily suicidal. There was no glamour in it. It took me time to accept the call. People looked at my parents as if something most unfortunate had happened to them. I happened to be the only child in the family to ever get a university education and coming back from Youth Service Corps, how do I tell my parents that I was going to go to Lagos to start a full-time ministry?
How did you end up delving into ministry work?
I rebelled with everything that was in me. I thought that maybe I could start somewhere near home so that I could take care of my parents. Then again I hated Lagos because of all that I had heard about the state. I remember clearly that it was on the last day of my service when God spoke clearly that I should come to Lagos for ministry. I never really wanted to come but one thing led to another and I found myself at Orile bus-stop with three pairs of shirt and two pairs of trousers.
A friend took me to his place and for some months I refused to come out of the house. I was locked up indoors seeking God's face, asking for the reason why God called me. I remember vividly that it was the month of August 1985. I had just come out of Youth Service. I was afraid. I didn't know what to tell my parents. I didn't know how to explain that after selling all they had in life to make sure that the one person in the family gets educated, he was going to be a pastor.
A full-time pastor at that! I knew that was what God wanted but I didn't want to accept it. I wanted God to convince me or change his mind. I remember vividly at the end of August when I couldn't stay indoors anymore that two things happened that month: a young man called Nduka Ugbade had led the U-17 team to win the World Cup for the first time and Babangida was the new Head of State. Those two events, I only heard of when I came out from my waiting on the Lord.
But, of course, you can't win against God when he calls you, so at the end I had to accept. It was tough at that point, because there are times when you really do not know the difference whether you are starving or fasting. All I know is that if someone faithfully waits on God to answer his call, God will never turn His back on the person. God is always faithful. I thank God that those days are gone. Although we still believe in better days, I am very content with what God has done.
Who was the friend that harboured you?
His name is Elijah Offor. He was my best man when I got married. He is not in the country anymore. He has been gone for 20-something years now. He took me into this one-room apartment. Needless to say that a month or two after he harboured me, he was also kicked out of the house because he couldn't pay the rent. So we started doing visitations; going to visit people and staying with them until it gets late and they ask us to stay for the night because it was too late to go home.
It sounds like a joke now but that was life for us. Every aspect of life from eating to having a bath…it was really tough, right here in Orile. That was how tough it was. But, as I said, if you are coming from a place with similar background, even though we still had the basic amenities in my village, but I didn't know in my time that it was suffering. When you are consumed with the passion to serve God, you can withstand everything. I didn't really know that it was hardship. And, again, I must add that in those days, I am talking about 1985, in those days there was no glamour in being a pastor. In those days when you choose to become a pastor, most people will think that you are cursed.
So, how did the ministry take off?
Well, the first place we used for church was a former warehouse, No 73 Sari-Iganmu Street. That was opposite Orile on the other side. We convinced the owner to let it out to us, although we didn't have a kobo to give him. I personally broke open the windows and the doors of that warehouse. Eventually we were chased out because we could not pay the rent.
How long did you use the warehouse?
We were there for about six months or thereabout. But we were able to pay for three months. As I said, the young man who harboured me in Lagos was also kicked out of his place, so it became our residence. Pastoral residence (laughs)!
Would you say things are getting better now?
Well, things are getting better in one sense and it is getting tougher in another sense. I mean, in those moments it was tough, but now, as I said a while ago, you can hardly have time to be with your family as much as you would have loved to be with them.
There are responsibilities to take care of now. Of course, more blessings come with more responsibilities- this person and that person looking for attention and all that. It can be very exhausting sometimes. At the same time we are talking about human beings, if there is anybody you didn't greet very well or call or say happy birthday to, it is another thing also. But I guess that is how the call is. I guess a little tension is always associated with the call.
Twenty years in ministry, what has been the greatest challenge?
It may be in different forms and different areas. Personally, I am a people's person. In my call, what really disturbs me sometimes is seeking for answers to the problems of people. There are those who should be married, those who are married and seeking children of their own and they cannot have children. There are those who just want food on their table and you pray for them and you want to see these people get better.
Well, as I said earlier, the most exciting times for me are when I hear the testimonies of these people. I guess the opposite is also true. For me, the issue is that you wish you were in a position to change people's lives. You pray and you do everything that you should do, read the Bible and all that. All you tell the people is, 'Let us just wait for God.' Those are the toughest challenges for me.
In the same vein, was there any occurrence or incident that made you want to abandon the ministry?
No! Not for me, no! There was no thought about that. Drop it to do what or to go to where? I knew that the call was my life. Moreover, one of the first things that God said to me during the first period of my call was that, although I had finished school and I had my certificate but I would never use my certificate as a land surveyor to work for one day. It was like he had put a bold red mark on my certificate. In fact that was the reason I went into the period of waiting and hiding. So, eventually I got to understand that, that was the reason why God created me. So, for me, there was no time I was thinking about leaving.
So how did you parents take it?
Well, apparently not very well at the beginning. It was over three months before I could face them. And that was because my dad wrote me a letter. The letter was the best thing that could happen to me. It was the best confirmation and, in fact, it helped ease the pain and it gave me the assurance that I was doing the right thing. I was expecting anger and hostility in the letter, but there was nothing like that. What I read was fatherly. The one thing I remember about the letter was when my father recounted an incident that happened when I was 11 years old and I was to leave home as the only son.
He had, had other sons and every one of them died in very questionable circumstances. So, when the opportunity came for me to go to school in another town, he resisted. He didn't want to let me go. There was a particular lady in the family, who, having been educated herself, wanted me to go. So my father wrote in the letter that he took me into his room and you should understand that in those days it was a privilege for you to enter your parents' bedroom.
And in the letter he said he took me into the bedroom and he asked me to kneel down and we knelt down and he said, 'God, I am about to let the boy out of my sight as against everything I want. I have lost all the male sons I had and this is the only one left to project my name. I give him over to you. If you keep this one alive and preserve his life, then I yield him to you. So he said in his letter that if that was the reason why this was happening, then he surrenders to the will of God. So, I knew that going into ministry was connected to my destiny.
So, how is life at 51?
Well, I don't feel anything different. That is the unusual thing about me. I'm okay. I am just living. I have been trying to ask other people how you feel when you are at a particular. I certainly don't feel different.
So, what are the new things/innovations we should be expecting after your birthday?
Well, every man of God has hopes and dreams which he prayerfully hopes to attain. Of course, I have hopes and dreams but in working with God, you cannot be in a position to dictate things. But I am hoping that things will get better.
For me personally, I hope I will be able to spend more time in raising sons. Doing more of the fathering and mentoring in ministry. Success, as they say, is nothing without a successor. As the years pass by, we have to continue to remind ourselves each birthday that we will not be here forever, but the work of God will continue and go past us. It is only wise, if not biblical, for us to prepare for when we are not around. That is where other men of God have failed. The people that God sent to us are not only to support us and contribute things to us. God sent them to us to develop them also and bring them also to a level where they too can fulfil their ministry.
What do you think about current developments in the nation?
There are many things about this country that are unresolved and until we deal with them, nothing is going to change. It doesn't matter where the president comes from-North, East, South-South, wherever. For me, it doesn't make any difference. What matters for me is how the people's life can be bettered. Until those things that are left unresolved are dealt with, nothing will change.
So, what are those things? Perhaps, a sovereign national conference?
Call it what you may but I don't think this country, as it is presently constituted, is acceptable to all the constituents. There has to be a way where the constituting tribes will have to find a form of agreement. At one point or the other, it has to happen. I was still young but I remember a little experience of the civil war. Nobody who saw a bit of it will ever pray for anything like that. That is why some of us pray that there will be a peaceful change. But until the constituting parts of this country have a fair platform where the constituting parts come together, until the stealing and daily pillaging of the country stops, until someone with a backbone gets up and says this must stop, this country is not going to be happy.
Do you foresee a better tomorrow for Nigeria, or are you one of those who say the country will split before 2015?
There is no way any rational person can look at a Nigerian man, I don't care where he comes from, North, South, East West, his ingenuity, capacity and creativity and then if you look at the resources that God has made available in this country that we have not even started exploiting, I don't care whether people say we will split or not, that is not my point, the point is I believe that God has a plan for this country and all I can pray is that his will be done!
By March next year, this ministry will be celebrating 20 years, how has the experience been like?
All I can say is good. Great sometimes, tough sometimes, but all in all, it has been great. I can only say that I hope that God will give us a greater platform to preach the gospel.