FAST RISING HIPHOP ACT,KLEVER JAY OPENS UP ON BAD MEMORY ABOUT LIFE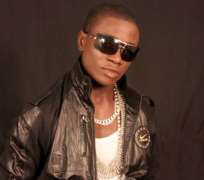 Abiodun Sholanke a.k.a Klever Jay hit national limelight about four years ago after his song 'Konikoni love' became a hit. The same year, he dropped his debut album 'THE BEGINNING' which he later followed up with 'FORWARD EVER'.
In a recent interview,he opens up on his bad memory about life and marriage.
He said;There was a time I was living with a friend and he tried to rape my girlfriend. The girl resisted his attempt and he became angry. On that fateful day, I came in to the house very late, around 1:30am, to my greatest surprise, my friend threw me out of the house on that same night and at that particular time.
Fortunately for me, his action then was to punish me but, as God will have it, it turned out to be a blessing for me. That action pushed me to where success was waiting for me. I joined the group ALIYAH alongside Zeeworld, O'black and T-sexy. I can say that, ALIYAH group was the foundation of my success story today.
Asked about marriage life he said; God has been keeping my marriage. So far, I have been getting blessings from my daughter and wife. I am a good father and a good husband to my wife. God is helping me take care of them.