Hand Over Now, AGN Members Warn Ejike Asiegbu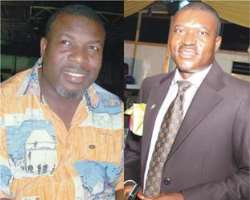 Members of the Actors Guild of Nigeria (AGN), have urged their former national President, Ejike Asiegbu, to officially hand over to the newly appointed interim National President, Kanayo O. Kanayo.
Since KOK, as the veteran actor is fondly called, was appointed to lead the guild on an interim capacity for a period of six months, Ejike has been running a parallel government, claiming that nobody can stop him.
He has refused to surrender the guild's properties in his possession, even as other stakeholders and the police have advised him to do so.
On Thursday last week, a peace meeting was summoned by the Iponri Police Division Area Commander, CSP Bashir Abdullahi, to find a lasting solution to the leadership tussle in AGN.
Although the meeting was supposed to hold at AGN secretariat, it was eventually held inside the Iponri Police Command as a result of Ejike's refusal to release the office keys.
During the meeting, which was attended by over 100 actors and stakeholders, the aggrieved AGN members warned that for peace to reign in the movie sector, the embattled Ejike must handover.
Some of the prominent personalities that attended the meeting, which lasted for several hours, were Eddie Ugbomah, Zeb Ejiro, Emeka Ike, Kelvin Ikeduba, Chris Nwokobia, Ernest Obi, Prince Ifeanyi Dike, Kanayo O. Kanayo, Dickson Iroegbu, Hakeem Rahman, Emeka Rollas and many others.
Expressing their grievances during the meeting, AGN members noted that if Ejike did not have hidden agenda, they see no reason why he should not hand over at a time the majority of the people he claims to be leading said they've had enough of him.
Femi Ogedegbe, who was an executive member during Ejike's administration, said: "The members said that they don't want us again. So there is nothing we can do about it. I don't understand why Ejike has been so adamant. After all, it is the same people who voted him in that are now saying he should leave. So I see no reason why he should be adamant."
In his own remarks Zeb Ejiro advised that the voice of the people is the voice of God, therefore, Ejike should allow peace to reign in AGN.
According to Emeka Ike, "I never knew that absolute power corrupts absolutely, but now I know it does. I don't think Ejike is doing all these things alone, there are some saboteurs behind him."
NollywoodReel gathered that the aggrieved AGN members, who have embarked on series of protests, have promised a final showdown, if Ejike did not hand over the AGN properties in his possession on time.
When NollywoodReel called Ejike on phone yesterday morning, he said "I don't grant interviews on phone. We need to meet one of these days and discuss properly."