Between Peki And Olu Jacobs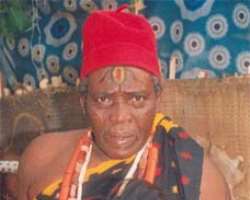 Veteran actor, Olu Jacobs, without mincing words, is a role model to thousands of upcoming actors, but if there is one budding actor that admires him greatly, it must be Michael Elusogbon, known as Peki.
Even though Peki, as the Osun State-born actor is fondly called, is still doing his stuff in the Yoruba sector of Nollywood, his future plan is to become an icon in the entire movie industry.
"I adore him so much and hope to be like him someday. He is an actor with a unique talent, and his talent cannot be undermined," he noted.
NollywoodReel learned that Peki, who is a member of Royal Family Theatre Group, headed by Oreoluwa Adeseyoju and Kehinde Ogungbangbe, started his acting career in the church.
He has however featured in movies like Elegiri and Jankariwo among others.
When NollywoodReel met him recently, he said: "People should just watch out because it is my time to shine, and I thank God for bringing me this far."