WHAT NIGERIA NEEDS IS AN EMERGENCY CONTROL CENTRE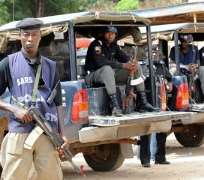 I have reached the conclusion that no one man is an island. God has so ordained it that we must support each other at all times. How that is put to work and put into effect is our responsibility. Let me assure us that it will be costly and will take quite a bit of sacrifice. If we are to build a stable and permanent structure where peace will reign, then co-existence is non-negotiable.
The significance of the purported threat by the Movement for the Emancipation of the Niger Delta (MEND) which ended up stalling the celebration of Nigeria's 51 independent fiesta expresses the manifest content of our diversity at work.
Whether or not the threat was carried out is not important anymore. The singular experience since independence of our great country 51 years ago and since the end of the Nigerian/Biafran civil war 41 years ago that saw our dear country not celebrating independence leaves a scar that can hardly be mended and a downturn on our image globally.
It is important to note that those behind the series of terrorist attacks are highly sophisticated and are set to beat the manually organised roadblock of soldiers ordered by the federal government to keep vigil on the highways even with blindfolds.
While I commend the devotion of these security operatives, I feel Nigeria security challenge goes beyond stop and search. With the trend of today's globalised world my take is that technologies be engaged in the fight against terrorism.
Haven spent several hours bumper to bumper waiting to be sniffed at by some of these operatives who most times are not only unruly but nasty. I feel sometime they tend to forget their primary assignment as they turn out to be lords of the highways while loads of fully armed bombs pass through their flanks unnoticed.
Security issues in Nigeria shouldn't be handled based on dead reckoning because when the soldiers erroneously give a nod to a car based on notion that it is safe one cannot tell if that same car is carrying explosives or not.
It is just like waving a person clear of the HIV disease based on physical appearance. Such conclusion could be fatal since the virus may be in there eating the person true and through.
The next danger security operatives and the leadership of our dear nation should have in mind is that having hundreds of vehicles in a place leaves commuters at the mercy of terrorists. Thank God that those detonating bombs do not have personal grudge with 'ordinary' Nigerians, the result would have been mass slaughter.
Aside the embarrassment and physical assault on innocent Nigerians, the tactics of mounting roadblocks have proven to be ineffective and a mere waste of valuable time for road users who are forced to wait in endless queues for several hours.
Apparently while commuters and security operatives huff and puff in the scorching heat, those carrying explosives smile past unnoticed and possibly unperturbed since they are sure of the advantage of stealth.
It is important that government should go beyond its present anti bomb technique since technology of making bombs go beyond metal components. Advanced terrorism offers chemical combinations that can produce disastrous detonations like any traditional bomb.
The president must ensure that he goes all length to combat security issues in the country. He should continue on the path of dialogue while mounting heavy Information and Communication Technologies in fending off attacks even before they happen.
It is my desire that Nigeria acquires state of the arts technologies to check the traffic of explosive towards putting an end to the national embarrassment a growing trend of bomb blasts.
The mounting of the CCTV cameras in the federal capital territory is no doubt a right step in the right direction but the job should be done fast to meet up with the demand. The cameras should be made functional to study the moves of those the country is suffering constant attacks from.
I must however be quick to stress that the cameras may only show glimpse of actions which would scarcely be foiled. At this point therefore Nigerian government must work towards preventive medication to the ailing security need of Nigeria.
I therefore call for security overhaul of the entire country.
The first step should be the introduction of Emergency toll free call Number like the 911 for developed countries for Police / Fire / Ambulance etc.
A control centre should be established with qualified operatives to handle all the aspects of calls with security personnel's operationally ready to deal with the situation.
A ten (10) Year State Security Road Map should be drafted to check breach of security across the country. Also to ensure a state Wide Intelligent CCTV Network' is fully in place. All these security units should be anchored under a NATIONAL Emergency Control Centre in Abuja for proper administration of terrorist and other security issues in the country.
All the terrorist attacks got firm roots during the period Nigeria joined democratising nations of the world. The country has had no rest as the political terrain has caused so much polarity breeding different aggrieved groups with multiple techniques of drawing attention of the federal government to their demands.
While these defined and well organised groups are out to alter censors figures by reducing the country population to press home their positions other parts of the country suffers from pogrom. The cleansing which started like mob action by aggrieved youths plunged to brutal mass execution which is fast taking the shade of genocide especially in the Plateau.
The federal government must not offer palliative measures that are not only cosmetic but ineffective. It should dedicate a productive chunk of the national budget on defence. With the wave of bombing in the country it becomes very important to acquire technologies that will pick out materials that could be used for bombs.
As I earlier mentioned, bombs could be made out of chemicals and terrorism in Nigeria has advance so much so that bomb syndicates could ship materials for making bombs under the smiling and waving vigil of our able bodied manual security operatives across the country unnoticed.
While I pray we get it right in the area of security, I pray the federal government be more accommodating to all the groups fighting the government to reach a lasting peace for the good of all Nigerians. We must realise that these acts or war against our dear country by our brothers do not occur in a vacuum.
I pray our dear brothers sheath sword to give peace a chance. We are one irrespective of our multiplicity and diversity all we need is to poll our differences together to fit into one good formidable union that will reflect all the aspirations of all the divides.
We have survived this far as a nation, we can still do more to take conscious efforts towards ruling over our anger no matter how much wrong has been done to us over the years.
** Ayegba Israel Ebije, Senior Special Assistant Media, Niger state.
Disclaimer:

"The views/contents expressed in this article are the sole responsibility of

thewillnigeria.com

and do not necessarily reflect those of The Nigerian Voice. The Nigerian Voice will not be responsible or liable for any inaccurate or incorrect statements contained in this article."
Articles by thewillnigeria.com