AT LAST! BISHOP OYEDEPO RECONCILES WITH BROTHER-IN-LAW,BISHOP OLUTAYO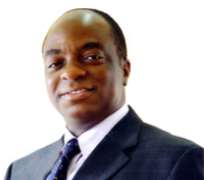 It all started 6 years ago while David Olutayo was the Bishop-in-charge of the Abuja parish of the Winners Chapel founded by Bishop David Oyedepo who is married to the sister of Olutayo hence the latter was seen as one of the pillars of Winners Chapel in the country.
He had been around since the beginning of the church.It was therefore inconceivable that he would be treated nonchalantly by the church headed by his own brother-in-law.
He therefore moved out and established his own church,Good Tidings Bible Church.
It took off in the same Area 1 where he once headed Winners Chapel.Naturally,many of those who believed in his calling as well as those who believed he was not fairly treated followed him down and they held on till today as he heads 1 of the big churches in the city,with a structure that would make many pastors green with envy.
A few weeks back,David Olutayo lost his father who incidentally is the father-in-law to David Oyedepo and so the latter had to attend the burial.
The 2 men of God were said to have embraced with the Winners Chapel founder asking that his former Pastor forget what happened in the past and that they should turn a new leaf.
Oyedepo was also said to have told Olutayo that he would be willing to come to Abuja and minister in Olutayo's church any time he gets an invitation.
We gathered that it was an ecstatic Olutayo who broke the news to his congregation at the church service penultimate Sunday while thanking his church members who attended his late father's internment.Announcing the anticipated visit to his church members he also told them that the 6-year rift between him and Living Faith founder was over.