Akunyili denies approval of N11.8 million for NFC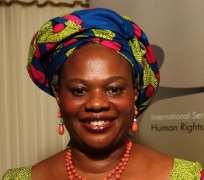 Minister of Information and Communications, Professor Dora Akunyili, has denied approving the sum of N11.8 million for the Nigerian Film Corporation (NFC), to move its headquarters from Jos to Abuja. Akunyili stated this in a statement, signed by her Media Assistant, Mr. Francis Agbo , she said though she approved the movement of NFC from Jos to Abuja, she did not approve the said sum.
It will be recalled that the Managing Director, Mr. Afolabi Adesanya of NFC was arrested and quizzed by operatives of the Economic and Financial Crimes Commission (EFCC) in June 2009 for misappropriation of funds.
According to the statement, 'The Honourable Minister of Information and Communications, Professor Dora Akunyili has dissociated herself from a publication suggestive that she approved the sum of N11.8 million for the Nigerian Film Corporation (NFC), one of the agencies under her Ministry to move its headquarters from Jos to Abuja. The Minister at no time approved the said amount. Although the Honourable Minister approved the relocation of the NFC from Jos to Abuja , she later reversed this decision."