Sammie Okposo is tired 'I don't want to compete with secular artistes anymore'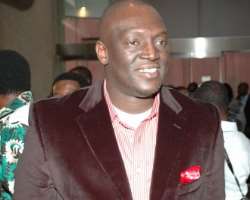 Nigeria's king of gospel music, Sammie Okposo is having a rethink. As a matter of fact, the old Sammie is giving way for a new improved one, and this is not a public relation stunt.
It was with a heavy-laden heart that Sammie spoke with us when we made enquiries about his latest project.
'This my new project is a clear departure from the old. We cannot afford to continue as before. We have all taken gospel music to the level where it lacks content all because we are looking for club bangers. We wanted the radio DJs and club DJs to bang our songs and compete on the same level with the secular musicians.
We have sacrificed our calling on the altar commercialism. That is not what God has called us for. God called us to be psalmists and worshippers. We are called to create an atmosphere of worship where God of the people can meet with them but what do we have now? We have a situation where we are following the crowd and changing our beats to follow that of the secular artiste. They have created a niche for themselves, why can't we the gospel artiste do the same?'
Speaking further in a tone that was near tears, Sammie revealed his 'new' calling. 'God called be to be a worshipper and a psalmist. That was where I started from and that is where I am going back. That is why my new album is more about God taking me back to the basics. All the mistakes I've made in my life as a Christian has made me a better person.
I won't say I regret anything but I would say I have a better understanding of where God wants me to go to and I am going back to that place. And that is for me to create an atmosphere for you to fellowship with God. I have failed if I just make you shout and jump and your life is not touched. For me now, at this junction, it is only what I do for Christ that count.'
Isn't he afraid this re-branded Sammie will lose fan base? No he isn't.
'I am not afraid or ashamed to take this stand now. I know I stand the risk of losing fans who will say Sammie has become over-spiritual but I know that this is what God has called me to do. That is not to say there won't be danceable songs in my new album but I am not competing with the secular musicians. The concept behind this new album is taking people back to the place of grace.'
In Sammie's own word this is a re-consecrated gospel musician. He said at this point of his life we might probably be hearing no more rumour about him as he is set to chart new course for his career and life. ' I had to do a rethink after my experience in Europe. I went there to minister and heavens opened. I would just sing a worship song and the people would start experiencing great testimonies. I did not even sing any of my own song. God just took over. He made me realise that He has a bigger plan for me than where I am right now. I thank God for this second chance because it is not everybody that has the opportunity of a second chance.'
His new album will contain 15 tracks and four singles would be released in a matter of weeks. The songs feature Soji Isreal, Duby and Lamborghini.