MINISTER: NFF CAN'T SACK SIASIA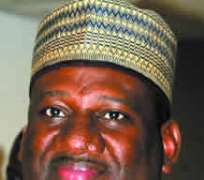 Shocker and disbelief await teeming Nigerians calling for the instant sack of Coach Samson Siasia, as the Minister of Sports and Chairman National Sports Commission (NSC), Hon. Yusuf Suleiman, has stated that the board of the Nigeria Football Federation (NFF) could not take such decision without exploring all the circumstances that led to Nigeria's failure to pick the 2012 Nations Cup ticket.
The minister, who made the disclosure while fielding questions from the media at the National Stadium in Abuja, yesterday, insisted that the circumstances we found ourselves would not warrant the hasty decision to either sacrifice the coach or put the whole blames on the players. He threatened to get to the root of the matter.
His words: 'I don't want to pre-empt what the NFF will do because whatever decision they must take, I will sit down with them first. We have to look into the issue of the national team and what its participation in international sporting activities look like.
'Our failure to pick the ticket for the Africa Nations Cup is beyond NFF and the coach. It's an issue every Nigerian is interested in. At that level, it goes beyond who should be sacrificed.
'When I addressed the players prior to the match, I told them that Nigerians don't just see them as mere football team, but as symbols of national consciousness who cannot afford to play with the psyche and emotions of many Nigerians. I think we are going to look at it from that point of view.
'We are going to look into the issues holistically instead of reducing everything to the players and coach.
'However, I think that there may be other things that we may not even know and until we sit down and give everybody chance to explain and find out what happened, they cannot take the decision of sacking the coach,' the Minister noted with a tone of finality.