HSBC Sees Asia Trade Doubling To $14 Trillion By 2025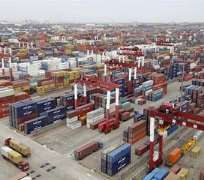 Asia's trade volume will almost double by 2025 and will be the key driver of world trade growth despite current global economic headwinds, HSBC said in a report on Tuesday.
Asia's trade volume will grow 96 percent to nearly $14 trillion by 2025, recording annual year-on-year growth of 4.8 percent versus an estimated 3.8 percent for global trade, the bank said in its latest quarterly Trade Connections report.
By 2025, world trade is expected to increase 73 percent from the current level, driven mainly by India, Vietnam, Indonesia and China, said the report.
But HSBC said it found a dip in confidence among Asian importers and exporters about the trade outlook for the next six months, with 41 percent expecting the global economy to decline.
"There are undoubtedly short term risks for businesses given the challenging economic conditions," Noel Quinn, regional head of HSBC commercial banking Asia-Pacific, said in the report.
Singapore, China and India showed the largest drops in confidence, it said.
Businesses in Australia, Singapore, Vietnam and China are concerned about buyers defaulting on payments and intend to request advance payments or tighten payment terms with suppliers, the report added.
China will remain Asia's largest trade partner by value in 2025, increasing its total trade from $1.1 trillion in 2010 to over $2 trillion by 2025.
China's share of world trade will reach 13 percent by 2025, overtaking the United States as the largest trading nation, driven both by commodities and an increase in manufacturing in the mainland, the report said.
Trade between Asia-Pacific and Brazil is expected to more than double to $206 billion by 2025, much of it in soy, it said.
REUTERS