2face, Anne Macaulay Wax Stronger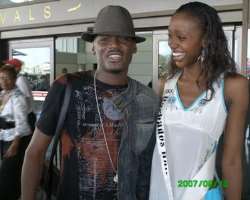 Information at Klieglights, disposal indicates that music star, Innocent Ujah Idibia, who is widely regarded as 2face and petite actress cum model, Anne Macaulay - one of the mother of his children are enjoying best of times.
Sources said the two entertainers have been smitten with each other in the past few months and this was further reenacted last weekend. The duo was at an event held in Omole area of Lagos alongside some of her many aides. Though, they both came in separately, they literarily united in the venue of the event after Anne had secured a perfect spot for herself and her love. What surprised some gossips at the event was the retinue of ,unofficial, aides, who were all over Anne and the little girl she had for 2face all through the event. Those who should know are saying that Anne, who is looking quite stunning these days, might be the lady 2face intends to walk down the aisle with. They base this on the insinuation that the singer,s mum had from time thrown her weight behind the dark-skinned beauty.