I Became Popular Quickly-Anita Joseph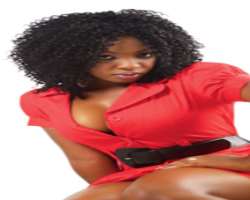 Sexy actress and linguistic graduate of the University of Calabar (UNICAL), Anita Joseph, has carved a niche for herself in the movies since 2004 when she took the plunge. This Anambra indigene stands tall with over 30 movies to her credit.
With appearance in movies like Tears in My Heart and Forgive Me, Anita, whose mother is late but has a father, who has been a huge encouragement to her, ranks top as among the few daring actresses ever to set foot in Nollywood.
The sultry actress, who has become the subject of controversy since her emergence in the industry believes that she is not as controversial as people think.
"I'm not controversial. I think some people only thrive on saying things about me. The Bible says that the gift of man makes a way for him. I became popular quickly and I feel bad when stories are not true and people out there don't know the truth, I weep sometimes but got used to it over the years.
"I started consoling myself and discovered that it comes with the job. I think they like my, glory be to God," she said.
Anita wouldn't want to talk about the things that have been written about her anymore because she feels they are things of the past and need no dwelling on.
"I do not want to go back to those issues. I've overgrown some issues now; I would not want to dwell on such issues anymore. All I know now is that I'm happy and I'm grateful to God for his blessings and understanding in my life," she said.
While many wonder why she chose acting after her degree in linguistics in 2005, Anita explained that the entertainment world has been her dream all along.
"My dream has always been to be in the entertainment industry. So, when acting came through the help of a friend, I grabbed it. I used sing for leisure but I'm beginning to take it professionally now.
"I used to be in the choir when I was younger. I'm doing fine with my album and I've just shot the video of my hit single, 'Time No Dey' in South Africa on which I worked with a brilliant team.
"I'm from a very religious home with good upbringing and we are 10 in my family. We have seven girls and three boys. I'm the sixth girl and the ninth child. My father encourages me to ply my art."
With admiration for successful acts like Joke Silva, Genevieve Nnaji and Omotola Jalade-Ekeinde, Anita seems unstoppable in her resolve to become fulfilled in the entertainment industry.
Anita's love life is something that has been opened to the public for quite sometime but the lady, who denied some of the men she had been romantically linked with, maintained that she has a man in her life even though she had experienced true love just twice.
"I have a man in my life at the moment and all I can tell you is that he is a footballer because I won't want his identity revealed. He's a good man and he dotes on me. We love each other and that is the most important thing.
"These (salacious) stories written about me are untrue and falsely linking me with these men is one of the price I have to pay for being in Nollywood, so I don't talk about them anymore," she said.
What about the speculations that Mikel Obi is the man in her life?
Anita's response was thus, "I don't want to talk about it. I'm in a relationship at the moment and I don't want any undue attention. Aside this, whatever I do is my private affair and life.
"I have the right to my privacy but the only thing that I can tell you is that my man is a footballer and I won't mention his name, we are getting married soon and he loves me and takes all that comes with my job."