Magic of Kondo Olopa –Dr Pat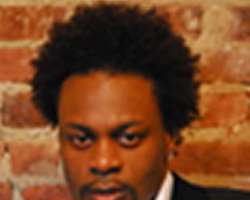 Afro-hip hop crooner, Patrick Nwokolo wants the government to enact more stringent laws to serve as deterrent to pirates in the country. Nwokolo who is fondly called Dr Pat said his music gives people confidence in whatever they do.
His hit track, Hotter Dan Fire is currently making waves on air in the country and he has promised his fans to expect more from him. In a chat with us recently, Nwokolo spoke on how he became a musician, his sources of inspiration, kind of music, role models among others.
Background
I attended Montessori Nursery and Primary School, Abeokuta, Lisabi Grammar School, Abeokuta and Genessy College, USA where I read Electrical Engineering. I worked for a Fire Service company in New York.
Becoming a musician
When I was in primary school, I used to mime songs by various musicians and I continued this even when I was in secondary school. I started singing professionally in 1994, at Lisabi Grammar College. I established a group called Gentle Souls which comprised Sheyman, Iroko and Squat. I traveled to America in 1999. I do create hype during parties to the audience to respond to the music being played.
Parental support
My mother really supported me but my father did not really support the idea. My father was an ex-military officer and a judo coach who believed that musicians are always into drugs and other vices in the society. But as fate would have it, before he died, he gave me his approval to become a musician.
Inspiration
God is the main source of inspiration. Also things that happen around me are sources of inspiration. I derive inspiration when I listen to other musicians and I usually get more ideas on what I want to achieve in life. For example, when I listen to songs by the late 2Pac, I could tell and feel him through his thoughts and opinions when he recorded his songs in the studio in an aggressive way.
Kind of music
I sing Afro-Hip Hop. Sometimes I mix indigenous songs with it to add more flavour to it. When I was in New York, I was strictly into hip hop because the industry censors the artistes on what to sing. But in Nigeria, the fans control what the artist would sing and that was why I had to infuse more of indigenous languages into my music to please my fans.
Album
I went into collaboration with Sheyman. The album is entitled Hotter Dan Fire and it contains 14 tracks. The tracks speak to individuals in different ways. Some of the tracks includes Getting Married which is for married and aspiring couples. Letter to my dad is in memory of my late dad and I want to tell him about what is happening to me in my musical career. Others include Dishanku, Iyalaya, Tagongo, I Just Wanna, Halleluya,
Impact of my music
After releasing the hit single; Kondo Olopa, it is now being played on both radio and television stations across the country. I hope to release more songs that would beat Kondo Olopa. I feel happy when my audience is excited or when they keep asking me to play more of my songs.
Kondo Olopa
Kondo Olopa Rondo Alata is what I've used to brand myself as Lord of the Rondos. Kondo Olopa portrays policemen who usually carry sticks when on duty. Kondo could also refer to a man while a Rondo is a woman. Sometimes, if a parent observes that his or her ward is not performing well in school, the parent would pick a Kondo (cane) to beat that child.
Target audience
My song is both for the youths and adults, depending on the particular track that they like to listen to.
Messages
There are many messages in my songs. My songs are like prayers for people to seek what they want to achieve in life. The songs make people to be self-confident for example, I am hotter than fire give me some water, in anything that they do, they want to be hot or be on the highest level.
Challenges
Sometimes people believe that every hit track by an artiste makes him or her rich. But this is not always the case. Performing on stage and being able to carry the audience along is also another challenge that has made me work extra hard.
Role models
My main role models are 2Pac and R Kelly. Others include the late Fela Anikupo-Kuti, Bob Marley, Michael Jackson who all had their unique style of music with which they made an impact in the society.
Message to fans
I want them to keep on supporting me and they should expect the best from me in future.
Piracy
Artistes usually work extra hard to produce their work but pirates prevent artistes from reaping the sweat of their labour. I want government to enact more stringent laws to fight against piracy.