Nollywood Stars' Lack Of Grace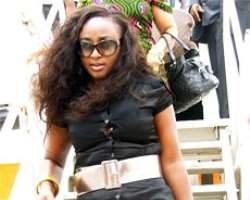 Last week Nollywood stars, who lost out in the Glo Ambassadors sat in their homes, while those who got contracted by the telecommunications giant flew to South Africa.
One of those presently in Nelson Mandela's country, shooting commercials for Globacom is newly wedded actress, Ini Edo. On her way out of the country, one of her adoring fans that saw Ini at the Muritala Mohammed International Airport greeted her with a handshake. But the actress soon yelled out indignantly "Do you want to break my hand. Does your handshake have to be this rough?" The bewildered fan walked away in shame.
Something similar happened in Abuja on Friday when a star struck fan tried taking a photograph with Patience Ozokwo at an event held at the Reiz Hotel. The actress known for her wicked roles practically walked past the lady as she struggled with her handset to take a picture of her and Muma G as Ozokwo is better known. Few years back when star actress, Genevive Nnaji, visited Abuja, Emab Plaza Wuse II, many of her fans trooped out to say hello.
Those who got her phone number called in vain. The number was permanently switched off. We could go on with a catalogue of egocentric displays from Nigerian actors. But we will end this piece with a question. Who buys Nollywood films? Your answer definitely is the fan(s).