TERRORISM IN NIGERIA: OUR PREPAREDNESS AND EXPOSURE REDUCTION SINCE OCTOBER 1, 2010 BOMBING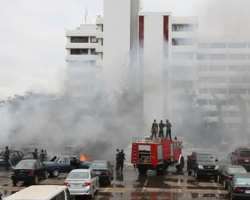 It has been about one year after the major terrorist incident recorded in Abuja, Nigeria. The October 1, 2010 Independence Day bombing of Abuja during the Golden Jubilee anniversary of Nigeria was not the first incidence of terrorism in the country. Nevertheless, it was the first and a symbolic attack in the capital city since General Babangida hurriedly relocated the administrative center to Abuja in 1990 after the Gideon Orkar abortive bloody coup detats.
The Abuja terror attack plotted by the Movement for the Emancipation of the Niger-Delta, MEND, is not a story narrated to me, but I witnessed it life because I was among the privilege few at the presidential villa with President Goodluck Jonathan for the Golden Jubilee anniversary breakfast on October 1, 2010. Of course, just like the way Americans failed to imagine the possibility of attack in their homeland, we also failed in our imagination that our home-grown terrorist groups have developed the capability to carry out daring attacks in few yards away from the Aso rock Presidential Villa. The October 1, bombing further confirmed the assertion that the 21st century terrorist organizations can attack anything, anywhere, and at any time. Therefore, there is a need for strong leadership at all levels to prepare the nation and reduce the vulnerability of Nigerians to terrorism. But what, in turn, has Nigerian government done in response to the risk of terrorism since October 1, 2010?
We have not seen our security agencies working as a team since October 1, 2010. The rivalry among our agencies is too obvious to the extent that Nigerians do not actually know who is in charge and who to listen to and even who to trust. Working as a "Team" in order to continue to work cooperatively to ensure that all of the instruments of national power – including leadership, specialized technical expertise, research, and development investments – are brought to bear on the challenges the office of the president face in a coordinated and unified manner will go a long way to make all our security agencies to be effective and potent.
"Team that has clear goals and standards and effective structure and decision making will have higher task performance". (Northouse 2007, p. 214). Adoption of organizational leadership that communicates internally and externally to maximize cooperation builds and leads effective teams while working effectively with partners and enables staff to achieve their full potential and fully supports staff development. Therefore, there is a need for "intelligence and operation fusion center" where activities would be coordinated. Empathizes and values input from others, Giving clear direction and focus, skilled in planning and arrives at right strategy to meet needs. Good media and public relations, manages resources efficiently and effectively; good organization skills with effective use of personnel and good operational knowledge and experience.
In a time of crisis, it is natural for people to look up for a way out. Every crisis always produces leadership that may come in the form of individual or organization to give hope to people in the midst of their trouble and inspire them to triumph over their problems. Leadership is a process whereby an individual influences a group of individuals to achieve common goals. (Northouse 2007, p.3). Leadership involves influencing a group of individuals who have a common goal. Nigerian citizens are the group; our common goal is our public safety and reduction of our susceptibility to terrorism. Of course, we are not doubting the fact that the Government is making efforts to restore security but Nigerians need to be inspired by the president who must provide leadership capable enough to take our security organizations away from the "cult of amateurs" and replace them with effective leadership that can drive the policy of the administration towards achieving the national security strategic goals. Nigerians are yet to see these changes since October 2010.
We need not to deceive ourselves that one year after the Abuja bombing; the government has not done enough to prepare Nigerians and the entire nation on how to confront the scourge of terrorism since the year 2010. The focus has always been on the protection of the senior government officials and political leaders at the expense of the common people. Also, our critical infrastructures, key assets and key resources are at the mercy of the terrorists. In addition, the Federal Government has spent much money on technology. Billions of Naira spent on the importation of the CCTV cameras and other technological items. But all these technologies failed to discover or stop the June 16, 2011 attack on the police headquarters and the August 26 recent bombing of the United Nations Building in Abuja. The reality is that technology can increase the effectiveness of security measures and streamline security procedures.
We must realize that the ability of technology to reduce manpower requirements is less certain. New systems require trained human operators and continued quality control and testing, something lacking in Nigeria system. For the next ten to fifteen years, security, like intelligence, will remain manpower intensive. There are no "hands-free" security solutions. Therefore, let us prepare by building human capacity; the common people must also be protected, we must overhaul our security system by training our officers and men.
We must enhance our intelligence capabilities with emphasis on the combination of technology with human intelligence gathering. Intelligence is a life and death profession just like medicine and mass transportation of which failure can mean casualties. Enough of politicizing the intelligence report for the selfish or political purpose. Also, intelligence collection must be expanded beyond Nigeria shores.
The best option for preventing terrorism is all options available. The terrorists are not resting and the government also should not slack or relax without employing multiple approaches to the fight of terrorism. But we should quick to realize that terrorism prevention should be an option A to be employed. The intelligence gathering to determine or acquire a fore knowledge at the development phase of any terrorist plan for immediate interdiction is very important. The ability to prevent and stop the terrorist action with timely solution is very necessary. Such an intelligence gathering will make the attackers vulnerable and expose them for deterrence without negotiation. However, the strategy that consists of both offensive and defensive measures is the best in combating terrorism.
Let me once again reiterate the fact that the approach towards fighting terrorism is semi –military aspect of security. The significant aspects of terrorism and its suppression are political and law enforcement concerns and for which military responses only are ineffective. Therefore, the president should empower the State Security Services, (SSS) and the Nigeria Police Force, (NPF) to be at the fore-front of the campaign against terrorism.
Also, Nigeria collaboration with foreign security agencies is important but we should not surrender our national security to foreign nations. Collaboration in term of training, exchange of intelligence and technology for the purpose of investigation and mitigation should be enough.
The National Security Adviser (General Andrew Owoye Azazi, rtd) once made an honest assertion that "terrorism has come to stay in Nigeria"(Vanguard, 2011, Sept; 7). Most Nigerians may find it disturbing but that is the reality. Terrorism has found its footage in Nigeria and anything can be attacked, anywhere, anytime. But the government cannot protect everything, everywhere, all the time but we can minimize the effect through our vigilance and mitigation. Hence, we should not wait any longer before we start preparing ahead for mitigation against the future incidences of terrorism. Therefore, the government must be proactive and reactive.
It is a considered opinion for the urgent need for an office of the National Security Adviser to create a special department to coordinate the preparedness and response to all these threats.
Our security must be a responsibility shared across our entire Nation. As we further develop a national culture of preparedness, our Local, State, and Federal governments, faith-based and community organizations, and businesses must be partners in securing the Homeland and this effort must be coordinated by the president as part of his leadership effort. We are slowly moving in this direction. Effective leaders must establish direction and purpose, communicate that direction and purpose, and maintain the thrust of the group. They need to promote innovation and creativity and serve as a resource for invigorating the organizational culture.
Leaders must also be resilient, maintain a multi-directional vision and focus, and develop an understanding of the psychological forces that move people. Only by doing this can they make decisions about what to do and when to do it in a context full of conflicting data and opinions.
Moreover, the Nigerian Government should adopt a radical re - constructionist perspective which involves good leadership, building a culture of preparedness by identifying, mitigating, and eliminating the underlying factors that lead to terrorist activity or natural disaster severity. This approach involves more than making plans and providing equipment or response. Radical re-constructionists are much more than stopping the next terrorist attack, responding to natural disasters, or getting ready for pandemics. The government can pay more attention to the social and economic conditions that give rise to and support 'premeditated, politically motivated violence.
Therefore, it is, of course, highly imperative for the president to win the confidence of the people on the administration commitment to public safety by initiating intelligence and warning system to alert members of the public on both terrorism and natural disasters. No longer is it just the fear of being attacked by both local and international terrorist organizations. A lot of these groups now have the capability and the support infrastructure in Nigeria to attack anytime they choose to do so.
All what requires to set Nigeria into senseless and endless war like Rwanda is to have the Nigerian president assassinated or any prominent leaders from the major tribes in Nigeria. Therefore, it is very important for President Goodluck Jonathan to unify the entire Nigerians behind him against the ongoing war on terrorism.
In conclusion, the deed must be equal to the words. If a government says is ready to fight terrorism, the government cannot do it alone without the support and involvement of the entire nation. People want to see the genuine effort and not a blame game. People want assurance of their safety. Government must inform people from time to time. Hence, we must work as a team, train our officers and men, work with civil societies and faith based organizations.
Government needs to be more open and sincere in managing information than giving opportunities for rumor mills to peddle rumors which create and heighten tension and conflict. As we mark this year independence anniversary, we remember those who perished in terrorists bombing on October 1, 2010 in Abuja, Nigeria and we honors those men and women fighting to ensure such an attack never happen again in Nigeria.
Oludare Ogunlana is an Intelligence/Security Analyst, President of Global Alternative Agenda, (GAA), and Member of International Association for Counterterrorism and Security Professionals. (IACSP).
Disclaimer:

"The views/contents expressed in this article are the sole responsibility of the author(s) and do not necessarily reflect those of The Nigerian Voice. The Nigerian Voice will not be responsible or liable for any inaccurate or incorrect statements contained in this article."
Articles by thewillnigeria.com