No way! I can't tell you number of guys I've dated------Cynthia Amadi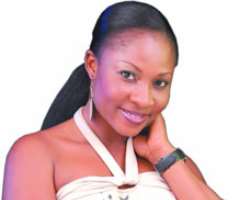 Cynthia Amadi has been on the acting scene for a while, but she caught our attention with her role in 'Because you love me', a soap opera later turned home video by Wale Adenuga. She acted so well that we felt her middle name should be acting.
However she wasn't acting when she spoke to SAMUEL OLATUNJI and declared that outside the location, she doesn't have any air around her. That accounts for the kind of play her siblings still play around her.
It seems you are a bit big on the 'soap' side of acting than the movie side, why?
I came into the industry with three movies as a matter of fact; but as time went by, I realized that I've done more soaps than movies. I would not say I do more of a soap, I will rather say I take the job as it comes, before I accept a job, thre must be some kind of challenge. I tried not to repeat what I have done before, as we all know now, nobody is really shooting any new movie as such, there is a kind of re-structuring in the industry as at now. We have a lot of people crossing over from the movie side to the soap side because I think movie has taken a break for now, but all the same, I still want to go back to the movie side because I came in through it.
Was 'Hidden Treasure' your first movie?
No. I have done a lot movies before I took part in Hidden Treasure. There is nothing like crossing over in the real sense, because when you take a good look at it, an actor remains an actor. I've done movies like the 'Devil in Her', 'Family Battle', 'Miss Nigeria', 'Sleeping with the Enemy', amongst others.
Which movie would you say, gave you the breakthrough?
Well, different roles have different advantages and disadvantages but I would say Family Battle.
Who did you play alongside with?
I played alongside Emeka Eyiocha
How easy was it for you to play the role of Temisan is 'Because you love me' ?
It was not easy at all. If you take a close look at it, there is character progression in the movie and it was at the time that I was to do my graduation, as a matter of fact, I went to get the script a day before the shooting commenced. So I did not have enough time to do my research, whatever my research was, I must have done it overnight because, there was no room for research. I spent the whole night reading and reading the script. I got the script the day I moved to location. I mean I had little time to prepare but it was God's grace that made me scale through. It was not easy at all when you have a huge project ahead of you in 24 hours and you are called on to come and handle a vital role and you have to add some of your own personal skills to make you stand out and let people know that you are someone that has acting as an inborn skill.
Is acting an inborn thing?
Acting for me is feelings. It resides in you. It is either you have it or you don't have it. You can't have a bit of it; because even if you go to all the drama schools you will still not get enough training, so when you have it, you have it.
So, what did you read in school?
Trust me, it has nothing to do with acting. I did Library Science at the Delta State University and I'm about to round up a degree in English at the University of Lagos.
We never knew a comic side of you exist until we saw you in Extended Family.
As an actor, you must be able to handle various roles. As a matter of fact, it can be a career killer to be known to act only one role very well. So you should be versatile and be able to create different caracters, that is why I said it is an inborn thing. When they call you for an hilarious role, you must deliver, when they call for something corporate you must deliver. That is what I call acting. Acting is stepping outside of yourself and doing what you have been asked to do.
So there is no human being who doesn't have the comic side, but the thing is, we have different characters. When I was called upon to play the mischievous role of a sister to a General in the soap, I studied the script and I found out that it was good. You must understand what the character is trying to communicate, what the character is all about. You put one or two things together and then you just go act your role with God on your side.
What are your dreams for the future as an actress and perhaps outside acting?
Wel,l I would say that I haven't reach my peak. I'm still climbing the ladder, I haven't achieve the things I want to as a matter of fact, but Nollywood should just watch out for me because that is the truth. I want to be a Star to be reckoned with as a matter of fact. I want to excel in everything I do, I want to be a successful person in every endeavour.
Do you have role models in the acting world?
In the acting world, I would say Liz Benson. She is a very strong woman
I saw you grooving at Encomium White gig yesterday. Is dancing part of acting too?
Well, that has nothing to do with my acting skill because, everybody danced yesterday. It would have been too odd for D.J. Jimmy Jatt to be on the wheel doing his thing and I refused to move to the music.
What other goals do you have outside of acting?
Well, I will like to have my production outfit and also do some stuffs in the corporate world. I also want to be a good Mum and a good Wife.
Do you think marriage will limit your career as an actress?
No, it is not going to limit me. Before I get married, there must be a strong plan before we finally settle down. I mean good plans that would not disturb my career. Marriage is a serious business, if someone wants to have you as a Wife so you can bear him child and nothing less, then that is not marriage. The person must be able to appreciate and understand what you do. So it not only acting that people see as a limitation, people also see banking as a limitation of career. It has to do with the level of communication between the couple.
What if you marry a man who says you should have nothing to do with acting?
I see no reason why I should marry someone that will say that to me. I want to marry a friend and not a boss so to say. Marriage is partnership, that is the way I see it and by the way, most of the attraction comes when they see you on the screen. You see someone on the screen and you appreciate that person and wants to be with that person, I see no reason why you should wake up one day and say, you don't want her on screen anymore.
Can you give up acting for marriage?
I will not comment on that until I get there.
How do you differentiate between infatuation and love?
Everybody should be able to define that because love is deep, infatuation is on the surface. Love to me is decision, love for me goes beyond what we see. It must be a decision and not what people feel these days that they woke up one morning with a foggy heart and the next thing you hear them saying all over the place is I'm in love.
Don't you think love comes by accident sometimes?
Yes, it does come by accident, but immediately it hits you and you are aware of this, you have to make a decision. That is why I said love is deep, infatuation is on the surface. Infatuation will only hit you and leave but love goes deep down.
How many times have you fallen in love?
Hmmm, I think that is a personal thing.
Have you ever been hit by infatuation?
No.
I don't believe that.
That is the reason I don't want to talk about it. People should be more interested in knowing about my career not love life. My love life is not public consumption, it is my career that is for public.
Have you gotten your fingers burnt in the game of love before?
Everyone has, haven't you?
No, I just walked up to a lady and we are married now.
Lucky you. You are one of the lucky few.
When will you get married?
When God want it.
But when do you wish?
No human being can will a marriage. My marriage will be made in heaven, so I have to wait for when He wishes.
Who is the lucky man?
When God wishes it, I will let you know.
Are you saying you are free?
I am single, when it is time, I will be married.
The guy must be special for you to be guarding jelously?
I told you earlier that I don't want to make my relationship public because I don't want the press to count how many men I have dated and broken up with.
What's the most challenging job you've done?
Every job comes with its own challenge, but the one that really challenged me was 'Because you love me' by Wale Adenuga. Antar Laniyan drilled me. He was always saying I don't want to see Cynthia I want to see Temisan.
Where did you grow up?
I grew up in Benin and childhood was beautiful. I was raised by strict parents. I have two brothers and and a sister. I am the second child.
Do your siblings treat you like stars?
How can? The minute the camera stopped, I stop being an actress.
So they still slap you on the buttocks and back?
Of course my siblings are my siblings, they are an extension of me.
Oh God, why am I not your sibling?
(General Laughter). They love me unconditionally.
I heard those who have strict upbringing don't have boyfriends early?
I had my first boyfriend when I was matured enough and qualified enough to have one.