ZIK'S DREAM YET TO BE ACHIEVED, 51 YEARS AFTER- MRS AZIKIWE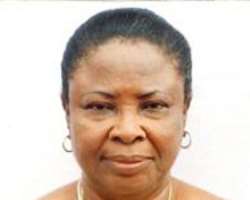 Pro Uche Azikiwe
BY CHINENYEH OZOR
Prof. Mrs Uche Azikiwe, former dean faculty of Education, University of Nigeria Nsukka and wife of late nationalist and first President of Nigeria, Dr. Nnamdi Azikiwe in this interview regrets that 51 years after independence, her husband's dream for Nigeria remain unrealised. Excerpts:
On attraction to Zik I thought you were going to talk about independence anniversary. The question would have been better directed to Nnamdi Azikwe. You know in our culture, it is the man that looks for a wife, so, I don't know what attracted me to him, but I think it is destiny.
I use the word 'destiny' because I am from Afikpo and he is from Onitsha. Secondly, the gap is so wide. Thirdly, the status - Zik and then Uche Ewa from Afikpo, the daughter of Sergeant Major of the Nigerian Police. So that is why I summed it up that it is destiny.
Dreams with Zik
Is it a personal dream? I think he supported me in whatever thing I did. Having married him after my secondary school education and he allowed me to gain admission into the university to go further, I think it was a big thing for me because my colleagues in the secondary school had already graduated.
After having my children, he graciously allowed me to further my studies. It was a big thing for me as I did not end with a secondary school certificate (WAEC).
What I may call a dream was seeing our children growing, but unfortunately he was not alive to see them getting married and having their own children and being on their own.
On Azikiwe's struggle for independence
In his write-ups and statements, he had always stated that the struggle for Nigeria's independence was not for Zik's family. All he wanted was to set his people free, show the light and people will find the way. Giving him governor general was sort of what he hadn't expected because if he had said that he must be the Prime Minister, he could say that but he kept talking 'one Nigeria, one Nigeria.'
He was satisfied with the governor general ceremonial position. What was primary in his mind was Nigeria being free and the British people leaving Nigeria. Nnamdi Azikiwe's ambition was to fight and get freedom for Nigeria and Africa as a whole because he started from Ghana.
His project (thesis) for his Masters' Degree was on Liberia, 'Liberia in the world politics.' He was a pan-Africanist. What he was fighting for was how to put light in Africa. He was struggling for Nigeria to be independent before Ghana. But Ghana became independent in 1957 before Nigeria.
Zik's regrets
I don't think he had any regret at all. I was with him at UNTH, Enugu till his last breath. The only thing I will say he didn't like was the military coming into power.
Zik's dream for Nigeria
I had thought that Nigeria would have become a leading nation in the world, the giant of Africa in the real sense. There is nothing preventing Nigeria from achieving the tall dreams of the founding fathers. I believe Nigeria will achieve the dream of the founding fathers.
It has all it takes in terms of manpower and natural resource to achieve greatness, but sadly, we have not achieved greatness. I am optimistic that Nigeria will achieve the dream of the founding fathers.
Life after retirement
I had in mind to join politics when I retire but I am being discouraged. Why? There are many factors making it difficult for Nigerian women to actively participate in politics. I don't think I have the kind of heart to participate in the country's politics as it is at the moment.
I don't have the temperament to do certain things wrong when it should be done right. I have a name and reputation to protect. Whatever I want to do, whether politics or not, I must do it right. Another factor is the way our people see women getting into politics.
I don't think I know whether I will have godfather or godmother. But if politics is what I want it to be, I will really want to participate at any level to help build Nigeria. It could have been very interesting to be in politics to contribute to nation building, but what you see, maiming, killing, character assignation.
Life without Zik
How did you think I will feel? Normally in our culture, women are being accused of killing their husbands. I don't think any woman can go out of her way to kill her partner, the father of her children. When he died, my children were outside the country_ America, Molokwu left in 1990 and Uwakwe 1992. It was only both of us, nobody else.
We stay from morning till evening; I was just pondering what I am going to do, how to handle life without him. He was like an umbrella and fortress for me, he was a father, a husband and encouraged me in whatever I was doing.
Although I had finished my Ph.D before he died, I needed him, the children education expenses were on me alone. It is something one will be happy to remember. I am happy my children have all graduated.
Zik's children and politics
I have no problems with my children going into politics if they want to. The younger one is showing interest in politics_ I mean Uwakwe. Molokwu seems not to be interested. But we discuss politics in the house together. Uwakwe is the only one showing interest in politics. If he wants to join, let him join. Nigeria will definitely be on the wheels of greatness in the world.
Government assistance to Zik's widow
It is only the Federal Government that has shown concern in this regard. We thank God the Federal Government is doing something to the wives of past leaders. But other governments, be it the former East Central State, old Anmabra State, Enugu and the present Anambra State and even Nsukka local government, nothing.
Once in a while, I ask them to help clean the large expanse of compound of Onuiyi Haven, nothing. Only two of the chairmen of the local government paid me courtesy call and brought something. Absolutely nothing, the federal is trying, I think it is in the constitution, a decree or whatever to pay stipend to spouses of former heads of state.
At the moment there are only five of us - Jumoke Mohammed, Maryam Abacha, Victoria Aguiyi Ironsi, Tafawa Balewa's surviving wife, myself and recently wife of Yar'Adua. The Federal Government promised us vehicles and approved it should be changed every five years. The first was given to us in 2008, we are waiting for another in 2012. The remuneration is constant and has been improved. We thank them for that.
University community
Regarding cleaning the compound, they do help. I am not asking for money, just help clean the compound. Once in a while, the authorities send people from the works department to come and clean the compound. Right from Prof. Nebo's administration and the present vice chancellor, Okolo, has continued but it is only on request that people are sent.
Siting University of Nigeria in Nsukka
After his exposure to America (Lyncoln University) he realized that education is the key to anything. If you want to be independent, you must be educated, because if you don't read it, you can't write it. Siting the university in Nsukka goes to show how liberal Nnamdi Azikiwe was, not thinking of old Onitsha Province. He had lived in Nsukka before.
He copied the logo of Lyncoln University and used it for University of Nigeria's logo (lion), so, if you want to succeed in education, it must be in an enabling environment. Nsukka has the land and good climate for a university.
That was what attracted him, having lived in Nsukka for long and seen how quiet the place is. It is best for a university. I know that it might be one of the reasons why he decided to set_up the university here in Nsukka.