TU FACE IDIBIA IN HOT ROMANCE WITH ANNIE MACAULAY'S BEST FRIEND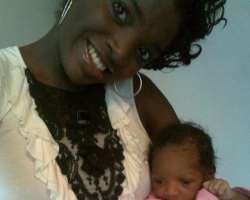 African Queen Crooner, Innocent Ujah Idibia a.k.a Tu face has enmeshed himself in another feminine controversy if information at our disposal is anything to go by. Ever since Tu face has become a 'star' managing of that stardom has not just become a burden to him but a problem which even spiritualists cannot find an answer to. If you recall that, Tu face has relocated to Abuja where we learnt he stays pending the time the preparation for his 10th year anniversary would be over.
Though, some people are saying that Tu Face's stay in Abuja is solely financed by a certain moneybags who has just constructed gigantic multi- purpose plaza in Abuja, the fact still remains that, the Naija superstars has permanently secured a suite for himself in Transcorp Hilton, Abuja. Eagle eye recently sighted Tu face with his estranged wife's best friend, this beautiful lady, was one of the two girls that featured in the African Queen alongside Annie Macaulay who was said to have brought her to the video shoot's location.
Those who spotted them swore that the lady has since moved in with Tu Face from the first night and the two lovebirds have been enjoying each other's company. Further enquiry into what could be going on between Tu Face and a close pal of Annie who has just been delivered of a bundle of joy for Tu Face-his first and only female child revealed that the two of them are into serious romance as the lady has since warming Tu Face's bed even before they moved to Abuja.
Innocent Ujah Idibiah has successfully won the Grammy Awards as the only Naija artiste with the highest number of love children, having two boys from Pero Adeniyi, another two boys from Sumbo Adaba and the new addition from Annie Macaulay, a bouncing beautiful girl.