KENYA's ACTRESS, MILLICENT MUGADI EYES NOLLYWOOD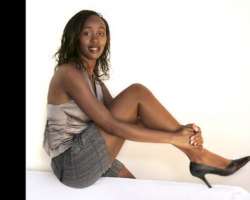 Milly as this beautiful screen goddess is called was raised by a single parent-her mother, who has since relocated to the heaven. This diva, in Kenya movie industry today remains most visible. Aside her acting prowess which has set her above others, Millicent who is also a a creative beauty expert whose saloon in Nairobi is said to have become a Mecca of sort as notable personalities in the tourist attraction city has turned her shop a second home.
With all this glamourous livelihood, one would think, thhe slim and very articulate Milly would be so content, nay, Millicent is seriously eyeing the fast-rising Nigeria entertainment industry known as Nollywood. "The industry is very challenging you have to be aggressive and good at your work you also have to a have passion for it because in terms of money it takes along time to come , and that is why I try to venture into other things like having my on beauty saloon to complement my acting career. My next move as an actress or as Millicent is to spread my wings in my acting capability in sharing my artistic ability with other African countries most especially NOllywood that I believe will give me the better chance." She confessed.
And for the future of African entertainment industry, the sultry actress said "as Kenyan, we have a future and the future of Kenya lies in the hands of the younger generation who think beyond tribal lines, a generation that believes in gender equality, development and a government of transparency. We are the majority and we are working towards changing Kenya for the better, not only Kenya,
same as the future of Africa. This can be achieved if the younger generation's eyes are open to war but quality education and proper governance. I believe by doing so we will be the envy of many continents."