Amaechi Woos Education, Health Investors to rivers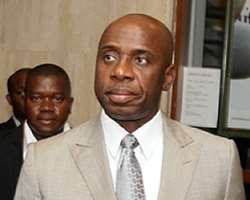 GOVERNOR OF RIVERS STATE, ROTIMI AMAECHI
SAN FRANCISCO, OCTOBER 1 (THEWILL) – Governor of Rivers State and Chairman of the Nigerian Governors forum, Rotimi Amaechi, has revealed plans by American investors to assist the State in developing key sectors such as education, health, transportation, agriculture, and water. He was speaking to journalists in Washington DC, during the Business and Investment Forum organised by the Woodrow Wilson Centre.
"We were well received at the Woodrow Wilson Centre. It was more like an enlightenment forum to expose the situation back in Nigeria. After that, we moved a step forward to meet with Corporate Council for Africa
(CCA) and some other agencies," Amaechi said. After speaking with them, few investors agreed to come to Port Harcourt. The area of investment is open; it is what we put on the table that they will review."
Continuing, he said, "Education, health, transportation, agriculture and water are the key areas we will like the investors to focus on, and see what they can give to us in Rivers."
Answering questions on other issues outside Rivers, Ameachi confirmed the interest of the Governors Forum in the widespread clamour for constitution review, but maintained that the governors would only follow the directive of the president on the issue. He also said that the Forum was yet to take a stance on the six-year single-term proposition of President Jonathan for the president and governors. "I cannot make comments on the single-term proposal for the president and governors. I have to wait for the Governors Forum to take a position on it," he stated.