I get scarred when men talk love to me — Nollywood act; Ehi Isibor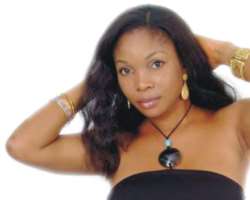 Ehi Buckler Isibor is a graduate of the University of Benin. Her stroll into limelight was like a miracle as she describes it. She is thankful to mother luck for allowing top Nollywood director, Lancelot Imasuen discover her at the time he did. An opportunity at her first ever movie audition landed a lead role on her laps and thereafter she emerged the star of the movie. She played the role of "Ebuwa", a Edo language film that exposes the dangers of prostitution, AIDS and the evils of child trafficking. She spoke to Citytracker, VICTOR AZUKA MORDY for this interview. Excerpts.
Please introduce yourself
My name is Ehi Buckler Isibor, I hail from Benin City, Edo State of Nigeria. I graduated from the University of Benin. I am presently plying my trade as an actress.
For how long have you been acting?
Two years now.
Your first cut in acting was the lead role in Lancelot Imasuen's film; "Ebuwa"
Yes
By your estimation, do you think you did justice to the role?
Yes I did.
How was that possible, being your first time taking an acting job.
I think acting came naturally with me. It is something I was born with. With some perfect tips from the director of the film, it was not difficult for me to deliver.
Tell me, what do you think made it possible for you to grab the role, giving the fact that Nollywood is replete with stars that would have fitted better.
All I can say is that it was a divine intervention, because in the first place I did not prepare to go for the auditions to select the cast for the film. I and the director ran into ourselves on the streets of Benin and he told me I fitted fine into a role he plans to showcase in his new film. Initially I laughed over it and did not take him serious, because I had never acted before. But coincidentally we met at another place, where my elder sister formerly introduced me to him. He repeated his offer and invited me to come for the auditions and I did. I was surprised that I emerged his choice for the role eventually.
What were you doing at the time you met him?
I was doing my final year project at the University.
What year was that?
Last year?
Ebuwa was shot last year, was it not?
It was.
How were you able to cope with the project and at the same time going on location for shooting?
The shooting of the film did not disturb the project, because by the time production commenced I had concluded the project.
"Ebuwa" is an Edo language film, isn't it?
Yes.
Would you say that the reason you adapted to the role easily was because it was done in vernacular language.
No. The medium of language adopted did not make any difference to me.
How many other girls showed up to audition for the role.
I did not count, but they were many.
Would it be right to say, he merely favoured you by giving you the role?
No, I don't think so, besides there was no reasons for me to be given preferential treatment.
Maybe you have not observed, I think you are a head turner.
(Laughter)
Describe your experience during the auditions.
When I got to the venue, I was shocked on seeing many people there. Initially I wanted to run away, especially when I realized that everybody present would be expected to read out loud from scripts. I am usually a shy type. But a lady who I met there encouraged me.
Are you still a shy person?
Not anymore
What has playing the lead role in the film done for you?
It personally exposed to me, the dangers of prostitution and the evil of human trafficking. Secondly the film instantly shot me to limelight.
Describe your life on campus.
I was very friendly, yet some saw me as a difficult person.
Were you giving the guys who approached you difficult times?
No. But I remember as a young girl, I resisted any attempt by people, especially men to be friendly with me.
Did you get the impression they were afraid to approach you?
I never thought about it. But why should they be afraid?
How do you relate to persons of the opposite sex?
I grew up with a lot of boys. I have five brothers and so many cousins. I enjoy good relationship with men. I have a lot of men as friends, but the moment they start saying I love you I get scared.
Why?
If you start talking love, it becomes difficult for me to be free with you. If I consider you just a friend and you start talking love to me you kill the relationship automatically.
Have you ever been in love?
Yes
Was it boring, interesting? How would you describe it?
I wouldn't say it was boring. I was young and naïve. At that stage you really think you are so much in love. You do so many crazy things when in real sense; you don't even understand what love is.
What stage of your life are you talking about?
I had finished secondary school and just about to enter the University.
Are you still in that relationship?
No.
What happened? Did you dump him?
(Laughter) No, we simply went our separate ways. We became matured and faced reality.
Now you are grown up, any present relationship?
No
Are you still seeking Mr. Right?
Yes.
Can you say you are a romantic person?
I am very romantic.
So you are promising your would be man a rollercoaster of romances when you get married to him.
Sure
What kind of man would you want to settle down with?
I would want to marry a man that is real, despite our differences. Marriage is not a bed of roses. He should be real despite the shortfalls that our relationship might experience.
Did the stories of sexual harassment in Nollywood not scare you as you were venturing into the industry?
It did. Especially being somebody that has a beautiful face and body. But I believe if you hold your head high, you will not fall victim.
Has there been any amorous demands from you by producers?
No.