Insult From Britain: Nigerian Men Lazy —British Baroness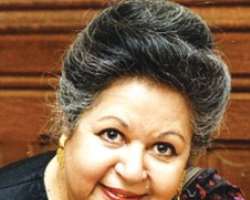 Controversial peer Baroness Flather caused outrage yesterday with a claim that Nigerian men marry four wives because they are lazy, reports the Daily Mail.
Speaking on a radio phone-in debate on polygamy, she said: 'Most of the men in Nigeria don't do anything, their wives do all the work, that's why they have so many.'
Lady Flather spoke out after a Nigerian caller told how his father had four wives, they all lived together in the same house without arguments and their 11 children were all well educated.
The crossbencher, Britain's first female Asian peer, recently made controversial claims that some Asian families in Britain have lots of children in order to claim extra welfare payments.
Yesterday's comments were made as she spoke as a guest on the BBC Radio 5 Breakfast show, presented by Nicky Campbell.
Campbell was joined in the studio by Khola Hasan, of the Islamic Sharia Council, which says polygamy is on the rise among British Muslims.
Following the peer's comment, embarrassed laughter could be heard before Mrs. Hasan said: 'That's a bit unfair'.
Campbell then interjected: 'If I'd said what you've just said I'd be in the papers tomorrow for racism, wouldn't I?'
But the baroness went on: 'They have four wives – one to do the farming, one to look after the children, one to look after the man and one to do the housework. It is just a fact. Why should I lie?'
Two British Nigerians later called the show and condemned the comments, pointing out that polygamy is a sign of affluence rather than idleness. Last night Radio 5 said the peer's views were 'entirely her own'