Omotola stuns all with dark goggles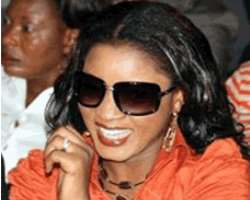 The recent experiment of 'effizi' exhibited by Omotola Jolade Ekeinde could probably pass for one of the stunts that go with being a star or so.
It beats the imagination why Omo Sexy, who breezed into the final lap of the event with her black and white attire, wore a big dark sunshade in an enclosed place in the evening.
Curious also is the fact that after acknowledging her presence, the trim actress settled down to read a magazine with her goggles on.
However, she may not know the reaction of some of the people at the event. The truth is that the majority sighed and hissed.