SHAMELESS EMPLOYEES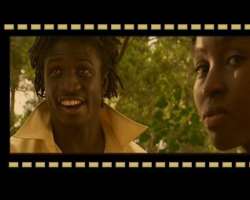 scene from the award winning Grass Between my Lips
It looks like Nollywoodgists.com has given Mimi her two minutes of fame. COngrats, and some vultures have joined to congratulate her. But, one thing you have failed to notice is that, you just named someone who has long been vindicated, a professional woman whose work and afiliates speak for her.
Let me address the Ms. Djansi, who I respect so much part first. Mimi, do you know her? No, you don't. She has not put herself in the public eye like Genny and Jackie. Genny and Jackie are Movie stars, they have chosen a profession that has put them in the path of fire. That you Mimi are head over heals in love with Genny and she has sent you to do her work for her gives you no upper hand at all. I will liken Leila Djansi to Michael Jackson, since I am still mourning him. No matter what she does, good or bad, because some of you people hate her due to your love for Genny, she will never be right. But, I know her, I know what she is capable of doing and what she is doing. I do not think she is the type who is pushed around or fueled by people. She is in control of her life. Let her be! If you really care to know, know that Leila Djansi is a multiple award winning filmmaker. She recently picked up a World Fest Platinum award for one of her movies in April. She recently wrapped a feature with Don Chealde which just entered post production, her company managed that production.
When you are passionate about something, and yet only trouble meets you along the way, a wise man lets it go, steps back until the storm dies down before he moves again. That is what she is doing and it takes someone with wisdom and a big heart to make that decision. Again like Michael Jackson. His family have kept mute, to kill the media circus.
What is it that you know about filmmaking? "cast away" was halted for one year so that Tom Hanks will loose weight before filming the stranded scenes. So, you have ridiculed yourself Mimi. Waiting for an actress to gain or loose weight for a movie is an everyday practice in hollywood or in any planned film industry. Megan fox was given 3 months to gain weight for transformers. LOl. Paramount executive, so? You are a pathetic joke Mimi. You know how many times studios and bond companies hold pr postpone movie sets for one silly reason or the other? Who is forcing them to make a movie? It is their money and their decision to shoot when and where they want! Get over it already.
By the way, if it bothers you that much. Visit Ghana this minute, you will see Ms. Djansi on set. satisfied? yes, she is shooting right now with her team. Go and tell your employer that. I have always admired and liked Genny, but her cheap tricks are beginning to annoy me so much! Am I the one that asked her to be rude and get fired? Mimi, tell Genny to get over it already!
and where exactly did you read or hear that she bought Nigerian movies to show executives? is she stupid? Genny was fired for not cooperating. Period. Friends indeed. If I have the chance to be friends with Kimberly Elise, will I beg to be friends with Genevieve Nnaji? You know how many star friends this woman has in Ghana and does not even keep in touch with them? She has told me so herself when I interviewed her. I thought she and I will keep in touch but no. You call her and she returns your call after 2 weeks. You think she has time to be friends with anyone? Mimi, don't get emotional for Genny and write one stupid convoluted article about issues you have not researched. You do not know Leila Djansi, don't assume that she is wrong and Genny is right until, you dig deeper for the facts. Why? you just might bow your head in shame in a couple of months. And FYI, you people say you want local stars to be used in international movies, she went for Genny when Chioma recommended her, now, you are angry that Genny was not auditioned. This is beyond nonsense. Crap!
About Jackie. I do not write about Jackie lies. I am not the only one who has complained about Jackies excesses. Her nickname in Ghana is Jackie colors colors Appiah. Why? we all knew Jackie when she started acting as a sweet beautiful girl in "things we do for love". Then, something went wrong. we lost the sweet girl to find a fat, over-made up and harassed actress. So please, quit crying already. Since I have deleted your rude comments multiple times, you just had to go online and mention Leila Djansi. How pathetic. How much did Genevieve Nnaji pay you? You both are just mad because I exposed the truth. If not, what has Leila Djansi got to do with your article? couldn't you have said Joy vrs Genny and Jackie? You may have your little groupies, but I can assure you that, smart readers abound on this website. So sorry, I have never accepted mediocrity and I will not start now. Our film industry has been around long enough, technology has been around long enough for us to make good movies and produce good actors. Other African countries make better movies.
Write all you want, but please do me a favor, as you write, be sure you have more meat than your grandfathers soliloquy to back you up.
Defray from making ignorant statements like "find hollywood stars to direct". I am sure she will if that is what she wants. And, she has. But, Ms. Djansi is a filmmaker passionate about Africa, on her website she says she wants to make movies that will change the world.
ooh shuut! what am I saying. Innocent Michael Jackson had that dream of changing the world too. but the Mimi's of this world frustrated, accused, belittled, tortured and drove him to despair. Even Jesus Christ went through persecution. When you are trying to do good to brighten the little corner of your world, you get insults and ridicule from people who do not even know you and have not bothered to get in touch with you for FACTS. Yes oh! Mimi's and Judases abound.
Carry on miss Mimi. defender of the helpless. I am not done writing about Genny and Jackie once they are actresses. I will by all means write about Leila Djansi. Be rest assured, if she makes a false move, she will get her own share of my blunt key strokes. I am not biased.