DJOKOVIC AND WISDOM IN FAILING FORWARD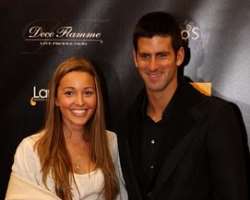 Lovebirds, Djokovic and Jelena
Serbian tennis star, Novak Djokovic, beat his Spanish rival Rafael Nadal, fair and square in the final of the US Open on Monday, September 12, 2011. But just last year, Nadal had trashed him on the same court in the same tourney for the same cup. The lesson Djokovic's fantastic three sets to one win teaches is: It pays to fail forward.
After defeating Nadal 6-2, 6-4, 6-7, 6-1 over 4 hours and 10 minutes of relentless, draining tennis, Djokovic dropped to his knees and kissed the same concrete that Nadal ruled last year, celebrating a win that slapped an exclamation point on one of the greatest seasons in tennis history.
No matter how hard you try - study, work, pray, play, run, love, hate, woo, cook, etc - you can still fail. But failing is really not the lack of success; it is what comes before good, lasting success, most times.
I remember how Djokovic once cried after one-time world number one Roger Federer wallopped him. But he went ahead to wipe his eyes dry, trained a lot more than usual, studied Federer's tactics and eventually beat him at his own game.
Djokovic became tennis' No.1 seed only this year, but he has gone ahead to also join the games' super stars, including Nadal and Federer as the sixth man in the world to win tennis' three greatest grand slams in one fell swoop in a season.
Only last year, he was a failure, but this year, his story has changed forever. Djokovic has shortened 'his story' to to rewrite tennis 'history'. You can do the same. Nobody cares how many times Djokovic was beaten by how many people in how many places.
In life, it does not matter how many times you have failed. Failure might be bitter but success is by far sweeter. To fail forward is to get up, take stock of why you failed, avoid making the same mistakes and relaunch for success.
International sports writers agree that Djokovic's win, in many ways, came out of a loss on the same court. He studied the tactics of those who defeated him over and over again on the clay and concrete courts and decided to do something dramatic about it. He believed in himself.
'I guess it just clicked in my head,' Djokovic said. That he could beat these guys.
'I was always trying to wait for their mistakes and believing I could win,' Djokovic said. 'This has changed and U.S. Open 2010 was one of the turning points in my career, definitely.'
Djokovic won his third Grand Slam title of 2011 to match what Nadal accomplished last year and what Federer did in 2004, 2006 and 2007. Djokovic bested them both en route to this title, taking down Nadal two days after he overcame two match points against Federer to win the semi-final.
Over the first two sets, second-seeded Nadal broke top-seeded Djokovic's serve three times, and each time, Djokovic responded by doing what a champion does - breaking his opponent right back without looking back.
But it was the third set that was the classic; 84 can't-miss minutes of side-to-side, unforgiving play from both men, filled with punishing ground strokes that somehow kept coming back.
Nadal won that set, Djokovic walked off the court holding his back and the momentum shifted.
What that did, though, was allow the world's top-ranked player to once again drive home the point he's been making all year: Yes, he improved his fitness and, yes, he changed his diet. But mostly, he changed his attitude.
With Djokovic's back and ribs aching and his legs started to cramp, he said he knew he couldn't allow the fourth set to turn into yet another long series of rallies. He had to do what he'd been doing all year – go for it. Like Djokovic, you've got to know your strengths and of course, your limits and weaknesses.
'I knew I wasn't physically there,' Djokovic said. 'I wasn't as fit as I was at the start of the match. I needed to take the chances I did. It was an incredible set for me.'
Every bit as telling, and stunning, as any of the 17 winners Djokovic hit in that fourth set (against only four unforced errors), was the way Nadal reacted as the set wore on.
Instead of rushing, skidding, shuffling, reaching out to get one more ball back as is his norm, Nadal stood and watched.
He watched at 30-all in the final game when Djokovic followed his serve with a backhand winner down the line. He watched again on match point when Djokovic hit a forehand down the line, then dropped his racket and fell to the ground to celebrate in almost the exact spot where Nadal did last year.
A bit later, Djokovic pulled off his shirt and threw it into the stands, then put on a dark hat with 'FDNY' written on it – a nod to Sunday's 10th anniversary of the Sept. 11, 2001, terrorist attacks, which both he and Nadal mentioned during the trophy ceremony.
'I've had an amazing year and it keeps going,' Djokovic said.
A year ago, Nadal was being celebrated as the next King of Tennis, with nine Grand Slams (Now 10, counting this year's French Open) and seemingly in need of nothing more than time and tournaments to match Federer, who holds the record with 16. A year later, however, Nadal is on a six-match losing streak to Djokovic – all of them in finals, including this one and at Wimbledon earlier this summer.
'He's having less mistakes than before,' Nadal said when asked to explain the Djokovic renaissance. 'In my opinion, that's all. He's confident enough in every moment to keep believing in one more ball, one more ball. I think his forehand is not more painful than before; his backhand is not more painful than before; he serves the same.'
It doesn't matter what your enemy, rival or opposition thinks or says about your success; it's done and he can't change it. What matters is what you think, see, say and do about and to yourself.
Every time Djokovic hit one of those huge returns, it was hard not to think back to Saturday, when, facing two match points against Federer in the semifinals, he turned on Federer's serve, taking a chance and pounding it back for a clean, forehand winner – a shot already being touted as one of the single greatest the game has seen.
Djokovic called it a gamble when he was interviewed on the court after the match – but one he had no problem taking. He now joins Andy Roddick, Pete Sampras, Boris Becker, Martina Navratilova and Manuel Orantes as the sixth player to hoist the U.S. Open trophy after facing match point at some point earlier in the tournament.
'In big matches, the winner is decided by small margins, a couple points,' Djokovic explained. 'I guess the winner is the one who believes in victory more.'
Djokovic might be winning on tennis courts, but his relationship with Jelena Ristic has been off and on. The reason she was there to cheer him on to victory on Monday is because this Serb has forgotten how to lose. He just won't stop trying for love.
What are you failing at right now? An exam, a love relationship, marriage, job search, impressing your boss, running your own business or weight loss? Remember Djokovic's wise saying: It is the one who believes in victory more that succeeds. It can be you, so get up and do it again with a new, winning strategy. Learn to fail forward. You are about to win…